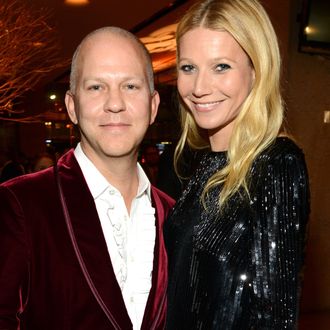 Ryan Murphy loves his blondes.
Photo: Kevin Mazur/Getty Images
Way back in the annals of 2012, Ryan Murphy, Gwyneth Paltrow, Reese Witherspoon, and Cameron Diaz got dinner and decided to make a musical film called One Hit Wonders starring the three women as washed-up '90s pop stars who decide to form a supergroup (that doesn't rap). Sony bought the rights to the film, but after Amy Pascal's exit, they've since reverted back to Murphy. THR reports that now he's repackaging it as an anthology series (yes, another one of those), and that he has the first four seasons planned out. For the first season, Gwyneth Paltrow will star (as well as executive-produce) as a broke 40-year-old former singer who gets together with two other one-hit wonders to form a supergroup. Blondes, aging divas, singing, a hot young piece (we imagine): This will combine all of Ryan Murphy's most favorite things!