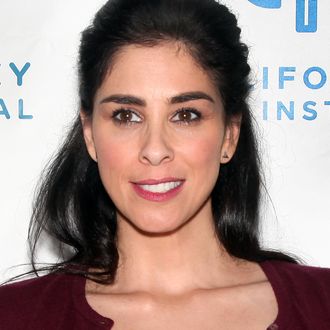 Sarah Silverman opens up about depression.
Photo: Kelly Sullivan/FilmMagic
For the film I Smile Back, Sarah Silverman played Laney Brooks, a bipolar, self-destructive housewife, and it was a role that took Silverman back to a darker time in her life when she was plagued by depression and panic attacks. "I got an email saying, It's happening, we got the funding! I replied-all: Yay!" Silverman writes in an essay for Glamour. "And then I collapsed on the floor of my bathroom, shaking. What had I done? I knew playing Laney Brooks would take me back to a very dark place." In the essay, Silverman writes about her experience with depression, and how she has managed it. You can (and should) read the whole piece here, but here are a few powerful excerpts:
She suffered from severe panic attacks.
People use "panic attack" very casually out here in Los Angeles, but I don't think most of them really know what it is. Every breath is labored. You are dying. You are going to die. It's terrifying. And then when the attack is over, the depression is still there. Once, my stepdad asked me, "What does it feel like?" And I said, "It feels like I'm desperately homesick, but I'm home."
She went through a lot of bad therapists.
I went through several therapists. The first one hanged himself. Irony? Yeah. Another one kept upping my Xanax until I was taking 16 a day. Four Xanax, four times a day! I saved all the bottles in a shoe box because I thought, Well, at least if I die and they find this, they'll know what happened. I was a zombie walking through life. 
On her desire to have children:
A few years ago, I casually said something in an interview about being afraid to have kids because I might pass depression on to them, but I don't know if I feel that way anymore. I like to think I would therapy through it (instead of helicoptering around my kids in horror that something is wrong with them, like my character Laney). A part of me is baby crazy. A part of me goes, Why not? And every day I add "Freeze eggs?" to the end of my to-do list. Then it keeps getting passed on to the next day's list. Maybe I'll adopt.
She's knows that it will pass.
But there's one thing I know that I used to not know: It will pass. And it does. Usually after 24 hours or so of wallowing in depressing music and being the Sylvia Plath of social media, a friend will reach out: "Are you OK? I saw that tweet." And I'll sort of snap to it, brush myself off, and get back to life. I've learned that keeping busy is a good thing for me. Like my mom always said, you just have to be brave enough to exist through it.