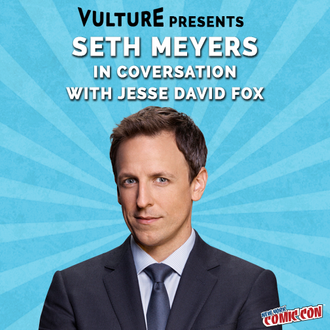 Running low on jokes to make about Donald Trump? Seth Meyers has you covered. During his New York Comic Con panel yesterday, in conversation with Vulture's own Jesse David Fox, the Late Night host revealed a few of his all-time favorite jokes. Lucky for us (us = humankind), they were all Trump-related.
Meyers told the crowd of how weird it is to think back on roasting Trump at the 2011 White House Correspondents' Dinner, after the Donald had threatened to run for president, but before it had gotten too real.
"He was at the [dinner] and it was right when he was really laying into Obama about not having been born here and not having a birth certificate," said Meyers. "The first joke I made," recounted Meyers, "was, 'Donald Trump is running as a Republican, which is funny because I had just assumed he was running as a joke.'"
Here are more zingers:
"Donald Trump often appears on Fox News, which is ironic because a fox often appears on Donald Trump's head."
And:
"Donald Trump says he's a friend of the blacks, but unless the Blacks are a family of white people, I bet he's mistaken."
See! Still relevant today. Feel free to use those at your next dinner party, or the next time you and the Donald are in the same room.
When the conversation turned to the process of writing jokes, Meyers delivered the hard truth: "Writing itself is the worst. If there's anyone out there who wants to be a writer and thinks the problem is, 'Every time I sit down to write I feel so unhappy' — all of us feel that." But to writers nearing despair, Meyers offered a good reason to stick with it: "When you finish [writing], it's the best feeling in the world."
Asked if he would ever go back to guest-host Saturday Night Live, Meyers demurred. "I would be a terrible host," he said. "And I think that Lorne also knows I would be a terrible host. Remember, I started as a cast member, and it was Lorne who said, 'What if you sat down at a desk?'"
It's from behind a desk that Meyers has delivered all of his monologues since August, when he caused a minor controversy by sitting down. "I started with a standing monologue, and then I realized, Oh, I'm so much better at the other thing I was doing," Meyers said. "It wasn't quite like when Michael Jordan decided to play baseball, because I don't think I was as bad as he was when I did a standing monologue, but it was like, Oh, this is my strength."
Since then he has also expanded his commentary, producing segments on both Syria and Planned Parenthood. "I think there's been a shift in the last 20 years in late night," Meyers said, "where people are savvy enough that they kind of want to know what you're thinking." He's also leaning in to his role as late night's political kingmaker. Meyers closed by naming Vladimir Putin his dream guest—proving that taking a seat can be the ultimate power play.