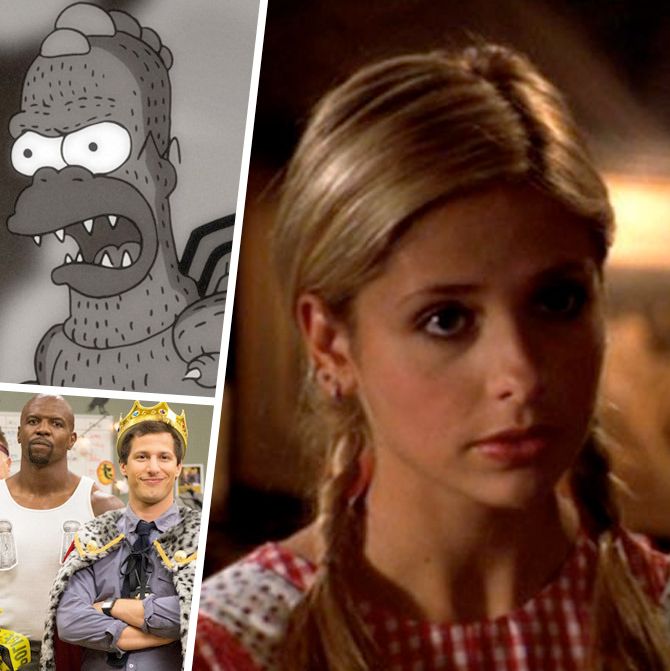 Just like wacky next-door neighbors, messed up but misunderstood antiheroes, and singing-competition shows, Halloween episodes have become so common, you can't swing a black cat by the tail without hitting one. But some shows do it better than others, turning it into an annual tradition and crafting some classic episodes where everyone just happens to be wearing costumes. We talked to writers and executive producers behind The Simpsons, Roseanne, Home Improvement, Buffy the Vampire Slayer, Parks and Recreation, and Brooklyn Nine-Nine to get the inside scoop on what goes into making a frighteningly memorable episode.
The Simpsons
You may not be surprised to know that a week after the most recent "Treehouse of Horror" episode aired, Simpsons writers and animators are already working on next year's installment. "We have such a long selection process, we sort through and reject about 50 segments; we take a year for the animation, which is longer than normal," says longtime showrunner Al Jean, who also wrote "Homer's Nightmare" with Mike Reiss and "King Homer" with Reiss and Sam Simon for the second and third installments of the franchise, respectively, way back in 1991 and 1992.
He has fond memories from the beginning of the tradition, like all the writers getting together to watch King Kong at Simon's house as research for "King Homer." But the longer the show goes on, the harder it gets. "I've been been working on them for 25 years, and little has changed, but we've used up 78 horror stories and you can't do them anymore," Jean says. "You just have to think of really clever adaptations that will fit into the Simpsons world. You're using reference material often but trying to give them your own spin … It's the richest format of the show."
Though they've considered spins on every major entry in the horror genre, some homages just don't seem to pan out for the writers. "You go through just the basics: everything that Stephen King has done and everything Hitchcock did," he says. "Originally we were thinking of doing 'Planet of the Parrots.' Any horror reference you think of, we've tried to make it work. H.P. Lovecraft doesn't translate to the Simpsons world for me.
Jean says that the entire staff takes the whole process very seriously, particularly the writers, who all vie to work on the episode. "It's a big thing for us. Huge. It's like Christmas, Tet, and Kwanzaa all rolled into one," he says. Now that there are 25 of them, FXX is running a "Treehouse of Horror" marathon on Halloween starting at 11:30 a.m. Jean's personal favorites in the bunch: "Citizen Kang," "The Island of Dr. Hibbert," "It's the Grand Pumpkin, Millhouse," and last year's episode, "A Clockwork Yellow" — titles he rattles off like he's been asked this particular question a million times.
Roseanne and Home Improvement
Matt Williams knew from his very first meeting with Roseanne Barr that Halloween was going to be her holiday. "In our first meeting, she said, 'I'm a witch.' I laughed and she said, 'I ain't fucking kidding.' Halloween was naturally her holiday," he says.
Williams, who created sitcom classic Roseanne in 1988 and co-created Home Improvement with Carmen Finestra and David McFadzean in 1991, helped create some of the most ornate Halloween episodes of the late '80s and early '90s, usually surrounding Dan and Roseanne trying to prank each other, or Tim and Jill trying to scare the bejesus out of each other. "Listen, when you're creating 201 episodes of a show, like we did with Home Improvement, you're like, 'Can we have a birthday? Can we have a holiday? What about an anniversary?'" he says. "You're looking for any excuse to hang a story off of."
Not that anyone seemed to mind the built-in arc. The cast and crew would really get into decorating the set and playing pranks on each other, especially Home Improvement star Tim Allen, whom Williams likened to a big kid. "On Halloween, you have a natural playground to create physical gags," he says. "I remember on Tool Time when Tim scared Al, he had a severed head pop out of a box. It was just an excuse to have a lot of fun."
The writers would fight over who got to pen the scripts for these holiday extravaganzas, Williams's favorite of which was Tim and Jill dressing up as aliens to scare their oldest sons Brad and Randy after they convince younger son Mark he's adopted and surrounded by aliens (season one's "Flying Saucers"). With so many Halloween episodes under his (tool) belt decades ago, however, Williams doesn't remember many others. "To be honest, there were so many seasons, they kind of blend."
Buffy the Vampire Slayer
When thinking of this cult phenomenon's classic Halloween episodes, most people immediately go to the eponymous "Halloween" from season two, in which every character takes on the persona of their costume. However, there are some fans (this one included) who prefer the second Buffy Halloween episode, season four's "Fear, Itself," written by David Fury.
"I'm very proud of it," says Fury, chuckling. "I often think, Gee, I did the second-best Halloween episode of Buffy.'" Fury, who now works on Homeland and FX drama Tyrant, was assigned the episode randomly; the season's fourth episode just happened to fall on Halloween. Initially intimidated because the first Halloween episode was expertly co-written by series creator Joss Whedon, Fury eventually found his footing with help from Whedon and the other writers on the concept of a haunted house where the members of the Scoobies had to face their fears. "I was also very insecure that we were doing a retread [of season one episode 'Nightmares,' where they faced a different kind of fear], but Joss had the confidence — and filled me with the confidence — that the characters had changed dramatically since then," Fury says.
In "Nightmares," Xander had to face his fear of clowns, but in "Fear, Itself," he confronted his anxiety about being left behind when all of his friends went off to college. The rest of the characters stared down similarly personal fears: Buffy worked through her worries of being abandoned, while Willow dealt with losing control of her budding magical powers. On a show where the monsters were always a metaphor for something else, this concept felt right at home. "The psychological aspects of it deepens it," Fury said. "There was so much more to play, and so much more to play for the actors than to be scared of a monster. They're scared of themselves, and that makes for one good Buffy episode."
Buffy's Halloween episodes typically came about every other season, as Whedon held the idea that real monsters were embarrassed by the day and took it off from terrorizing humans. "I think Joss felt like the show itself was always a weekly Halloween show," Fury says. "It seemed like overkill to do it every year … You didn't want to be the show that had to do all these novelty holiday episodes."
But "Fear, Itself" showed its merit in more ways than one, signifying the start of a few things that would become canonical to the show. It marked the first time that Fury got in some sight gags to Frankenstein (he first movie he found funny and scary as a child), as well as the the first time that we learn of Anya's bunny fear. "I put her in a bunny costume because I thought it was such a funny costume," Fury says. "Joss always makes everything better, and he is the one who added the exchanges at the end where she said bunnies frighten her. It happened with a lot of scripts where I had the idea and he lands it and [it] becomes canon for the show."
Parks and Recreation
Another beloved show that didn't do a Halloween episode every year, Parks and Recreation wasn't always airing new episodes in the fall, so it didn't always bother with the big holidays often celebrated within TV scripts. Still, some of the series' most important events happened during the end of October. In its first Halloween episode, season two's "Greg Pikitis," Leslie Knope squares off against her teen nemesis. "If she was James Bond, he was the supervillain," says Mike Schur, who co-created the show with Greg Daniels. "If this world revolved around a high-ranking official, their enemies would be the Speaker of the House or an ambassador to Germany. On this show, the enemies are the local kid who vandalizes the parks every year. "
Pikitis ended up returning at various times during the show's subsequent seasons to harass Leslie, but never again during Halloween, though the Pawnee crew did celebrate the holiday several times. "Every year we would kick around [the idea of bringing him back for Halloween], and then we would think unless we have a Halloween idea that is better than the one we did, we're not going to do it," Schur says. "What was nice about that episode was that Leslie won in the end. He was caught and put him behind bars or fined. He served his purpose."
Season five's "Halloween Surprise" heralded another series-changing moment, albeit in a more substantial way: Ben proposes to Leslie. The writers didn't intend for it to be a Halloween episode, but in trying to keep the couple apart as long as they could, six episodes became the threshold for the Pawnee-D.C. commute of the heart. NBC had mandated all its comedies be themed for trick-or-treating that week, so the writers employed a clever disguise in the title. Jerry (or whatever his name is) had a heart attack (or a "fart attack") after Leslie and Ann inadvertently scared him, tricking viewers into thinking that this was the surprise, until the episode's treat of a final scene, when Ben makes his romantic return. "Being a Halloween episode, we could make a big deal out of it, and it gave us some cover that Ben was going to propose, which we wanted to keep a secret as long as possible," Schur says.
Brooklyn Nine-Nine
David Philips wants the world to know that he is scared by almost anything and he doesn't even like dressing up in costumes; in other words, he didn't exactly lobby to write this year's edition of the Brooklyn Nine-Nine Halloween saga. "It was my turn to write an episode," he says. "It could have been any number of writers, and I got the lucky assignment of how to make heists seem fun."
Yes, Philips said "heists," not "haunted houses" or "orange jack-o'-lanterns filled with fun-size Kit Kats." Brooklyn Nine-Nine's annual tradition revolves around Jake and Captain Holt trying to pull a heist on each other. This year, they both attempted to steal a crown locked in a suitcase in one of the interrogation rooms. The biggest twist of the competition wasn't that they were both attempting to crack the same heist, but rather that neither Peralta nor Holt took the (literal) crown. "Maybe this ruins the allure of TV writing, but every possibility was discussed about who would win," Philips says. "We almost immediately decided Amy winning was a possibility, and then when we eliminated every avenue, the Amy decision came after many different iterations: different people winning, both of them winning. Then I think it was [fellow producers] Luke [Del Tredici] or Dan [Goor] saw the current outline we had, and they were like, 'I think we know how to make the Amy thing work,' and it was a much more simple story. It was a revelation."
Though he's unsure whether he'd want heist-writing duties again, Philips would happily take part in another Halloween tradition on Brooklyn Nine-Nine. The writers of the show's first two heist episodes ended up selling their own shows: Lesley Arfin landed Love at Netflix, and Prentice Penny is working on Insecure at HBO. What would Philips's show be? It has to do with the Nine-Nine's two hapless cops. "I'd probably sell a spinoff of Scully and Hitchcock," he says.