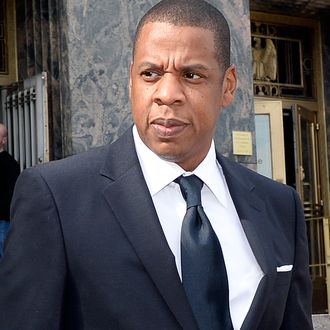 It's okay, Hov.
Photo: Kevork S. Djansezian/Getty Images
After Jay Z's attempt to delay his extremely convoluted "Big Pimpin'" trial was turned down, the rap mogul took the stand Wednesday for the first time. The Hollywood Reporter reports that he testified to having zero knowledge that the song even had a sample in the first place. (It does: The hook is a snippet from a song by Egyptian composer Baligh Hamdi. Thanks to the some complicated rights issues, Jay and Timbaland are now being sued by Osama Fahmy, Hamdi's nephew.) "I didn't think there was a sample in it. Timbaland presented me with a track. I didn't even think about there being a sample," he told Fahmy's attorney. When asked how he couldn't have known, he explained, "That's not what I do. I make music." What else does Jay Z do, exactly? That's a question his own lawyer had him explain for the court in what resulted in just one of the day's many accidentally funny exchanges:
Jay Z: "I make music, I'm a rapper, I've got a clothing line, I run a label, a media label called Roc Nation, with a sports agency, music publishing and management. Restaurants and nightclubs … I think that about covers it."

His lawyer: "I'm not so sure. You have a music streaming service [Tidal], don't you?"

Jay Z: "Yeah, yeah. Forgot about that."
That's right, even Shawn "I'm a Business, Man" Carter forgets about Tidal sometimes, adding to the list of depressing things about the company its now 1 million users have had to shrug off since the launch. Hov apparently scored even more laughs when he humble-bragged about just a few of the artists he's Svengali'd in his heyday, including Kanye West: "Some people may have heard of him," his lawyer joked, to which Jay Z responded, "One or two. He's running for president."
Already, the long-delayed trial has begun to resemble the hilarity of Robin Thicke's "Blurred Lines" trial. In order to show how little the sample mattered to the overall production, Timbaland attempted to construct a beat live for the courtroom. Unfortunately, his keyboard wouldn't work, so he improvised and just beatboxed instead, treating jurors to a free concert. And now you know where Empire got its next story line from.