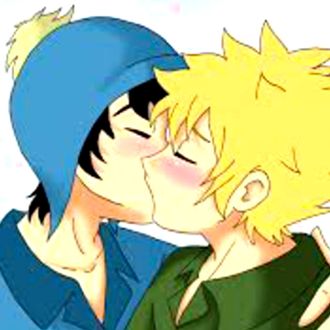 Smooch, smooch.
Photo: Comedy Central
Imagine devoting time to drawing loving depictions of a romantic relationship between two minor and ostensibly straight male South Park characters. Now imagine seeing your art suddenly appear on the show itself.
Last week's episode of South Park featured a great deal of fan art, as two of the show's characters, Tweek and Craig, discover that they are the subjects of Yaoi fan art drawn by their new Japanese classmates. (Yaoi is, of course, a popular genre of anime and manga focusing on two young men in an intense romantic, often sexual, relationship.) Tweek and Craig insist they are straight, but the entire town comes out in support of their "Boys' Love."
For anyone paying attention to the world of South Park fan media, the pairing of Tweek and Craig was hardly a surprise: For at least a decade, people on the internet have been drawing fan art of the love between this two characters (a ship known as "Creek"). A cursory search of DeviantArt shows Creek art dating back to 2005. And when Trey Parker and Matt Stone decided it was finally time to acknowledge Creek and their surprisingly robust online fandom, they went straight to the source, soliciting real drawings from users online.
Tumblr user beansofyuki managed to score a spot in the episode (above). I found them because the show left their watermark intact.
"This is probably the greatest thing ever I just- I don't have the words haha," they wrote after the episode, adamant the artists featured should not be discouraged. "Keep drawing and never stop because holy shit there's going to be even more opportunities like this for you."
User earily also had her art featured in the episode, which she watched with her family. She told one her followers that her family has "known since I was sixteen. My mom has read all my fanfics and my dads walked in on his fare share of creek porn. As far as I know, I still haven't been disowned yet haha. I'm very happy my wife is as accepting haha."

This isn't the first time that South Park, currently in its 19th season, has addressed real-world reactions to the show. Last year, the show spent a full episode making fun of a Spin writer's reaction to one of its episodes.