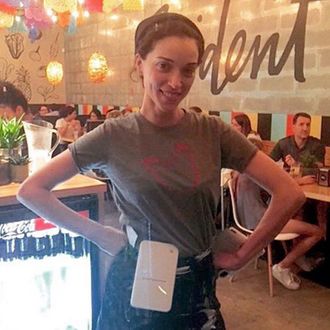 Salsa Vincent.
Photo: kotokotooto/instagram
From shredding sweet guitar licks, to shredding cheese: Alien fawn St. Vincent spent the weekend working at Resident Taqueria, a newly opened Dallas Mexican restaurant owned by her sister and brother-in-law. St. Vincent, as if she were an actor out of work, was seen doing all sorts of waitress things like taking orders, refilling napkins, clearing tables, judging people based on how much they tipped, wondering if two people were on a first date or breaking up, thinking about whether it's weird to eat a couple chips that a table left, and, as you can see below, putting her hands on her hips. No word on if she served rock-amole, used a Oaxaca-Oaxaca pedal, or played a chord-A asada during a rendition of her hit "Your Lips Are Red (From Eating So Much Salsa!)." Anyway, what did you do this weekend? Pick apples!?!?
Update: The singer spoke to Bon Appétit yesterday to discuss her brief dalliance in the waitressing industry. As it turns out, the whole experience was a spur-of-the-moment type of thing:
I had just flown in and went to the restaurant to hang out and see what the vibe was like. When it started getting busy, it was just a case of, we saw tables that needed to be cleared, so I got a towel, and got to work. Amy [her sister] and I are both pretty Type-A, get-it-done people. In addition to now owning a restaurant, [Amy] has a whole other career as a high-powered sales executive. I dislike disorder; it would've been egregious to just sit there when it was so busy.
She just wanted t0 kick back and relájese with a margarita. But alas!
When I got there, I initially thought, "Oh, I'll come and have a margarita at the bar and just see how it all goes." But then it became clear that it was so packed with people that it was all hands on deck, so I just jumped in. I love multi-tasking and adrenaline anyway; I got a real rush out of it.
She did end up getting that margarita, but had to sneak sips of it in the kitchen in the midst of bussing tables. You know what that means, patrons of Resident Taqueria: St. Vincent was definitely tipsy while bringing you your rock-amole.