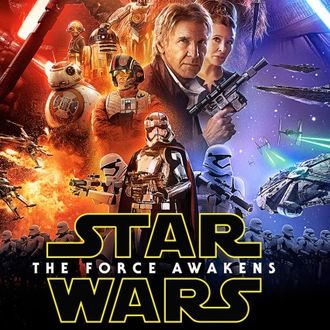 As much as you might have been anticipating last night's new Star Wars trailer, so were some of the film's cast members. Actors John Boyega and Daisy Ridley promptly watched the trailer and had friends film their candid reactions for Instagram. The resulting clips (below) are adorable and endearing as hell, because you can tell that at the points in the trailer during which you got chills, they likely did, too. And at the same points during which you might have gotten overly pumped, they did, too. And then some. (After all, these new movies are career-changing pivot points for these guys.)
Here's Daisy Ridley (a.k.a. Rey), who wrote that she was "Staying in a little b'n'b with my friend … Set an alarm to watch the trailer … My friend filmed my reaction. Totally emotional seeing it for the first time and so so so incredibly awed to be part of this incredible legacy":
And here's Boyega (Finn), who watched it as soon as he got back from the Lakers game, noting, "THE TRAILER IS JUST EEEEPPPPPPPIIIIICCCCCCC! Star Wars is back! gaaaaaad laaaaard! You know what! Let me just relax because this kind God oooo! Lmao! Seriously congrats to everyone ! December 18th!":
Congrats, guys. Happy Star Wars Trailer Day.
Update: A very, very cute and excited BB-8 has similarly lost it, upon seeing all the badass new footage:
Makes sense.