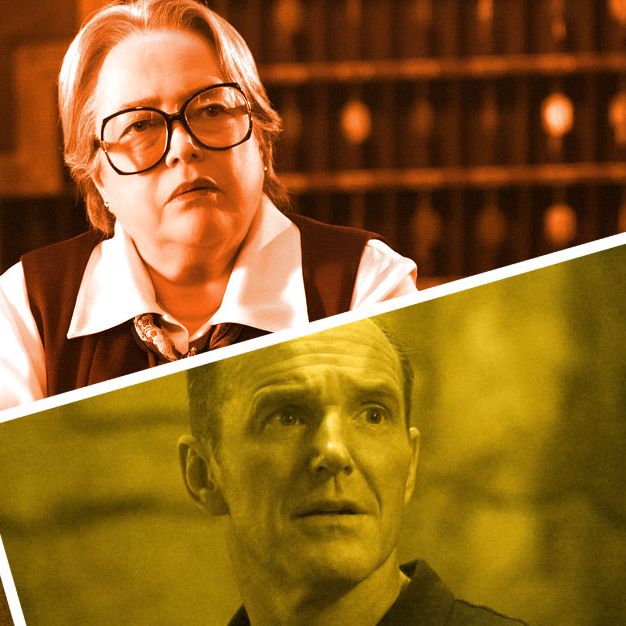 Welcome back to Stay Tuned, Vulture's TV advice column. Each Wednesday, Margaret Lyons answers your questions about your various TV triumphs and woes. Need help? Have a theory? Want a recommendation? Submit a question! You can email staytuned@nymag.com, leave a comment, or tweet @margeincharge with the hashtag #staytuned.
How scary is American Horror Story? I'm intrigued but not sure it's for me. I don't mind being scared a little, but I don't really like horror movies and the like. Is there enough other good stuff there to make it worth watching? —Sarah
We covered a very similar question here not too long ago, but this keeps coming up, so let's revisit: IS AHS scary? Yes! Yes. American Horror Story — and this season in particular, AHS: Hotel, is scary. The season starts tonight, and if you're at all weird about injuries to eyeballs or hands, avoid, avoid, avoid. There are also disturbing, grotesque creatures and body-torture scenarios. And I only made it through the first 20 minutes or so of the season premiere.
I watched the other seasons of AHS, and I found this too scary, though I will say I found season two almost unbearable as well, and merely listened to many scenes lest I subject myself to images I can't unsee. But there's also a cumulative effect — knowing what I know about previous seasons, I just could not get onboard all over again. If this is your first time at the rodeo, perhaps your experience will be different. If you are generally not into horror things, though, this just is not for you. Not every show is for all of us! That is okay! Ryan Murphy has other output.
Somehow I blinked and missed the whole superhero-TV renaissance going on right now. Usually shows like Arrow, The Flash, and Supergirl wouldn't catch my attention, but they're all produced by Greg Berlanti, whom my Everwood-loving soul adores. Should I be watching any of these? —Andrea
If you are in the market for a superhero show, Arrow and The Flash absolutely get the job done. But if you're not otherwise jonesing for superhero or comic-inspired series, there's not really a reason to dip in. Arrow starts a little slow, but picks up and gets pretty good; The Flash is consistently decent and probably the Berlanti-est of the bunch. I just could not get into the pilot of Supergirl at all, but pilots are not always a great representation of a series. It's possible that it could get better?
I say this as the biggest Everwood fan you'll ever meet: Greg Berlanti has a spotty track record. Yes, he is the guy who came up with Joey and Pacey hooking up, and for that alone, the world is forever in his debt. I loved Jack & Bobby, and I also loved Eli Stone. But after that … hmm. I recently rewatched Brothers & Sisters, and it did not hold up but rather grated in new and sad ways. (Maybe only old David E. Kelley shows should do that all-talk-at-once thing, and even then …) Dirty Sexy Money never really hatched. No Ordinary Family was a weird swing and a miss. Political Animals remains one of the best pilot scripts I've ever read, but on its feet was a flabby mess and an accidental rom-com about a mother and son. Golden Boy whiffed. The Tomorrow People? Oy, no thanks. Or god forbid, The Mysteries of Laura? Eeesh, make it stop. This is at best a neutral record.
If you're only trying to scratch that "OMG FEELINGS" itch from Everwood, try: The Fosters, Switched at Birth, My Mad Fat Diary, Life Unexpected, Jane the Virgin, Greek, or Huge.
As we eye-rolled our way through the exposition in Marvel's Agents of S.H.I.E.L.D.'s season opener, my husband and I broached the topic of quitting this show. But something about the pull of the Marvel Cinematic Universe keeps us clinging. If we're into the rest of Marvel's offerings, is it worth slogging through for whatever rounding it gives the MCU's overarching story? —Heather
I had to consult Vulture's in-house comics expert Abraham Riesman for this one because I have absolutely zero affinity for the MCU and for superhero stories in general. Take it away, Abe!
Broadly speaking, none of it is of it is essential to understanding what happens in the movies. Marvel has very deliberately made the movies 100 percent stand-alone (well, at least as stand-alone as a cinematic franchise can be); no information from the shows has yet been at all relevant to the movies. But depending on what you like about the MCU, you might still like some of the shows. If you're into the big sci-fi aspects ("someone has the Device and we need to get the Device before the bad guys do"), then by all means, watch Agents of S.H.I.E.L.D. It's setting up ideas that will probably be important in the Inhumans movie someday. If you're into the Captain America movies, and their focus on intrigue and character development and period-specific outfits, then Agent Carter is lovely. Daredevil requires no introduction, though it does require a high tolerance for sullen punching.
Well, there you have it.
Why do you hate Amelia on Grey's Anatomy so much? —Steve
Because she is the worst. And she's also redundant. Someone deeply connected to Derek Shepherd? Yeah, we have Meredith. (And ourselves.) Someone in recovery? Richard. Someone who's hot for Owen? We had Cristina and Teddy, thank you. Someone who is or is like a sister to Meredith? Yeah, we had Lexie (worse than Amelia!), and now we have Maggie, who is actually great. Team Maggie. We already have one boring brunette too many, thanks to Jo.
If we're gonna double-dip with someone from Private Practice, why can't it be Addison? I know Grey's is focused on finding hetero romance right now and is looking to add dudes, but Addison would be a perfect re-addition to the cast. And also she and Alex are a great couple! (I still ship Meredith and Alex, but okay.) Plus, that could knock out Jo, who is not worthy of our attention.
As long as we're talking about Grey's Anatomy dreams, though, my current big dream is to somehow get Kelly Bishop into Shondaland. While I can picture her going head-to-head with Sally Langston on Scandal, my preference is to see her team up with Debbie Allen on Grey's, and in some capacity have both of them dance. I am convinced this would be great. Shondaland has a lot of overlap with Gilmore Girls already, so why not aim for the top?