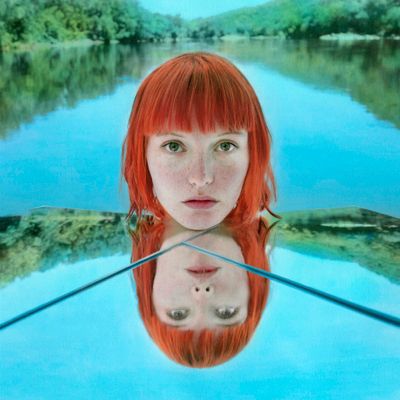 Photo: Courtesy of Def Jam
Back in October 2012, when Kacy Hill was just 18 years old, she packed up her old Honda Civic and drove to Los Angeles from Arizona looking for more exciting times. She found a place on Craigslist and overpaid to sleep in the living room. She was unsure of how she was going to make any money, but caught a break modeling for American Apparel. By the time I met the girl with the ghostly falsetto at midtown Manhattan's Gibson Studio this week, her former employer had filed for Chapter 11 bankruptcy. But unlike some of the more sordid tales we've come to learn about the company's history, Hill's time at American Apparel is marked by its fortuitous segue, after a year of work, into a gig as a backup dancer on Kanye West's Yeezus Tour, followed by a record deal with Ye's Def Jam subsidiary G.O.O.D. Music in 2014. Today, Vulture is premiering Kacy Hill's debut EP Bloo, a compact collection of songs and remixes that embody her quick transition from West Coast no-name to one of the year's most promising new artists.
Sporting a strawberry-blonde bob and a light-blue jean jacket, Hill recalls her time dancing on Kanye's elaborate, godly Yeezus Tour. "They used three American Apparel models with nine professional dancers," she says. "Vanessa Beecroft did a lot of the direction. It was more like performance art, static movement, which is good because I'm a terrible dancer." By the second leg of the 2013-14 trek, Hill had written her first song, a dreamy uptempo number called "Experience" that garnered her a small bit of buzz, and led her to decide to quit the tour. "I wanted these people to see me," she said. "I wanted these people to want to hear what I put out."
It was only after Hill decided not to do the second leg of Yeezus that she got a call from G.O.O.D about a deal. "I had no idea Kanye had even heard the song, but it was such a natural progression from the tour to working with his camp. He's such a commanding person and you just end up learning a lot being around someone like that, someone who knows how to get things that they need done in a way that involves very few words, and not even in a mean way. He's not at all demanding. But he knows he doesn't have to be rude or mean to accomplish what he wants. He just knows what he wants, he knows how to get it, and how to get it easily. I appreciate that."
At 21, Hill has a pretty good idea of what she wants, too. Career-wise, she looks up to — surprisingly — Jared Leto. "It sounds left-field, but it's more like I want to be able to do more than one thing." Acting, for example. Musically, however, she wants her songs to find "a balance between acoustic and electronic." But she doesn't like "vibe-y stuff," the sort of down-tempo electronic music that's become unavoidable these days. "Like, FKA twigs is good. Everyone agrees with that, but not everyone is FKA twigs. I think there is just way too much of it. There's an oversaturation of vibe-y stuff, which is understandable because it's easy to make. It's easy to not put a lot of effort into melody and lyrics." Her idea of a perfect song is more akin to Destiny's Child's "Say My Name," because "you can dance to and cry to it."

Instead of chasing vibes like many young singers with her kind of voice, Hill's focus is on her lyrics — the thing she doesn't want anyone to touch because of how instrumental her words are to "creating a cohesive body of work" that's distinctly hers. She also wants to make sure her music has a life beyond the internet, envisioning a live show that's museumlike in its simplicity and rigor, "an elevated aesthetic," and "visual elements that feel empty, where everything around you is clean, but you become the focal point of the space." This description matches the tone of Bloo, which glows like the muted neon colors of a James Turrell installation. Hill's voice is the source from which all things seem to emanate.
So far, Hill has been compared to James Blake, and indeed, the songs on Bloo will resonate with Blake fans, especially the swirling, minimalist piano ballad "Foreign Fields." But Hill warns that this collection of songs sounds very different from the forthcoming album. "These are songs written during sessions over the past year, and it's all over the board. They're songs I really like, they don't fit with the album, but they need to have their own life." The full-length album has not been announced, but Hill says it has "a lot of '90s alternative and left-field pop. Third Eye Blind, Tonic, Semisonic, the Cranberries. It's stuff I grew up listening to, and I still listen to it and I still really love it." (No word on whether Kanye will provide any features. The album is being produced by Kate Boy's Oskar Engström.)

With so many personal changes in just a few short years — and certainly more to come — Hill's still wrapping her head around all of it. "I have a hard time getting excited about things because I don't believe they're real until they're in front of me," she says. "Even just putting the EP out, I haven't gotten excited until this week because now it's happening. It's real. Everything is always like, Yeah, maybe it might happen, it got pushed back, who knows. That's how things work. I'm just excited to make music people want to listen to."
She's also excited to report that she finally has her own room.