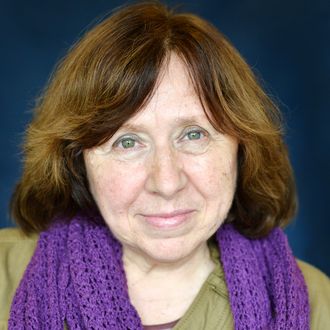 Svetlana Alexievich.
Photo: Ulf Andersen/Getty Images
This year's winner of the Nobel Prize for literature is Belarusian historian and journalist Svetlana Alexievich, the Swedish Academy announced today. Best known for her groundbreaking oral history Voices From Chernobyl, Alexievich was awarded the prestigious prize "for her polyphonic writings, a monument to suffering and courage in our time." She is the 14th woman to receive the award, and the first nonfiction writer since Jean-Paul Sartre in 1964.
For each of her works, Alexievich enlists hundreds of regular people to tell their stories of the major events in Soviet and Belarusian history. "I'm writing a history of human feelings," she explains on her web site. "What people thought, understood and remembered during the event. What they believed in or mistrusted, what illusions, hopes and fears they experienced." Besides Voices From Chernobyl, Alexievich has also written Zinky Boys, an account of the Russian invasion of Afghanistan, and War's Unwomanly Face, an oral history of Soviet women in World War II. The latter book, which was banned for two years, marked her as a dissident; after the fall of Communism, she was persecuted by the regime of Alexander Lukashenko and spent much of the past decade in exile.