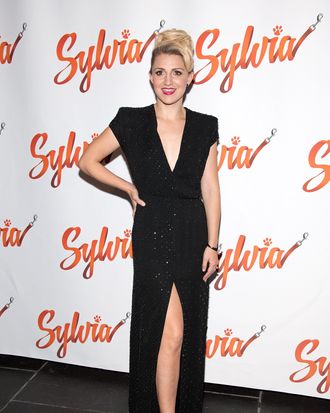 Annaleigh Ashford, the human actress.
Photo: D Dipasupil/Getty Images
In A.R. Gurney's play Sylvia, which opened on Broadway last week, Annaleigh Ashford plays the title role in what our critic Jesse Green calls a "comic-genius performance." Sylvia is a dog, specifically, what looks like a labradoodle. "You know, I came offstage tonight and I kind of inhaled a sob of, like, great joy," Ashford told Vulture Tuesday night at the opening-night party at Bryant Park Grill. "It's been such a challenge as an actress. I've been working on this in my bathroom for the last eight months, you know, but I've never done more research for a role in my life."
As Sylvia, she has to wear knee pads because she's constantly on all fours. She jumps on sofas, jumps on people, rolls over, sniffs crotches, moves across the floor flat on her butt, runs back and forth throughout the theater, and somehow masters canine mannerisms. She said her research included reading "a million" books, but also actual training. "I took obedience, agility, and shepherding with my dog," Ashford said. "And I did a lot of work on my chakras. I did a lot of chakra work because, you know, animals exude an energy that is sometimes different than us as humans, so I was like, 'Let's try the chakras.'"
The role is physically taxing. "I keep thinking every morning when I wake up that I'm not going to be as sore as I was the day before, and I'm more sore! I don't know what's happening!" she laughed. "I guess I'm getting a good workout every night. I'll be ripped by the time we're done."
With all of her running around, though, there are mishaps. "Sometimes she misses the steps when she runs from the theater back up onto the stage," said Matthew Broderick, who plays her owner. "I hear, Bam! And then she looks very disoriented and climbs onto the stage," he said. "One time somebody left their drink from the bar on the steps that I run up onto the stage," said Ashford. "I don't know why they thought it was a coffee table; it was obviously steps up to the stage, but I knocked that one over. And there's things that happen every night. I trip all the time, and then I just pretend like I'm meant to go to my knees." Physical comedy is brutal.