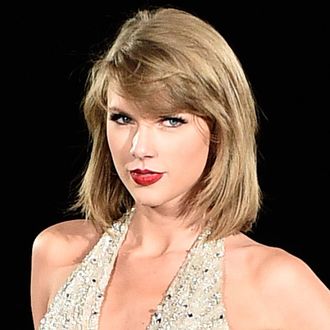 No beef to see here.
Photo: George Pimentel/LP5/Getty Images
Remember that time Taylor Swift accidentally started a beef with Nicki Minaj on Twitter when she mistook Nicki's comments on racism in music as a jab at her own awards-show domination, and jumped into Nicki's mentions? (They later reconciled on the VMAs stage.) Well, Taylor has vowed to never let her pop-star quarrels play out on social media front pages ever again. Instead, she'll do it the ol' fashioned way: texting! She tells NME: "I don't want to talk about it. But I send text messages now. If there seems to be some kind of misunderstanding, I go to someone's management, I get their number and I text them. It's an important lesson for anyone to learn in 2015." "Anyone" meaning Meek Mill, obviously.