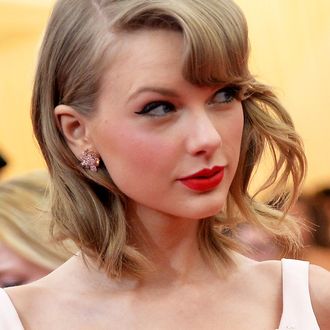 T.Swift.
Photo: Mike Coppola/2014 Getty Images
Women in pop music reign supreme on Instagram, according to the social-media platform, which celebrated its fifth birthday this week by unveiling its first-ever top-five ranking. Taylor Swift (perhaps unsurprisingly) came in first, with 49.6 million subscribers, followed closely by Kim Kardashian and three other big-name female singers. "The type of content we see from these people is authentic and often times really fun," Instagram's head of global creative programs, Charles Porch, said, according to Reuters. "It's a view people haven't really had before, especially in real time … What Instagram is doing is giving all these ladies a direct line to their fans, and, by having a direct line, they're controlling their message."
Here's how that top five breaks down:
Taylor Swift: 49.6 million
Kim Kardashian: 48.1 million
Beyoncé: 47.2 million
Selena Gomez: 45.9 million
Ariana Grande: 44.6 million
(The closest guy is Justin Bieber, with 40.3 million.) Instagram notes that Gomez has the most interactive account, and that all five are most popular with the under-34 age demographic. The recipe for success? Squad goals and cats, obviously. Oh, and song suggestions, maybe?
Thanks. Congrats, Tay Tay.