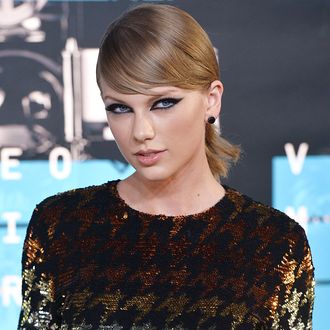 Taylor Swift.
Photo: All Access Photo Group/Corbis
People reports that Taylor Swift is countersuing a radio host for allegedly groping her backstage at a concert in 2013. Her lawsuit comes just a month after Denver radio host Robert "Jackson" Mueller sued the pop star for making a false accusation he says got him fired. Mueller claimed in his original suit that he and his girlfriend participated in a meet-and-greet at her concert at the Pepsi Center in Denver, where they took a last-minute photo with Swift. Later, he says, someone from Swift's security team accused him of sexually assaulting the star, which eventually got him fired and banned from her future concerts. Mueller argued that while he does believe Swift was inappropriately touched, it was by his boss at the radio station KYGO-FM, Eddie Haskell. In her countersuit, Swift says she's certain it was Mueller who assaulted her:
"Ms. Swift knows exactly who committed the assault — it was Mueller — and she is not confused in the slightest about whether her long-term business acquaintance, Mr. Haskell, was the culprit. Mueller did not merely brush his hand against Ms. Swift while posing for the photograph. In the course of his meet and greet with Ms. Swift, Mueller intentionally reached under her skirt, and groped with his hand an intimate part of her body in an inappropriate manner, against her will, and without her permission.
Swift says the incident left her "surprised, upset, offended, and alarmed," and has vowed to donate any money a jury might award her in damages to "charitable organizations dedicated to protecting women from similar acts of sexual assault and personal disregard."