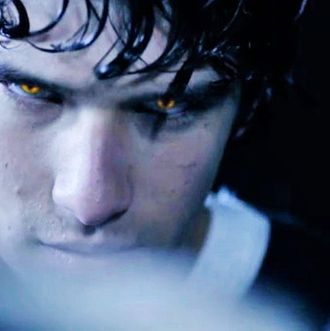 In the five years since Teen Wolf premiered, the series has shifted from teen werewolf drama to a supernatural thriller, one that regularly offers up genuinely frightening moments. Season 5A proved to be one of the darkest and scariest yet, teasing the potential death and destruction, both physically and mentally, of many beloved characters. While the heavier tone was much appreciated after an uneven season four, an occasional release valve would have been nice. According to creator Jeff Davis, speaking during the show's New York Comic Con panel, that's just what lies ahead in season 5B.
"We went pretty dark in 5A," Davis said. "We're getting our sense of humor back, we like to say, in 5B. It's gonna be much more fun. I told Tyler [Posey] we're gonna see him as a badass alpha. Tyler kicks ass up and down the sets of Teen Wolf."

So what kind of tonal shift does "sense of humor" actually indicate? Well, for one, we'll continue to see the budding romance between Scott and his love interest Kira (played by Arden Cho). "They're so cute and I love the awkwardness between them, and it really brings a kind of awkwardness to the show. I think the show really needs it and it's just really relatable," Posey said.

Less cute and relatable are the conflicts within Scott's pack, most specifically between Scott and Liam, as well as Scott and Stiles. Those aren't going anywhere — but despite all the tension, the pack will eventually have a "reformulation" according to Davis. And we'll continue to see other characters  develop relationships that were introduced in past seasons. The connection between Lydia and Parrish will definitely continue to blossom as season 5B unfolds, Davis said in response to a fan question, thanks to their similar supernatural abilities — and, as Posey joked, their "hot bodies."

"I mean, the first episode does have that shower scene," Davis revealed, reluctantly. Naturally, Posey was quick to elaborate: "They're naked! Together!"

If that doesn't get eyeballs to television screens, nothing will. Teen Wolf returns for season 5B on Tuesday, January 5, on MTV.