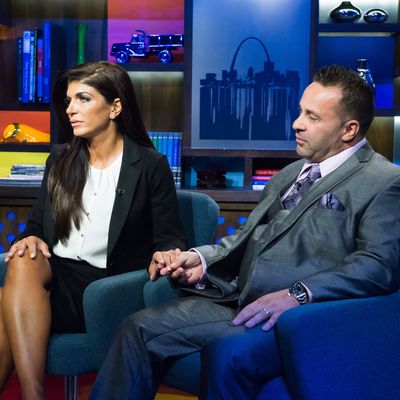 Teresa Giudice and Joe Giudice in 2014.
Photo: Bravo/Getty
There were a lot of tears on the first of three parts of the Real Housewives of New Jersey: Teresa Checks In special. Teresa Giudice, calling from Danbury Correctional Facility, where she is serving a 15-month sentence for bankruptcy fraud and conspiracy to commit mail and wire fraud, didn't cry at all. It was her daughter Gia, whose manicured nails fanned her face repeatedly, trying to keep a torrent from ruining her makeup before her eighth-grade formal and graduation. Her husband, Joe Giudice (who will spend 41 months in prison upon Teresa's release for the same crimes), usually a stony heffalump of a person, also cried, thinking about the anniversary of his father's death and his wife missing moments in their daughters' lives. Based on the score and tone of the special, I think we, the viewers, are supposed to be sad, too: sad that Gia, Gabriella, Milania, and Audriana don't have their mother there when they need her the most; sad that Teresa is locked away and has to deal with life in prison; sad that cameras aren't allowed into the facility so that we can see Teresa without her usual centimeter-thick mask of foundation and eyeliner, her professionally curled hair, and her Swarovski-laden outfits fresh from Posche Boutique.
But you know what? I'm not sad at all. In fact, I'm a little mad that Bravo is trying to provoke these emotions for someone who broke the law and is now paying the price. "She doesn't deserve to be where she's at," her brother-in-law Peter says to his brother Joe at one point. I'm sorry, Peter, but she belongs in jail. That's the way that life works. It's not like she got cancer or had her back crushed by a falling wall in an earthquake. Those are things no one deserves, and are also entirely unpreventable. Know what is not? Breaking the law.
Joe Giudice's stance on this is the most difficult to stomach. Though often teary-eyed, he never seems contrite. Sure, it's hard to read any sort of emotion on his face (and it's also hard to forgive him when he refers to men who have sex with each other in prison as "corn holers"), but he seems more sorry that he and his wife got caught and have to serve time. To Joe, defrauding people and stealing money seems tantamount to rolling through a stop sign: no big deal. The worst of Joe Giudice wasn't even on the special but on the Andy Cohen Dog and Pony Show afterward, where he was on with his brother-in-law Joe Gorga. A viewer asked Joe Gorga if he blamed Joe Giudice for Teresa being in prison. Joe Gorga says, "Yes, who am I going to blame?" Joe Giudice responds, "I don't know why he would blame me, but everybody's got their own opinion. I would blame more him than anybody, coming on the show and talking all the crap he talked, you know, all the years everything going on, so I would more blame him than me."
Excuse me? What does Joe Gorga going on the show have to do with the faulty loan applications the couple filed and the banks they tricked out of money? Did Joe Gorga sneak into their 146-car garage at their Onyx Palace in Franklin Lakes and hide their assets somewhere out behind the woodpile so that the bankruptcy court wouldn't find them? Is this really Joe Gorga's fault? No, it is not, and that Joe Giudice still can't publicly take responsibility for his crimes is pretty appalling.  He can't even say the word prison out loud — he says that Teresa is in a "low-budget spa," where she can talk on the phone 300 minutes a month, has unlimited email (though no internet), and is enjoying both yoga and spin classes. Yeah, sounds nice. Maybe that is what Joe has to tell himself so that he doesn't feel bad about what his wife is doing right now, and what he'll be doing early next year.
The people I am sad for in this whole ordeal are the children. Not only did they have nothing to do with their parents' behavior, they also had no choice as to whether or not they appeared on this special. They were conscripted into it, and a couple of them probably don't know what life was like before the cameras were rolling every second. (It's also going to suck when this is what appears at the top of their Google results for the rest of their lives. Well, at least until Milania inevitably has a reality show of her own.)
Apparently Joe and Gia have told the youngest girls that their mother is "away working." The kids go and visit their mother in prison, and when she calls, it says, quite clearly, "This is a call from an inmate in Danbury Correctional Facility." What do they think is going on?
It's obviously having an affect on Milania. The third daughter, 8, is the comic relief of the house, teasing Gia's date (who looks about 19 and like he's been doing P90X since Obama took office) for wearing a gray suit and brown shoes and telling them to "keep their hands to themselves." She was born for the camera, but she's also moody and petulant. She's sensitive and acts out when her mother isn't around, annoying her father and her siblings, hoping that the attention will make her feel better.
The episode is built around Teresa's calls to her family, but she never says much to anyone. She tells them that she loves them, which always bears repeating, and she sort of orders them around and makes sure that everyone is being nice, but the 10 minutes a day she gets isn't enough for a conversation. "I hope it didn't hurt them too much [that I'm away]," Teresa tells Joe on the phone. "If anything through all this I hope it makes them stronger."
Not having your mother there shouldn't be the thing that makes them stronger. Their mother, and their father, sitting them down and being honest with them, no matter how hard that might be, is what is going to make them stronger. Saying, "Don't make the mistakes that I made," is going to make them stronger. Showing that their actions have consequences is going to make them stronger. That's the reality show I want to see: Real Housewives: Scared Straight.