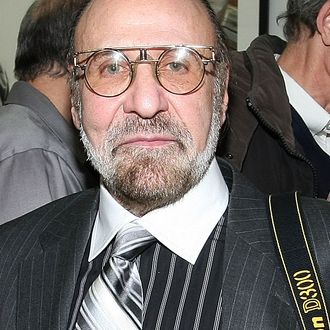 Dr. Burns.
Photo: Michael Loccisano/2009 Getty Images
You might not be familiar with Dr. Stanley Burns's work, but he's quickly becoming known as the other genius who lends his talents to The Knick. At a Meet the Actor event at Soho's Apple Store on Monday night, Clive Owen, André Holland, and Eve Hewson explained to Vulture's Matt Zoller Seitz how Steven Soderbergh and his show owe a lot to Burns — especially when there's mention of anything remotely surgical.
Who is Dr. Burns? When asked how accurate the tools used on the show are, Holland, who plays Algernon Edwards, described Burns as "a wonderful medical consultant … who has on the Upper East Side a four-story brownstone that's covered floor to ceiling, wall to wall, with medical journals and instruments."
Burns is actually an ophthalmologist by trade, but he began collecting medical photographs in the '70s and accrued a collection large enough to open the Burns Archive in midtown Manhattan. In an interview with Vice, Burns described his collection as "irrefutable truth" — since old medical texts didn't do a good job elucidating the actual medical innovations of the time.
As far as how he started working on The Knick, Burns said he was brought on first to teach the actors how to perform the medical maneuvers of the show, noting: "Clive took private lessons, but all the other nurses and doctors came here, and I taught them how to operate." Burns said that when the training was done, the actors felt the lessons were the most valuable things they would take away from the show — "because in any emergency they would know how to suture, how to tie." The actors, according to Burns, were "better than medical students" because they were so serious about learning how to handle the equipment.
"He was there with us every day when we did one of the surgeries to make sure that all the instruments were accurate, that everyone was standing in the right place, behaving in the right way, so everything you see is pretty, pretty spot-on," Holland added.
Although Owen effectively had a private tutor, he wasn't sure he would initially need to use his new set of skills:
Well, I have to admit that when we started, I thought we would do so much and then he would get hand doubles in. I was just convinced because we're playing genius doctors who are doing these operations, but I would say he never did any of that, and he just shoots so specifically in a way that kind of helps us out. We have to know what we're doing in terms of handling instruments, and have the right rhythm to everything, but nearly everything you see is kind of what was happening in that room. It's not been treated, or things haven't been done afterward.
As much as Soderbergh is the driving creative force behind The Knick, Dr. Burns is still very much a valued member of the team and continues to affect the show's quality, according to Owen. "Steven defers to him and says, 'Is this correct?' You know, the one thing [is] we've had an incredible response from doctors who have seen the show," he added. "Both the research and how thorough it's been done, but also just the approach to all the operations … We've never put anything in it that is sort of just a flight or fantasy because we think it makes good drama, and this kind of show, it's all been inspired by real things in New York at that time, and what was happening in the world of medicine." Thanks be to Burns and his irrefutable truths.