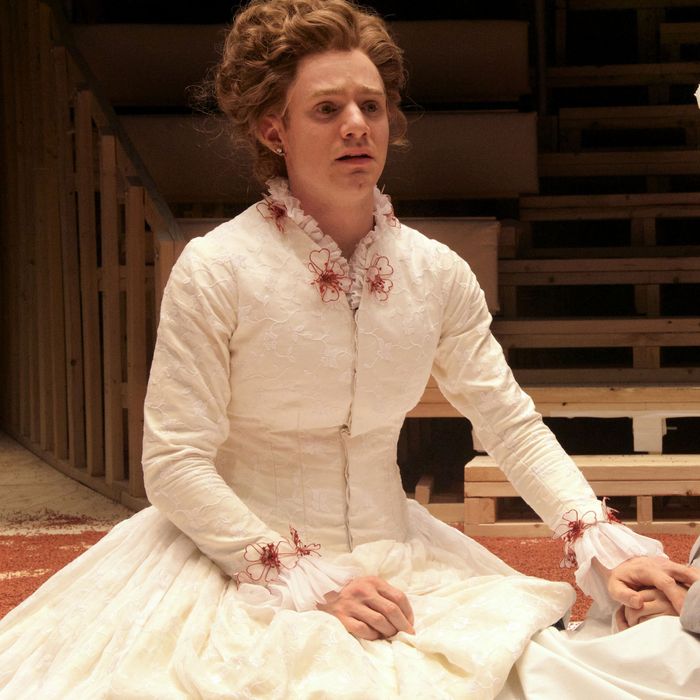 Chris Perfetti, Izzie Steele in Atlantic Theater Company's revival of Caryl Churchill's CLOUD NINE, directed by James Macdonald. Opening October 5, 2015 at The Linda Gross Theater (336 West 20 Street). Photo: Doug Hamilton.
The first American production of Cloud Nine opened off Broadway on May 18, 1981, a few weeks before the Times ran its first account of what would later be known as AIDS. That's pure coincidence, of course; Caryl Churchill's play about the necessity and cost of all kinds of liberation had already been produced in England, two years before. But one way of understanding what might be meant by a great work is to look not only at what it offers as a reflection on its immediate past (which is the way we judge most new plays) but also at what it anticipated and what it continues to anticipate decades later. Many timely dramas shrink and buckle with age, their laudable politics as passé as their loud clothes. But Cloud Nine, now in a superb revival at the Atlantic, has only grown fuller, meatier, sadder, funnier, sexier, and more provocative — more theatrical, too — as the conditions from which it arose have changed radically, and have not.
The question of timeliness is built into the play's unusual structure. Act One takes place during the reign of Queen Victoria, in a British colonial outpost in Africa. Act Two takes place at the time of the play's composition, in London, and though perhaps 85 years have passed in the "real" world, the characters that recur from Act One are only 25 years older onstage. A fey little boy in knee pants on the veldt around 1895 is, in 1979, a gay man in his mid-30s, trying to corral his tomcat boyfriend. His mother, in 1979 a divorcée in a print skirt, only recently wore a massive lace gown with hoops. In this way we are given to understand that the status quo is permanent until it suddenly isn't. 
This is true not only for sexuality but self-rule, which Churchill sees as inner and outer manifestations of the same thing; in Act One it's impossible to untangle the repression of one from the repression of the other. In any case, together they are threatening to blow up the conditions under which Clive, the stiff-upper-lip (and lower-limb) autocrat at the top of both pecking orders, has thrived in Africa. The conditions are illusions, as Churchill indicates by the casting; Clive's wife, the one in the hoop skirt, is played by a man in this act; his disappointingly sissy son by a woman. In a society where everything squashable is squashed, no one's romantic situation is satisfactory. The neighbor whom Clive has the hots for finds him a bore, though she grudgingly permits cunnilingus. Clive's wife is in love with a dashing explorer, but the explorer prefers to have sex with the sissy son or with the family's black servant, who is played by a white actor. ("Shall we go to the barn and fuck?" suggests the explorer. "It's not an order.") The governess, meanwhile, is a proto-lesbian in love with her mistress, and the natives are just as restless. Churchill demonstrates how sex and violence move down the chain of power — from heterosexual male to homosexual male to heterosexual female to homosexual female to heterosexual child to homosexual child, to black person — until even a little doll gets raped. 
When everyone's roles are reconfigured after the intermission, some justice is done. The actor who played Clive now plays a rambunctious little girl: the daughter of his own daughter's female lover. (Got that? It's not actually very confusing to watch.) The explorer is now a passive-aggressive blowhard of a writer, trying to out-feminist his wife but given to announcing proudly that he is working on a novel about women "from the woman's point of view." All of the other roles are rejiggered as well, in fascinating new recombinant forms. In general, they show that heterosexuality hasn't aged very well; and yet other kinds of sexuality are not yet mature. ("There's no point in being so liberated if it makes you cry all the time," complains the blowhard to his wife.) The orgasm of liberation, however intense, is unsustainable.
Except, perhaps, as theater. Churchill (who is now 77) has never been afraid to let the content of her plays determine and even undermine their structure and tone, as is especially evident in later works like Love and Information and A Number. In Cloud Nine, the implicit and explicit revolutions that take place between the acts are also dramaturgical, as if to telescope changes in playwriting style in the period elided. Act One is a winky, Pythonesque sex romp in drag, the clichés and tight scene rhythms just barely keeping the lid on the nightmare of personal and political colonization that is actually being dramatized. Act Two has a looser, more directly emotional style, as befits its closeness to our own time. Where it is satirical, it is self-consciously so, and not a day outdated. (There's a hilarious attempt at an invocation of the Goddess, in hopes she may endorse the new sexual freedoms — it could be on Girls.) Surrealistic touches, such as the arrival of dead characters, are, for once, well motivated, the interpenetration of past and present being long since established. By the end, in ways both intentional and not, Churchill leaves you feeling as if you've lived through the emotional torment of all the decades the play covers, and those yet to come.
The production, directed by frequent Churchill collaborator James Macdonald, may, for some, be a physical torment as well. Set designer Dane Laffrey has replaced the Atlantic's usual stage and seating with wooden bleachers built up on all sides of a small playing area within the renovated church. (The design is similar to that of Mike Bartlett's Cock, which Macdonald also directed.) Let's just say that no Victorian lady or middle-aged theater critic could get very comfortable in the pittance of plywood allotted; be gamine, if you can. (Also mind your possessions. One theatergoer dropped his glasses, requiring the services of a house manager with a pair of deli grippers.) But the amphitheater arrangement does have the effect of forcing a deep engagement with the story, not only bringing the characters nearer but suggesting that the audience has a rooting interest in the outcome. As indeed we do, since the quest for a politics built on the liberation of human happiness — hence the title — is so 2015.
That such a politics remains elusive, and even dangerous, is an additional level Cloud Nine has acquired since 1981. Yet Churchill's cosmos admits it without difficulty. She had already written the line in which Clive, answering the explorer's confession in Act One, calls homosexuality a disease worse than diphtheria. In Act Two, Clive's son, whose boyfriend brags about the joys of promiscuity, seems to be in the crosshairs of AIDS — as possibly, through him, does nearly everyone else. (He gets involved in a polysexual thruple.) It's therefore a smart aspect of Macdonald's production that while Act One is performed in much the way it was in the original New York staging (directed by Tommy Tune, no less) the style of Act Two brings a far more contemporary brand of stage naturalism to bear. Chris Perfetti (as Clive's wife and then gay son), Sean Dugan (as the servant and then the tomcat), and Lucy Owen (as Clive's dour mother-in-law and then daughter) are standouts in an excellent cast. I trust they will haunt me as long as the original cast did because I'd like to see what this indispensable modern classic has become in another 34 years.
Cloud Nine is at the Atlantic Theater Company through November 1.