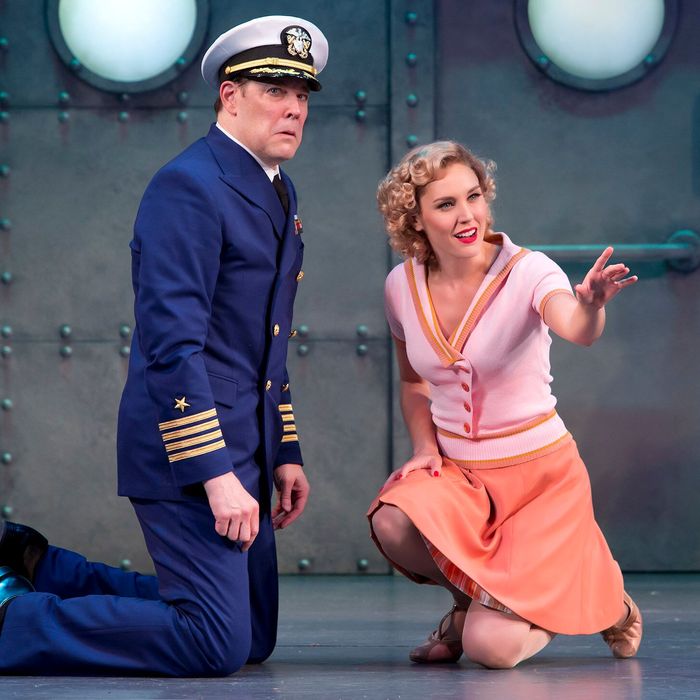 Mathematicians, or theater producers, have determined that the ideal interval separating the emergence of an entertainment genre from its recurrence as a musical spoof is 35 years — about the time it takes for the youngsters who first made the form popular to become oldsters eager to see it sent up. Anyway, that's the interval that worked for a spate of shows in the '50s and '60s that poked fun at material from three decades earlier. The Boy Friend, which introduced Julie Andrews in 1953, parodied Roaring '20s musicals; Little Mary Sunshine, in 1959, did the same to '20s operetta. Dames at Sea, which originated Off–Off Broadway in 1966, took a crack at '30s Warner Bros. musicals, but was different from the others in a way we would now call camp. Instead of sticking close to the presentational style of Busby Berkeley spectaculars like Gold Diggers of 1933, it literally belittled itself, making do with a cast of six and an orchestra of three on a stage barely big enough to contain Bernadette Peters. 
It would seem to be a category error to bring material so conceived to Broadway, and the production that just opened at the Helen Hayes, much as you root for it, fails to argue otherwise. In content, it's basically the same Dames at Sea you could have seen at Café Cino or the Theater de Lys five decades ago. Ruby, fresh off the bus from Utah, shows up in New York with nothing but a pair of red tap shoes and a Broadway dream. Wisecracker hoofer Joan helps her get a job on the chorus line of a show called Dames at Sea. (They are apparently the only two on the chorus line, but no matter.) Dick, a sailor/songwriter also from Utah shows up, his middy stuffed with sheet music, and falls for Ruby, while Lucky, another tap-happy sailor, resumes a romance with Joan. Complications ensue in the form of the man-eating diva Mona Kent (née Grace Topolovsky) and a wrecking ball set to bring down the theater on opening night; in Act Two, the team reassembles on the deck of a Navy battleship, which the blithering captain has allowed his sailors to use as a stage. You know the rest, straight through to the triple wedding. 
The charm of the show was never much in the story; as parody or even comedy goes, it's faint. (A typical joke from George Haimsohn and Robin Miller's libretto: "Say, where are you from?" "Utah." "You too?") In any case, since most of the dialogue is merely connective, the songs (with music by Jim Wise) are asked to carry the weight of the satire. They refuse. Rather than comment on the quirks or shortcomings of their models, they merely copy them, in presumably deliberate and definitely third-rate imitations. The opening number, "Wall Street," is a weak-tea dilution of "We're In the Money"; Cole Porter's "Begin the Beguine" gets reduced to "The Beguine" ("Do you remember … those nights of splendor in Pensacola?"); and the chord progression of "The Man I Love" is lifted wholesale for an infinitely inferior torch song called "That Mister Man of Mine." Add a choo-choo honeymoon number, a novelty waltz, and a shoehorned ethnic specialty ("Singapore Sue"), and what you end up with is a Simplicity pattern-book of a score. 
What once made this mediocre material work, if anything did, was the panicky contrast between the outsize ambition of the '30s originals and the downsized reality of the spit-and-cardboard tribute. In a way, the anxiety of living up to the template echoed something built into the template itself; Gold Diggers of 1933 was, after all, a hit at the depth of the Depression. The camp, in other words, was genuine. And while it's lovely to hear the score orchestrated (by Jonathan Tunick, no less) for eight instruments instead of two pianos and a drum set, the material's internal wiring gets tangled when mounted at the scale — and with the bland polish — of Randy Skinner's Broadway production. Anna Louizos's simple but full-size sets establish the tone of in-betweenness: neither over-the-top nor skin-and-bones. Skinner's choreography is similarly solid but square, featuring fusillades of furious tapping that are impressive but rarely delightful. It would of course be too much to expect that Ruby's big dance turn near the end, set to an inane ditty called "Star Tar," might tell you something about her dreams, or the period, or women from Utah. But would it be too much to hope it might open your ears to some new — or even old — rhythms? Instead it merely makes you think what good shape Eloise Kropp, who plays Ruby, must be in.
Not to pile on, but I was surprised to find most of the dancing, and for that matter the performances in general, so ineloquent. Mara Davi, as Joan, gets closest to the authentic style, and hilarious Lesli Margherita, as Mona Kent, gets closest to its camp equivalent. (Sometimes she winks so hard she appears Parkinsonian.) The two sailors, played by Cary Tedder and Danny Gardner, hit the sweet spot in-between — Gardner especially is a lovely stylist — and John Bolton does what he can in the blustery older gent roles. Still, there's a reason it's called Dames at Sea. The Gold Diggers movies aren't much about men; they celebrate the moxie of American women, surviving the '30s by turning nervous energy into footwork and worry into wisecracks. After the requisite 35 years, the musical brought to that celebration a new dose of anxiety and a new suggestion of survival. (Its original subtitle was Golddiggers Afloat.) But pumping up the material for Broadway another 50 years along has turned it leaden and charmless. Camp, it turns out, can't be faked; without deprivation and desperation, there is no wit. 
Dames at Sea is at the Helen Hayes Theatre.