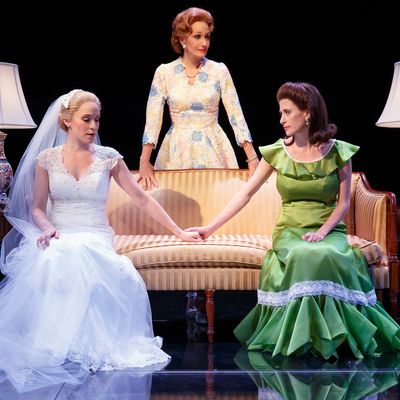 First Daughter Suite Public Theater/Anspacher Theater Cast List: Alison Fraser, Rachel Bay Jones, Caissie Levy, Theresa McCarthy, Betsy Morgan, Isabel Santiago, Carly Tamer, Mary Testa, Barbara Walsh Production Credits: Kirsten Sanderson (director) Chase Brock (choreographer) Michael Starobin & Bruce Coughlin (orchestrations) Seymour Red Press (music coordinator) Or Matias (music director) Scott Pask (scenic design) Toni-Leslie James (costume design) Tyler Micoleau (lighting design) Ken Travis (sound design) Robert-Charles Vallance (hair & wig design) Other Credits: Written by: Michael John LaChiusa - See more at: http://playbill.com/events/event_detail/first-daughter-suite-at-public-theater-anspacher-theater-363664#sthash.3JMduJaE.dpuf
Photo: Joan Marcus
Like the M34 bus, Michael John LaChiusa never disappoints for long: If you don't enjoy one show, another will come by soon. At 53, he remains probably the most prolific of his cohort of theater composers, also writing his own lyrics and often his own books. In addition to his operas and song cycles and out-of-town experiments, eleven of his musicals have received full-scale New York productions, starting with First Lady Suite, at the Public, in 1993. By my taste buds, the results are delicious about half the time: I'm a fan of Hello Again, The Wild Party, and See What I Wanna See, among others. But even when I haven't warmed to his work I've admired it; his intent is never less than to use the full resources of the genre, and his own questing musical voice, to explore serious themes. If the execution is sometimes unconvincing, or baffling, it is never random or retrograde. (In a screed in Opera News in 2005, he derided most contemporary musicals as gutless retreads.) And if none of his works has been a socko financial hit, or even especially popular, for an uncompromising artist working in a luxury medium, a critical batting average of .500 is awfully good.
So it's fitting that the four sections of his latest musical, First Daughter Suite, also at the Public, are, in order of appearance, smart, laborious, awful, and sublime. The idea itself is all of these at once. Like its predecessor, it is a compendium of fantasias on power and powerlessness, loosely suggested by the history and psychology of women who embodied that contradiction in the White House. But LaChiusa in no way limits himself to the facts on the ground. In the first segment, after a brief opening whose muffled presidential drums suggest both pomp and isolation, we meet not only Pat Nixon and her daughters, Julie and Tricia, on Tricia's wedding day in June 1972, but also Hannah Nixon, the president's mother, who by that point was almost five years dead. In Barbara Walsh's canny performance, Pat is the still (and apparently narcotized) center of a universe of nastiness, trying to maintain a private calm in the East Sitting Room as the girls claw at each other over the wedding preparations. Meanwhile, Hannah, who according to her son was "a Quaker saint," excoriates the First Lady: "Thee raised thine girls to be / vain and shallow / weak and fallow." Hannah is no less harsh on the president, singing that "He knows what is the right thing but is / attracted to the wrong" while, steps away in the Oval Office, he is even then conferring with Bebe Rebozo about the unraveling Pentagon Papers.
Within the odd idea of writing about such characters, it is odder that LaChiusa, here and throughout First Daughter Suite, gets the most feeling out of the first ladies. While it's undeniable (if somewhat pornographic) fun to spy on the imagined privacies of even marginal public figures like the Nixon daughters, it's the tragedy of the marriages that the show presents best. Certainly the second section, called "Amy Carter's Fabulous Dream Adventure," suggests nothing worth noting about the then 12-year-old daughter of Jimmy and Rosalynn; it is an unfunny attempt at comic relief in which Amy, aboard the presidential yacht, tries to rescue the hostages from Iran with the help of supercool professional photographer Susan Ford and her snockered mother Betty. (Though the most peripheral figure here, Rosalynn is the best drawn.) Nor, after an intermission, are the Mommie Dearest rantings of Patti Davis, sitting by Betsy Bloomingdale's Holmby Hills pool in 1986, as compelling as her mother's frozen civility. No matter how much Patti wants you to look at her, Nancy, in her Nancy Red swim ensemble, knows how to fix the eye.
But this section has worse problems than focus. Knowing that the bickering of a superannuated rebel and her control-freak mother won't hold the stage very long, LaChiusa introduces a wild (and invented) subplot in which Nancy has her maid, Anita Castelo, drug Patti with a dose of Paraguyan nightshade slipped into her Jack and Coke. "She'll be out for three days," says Anita, lighting up a spliff. "Sleep it off at the Ranch. Gives you time to do what you need to do." We are meant to be taking a detour into some sort of genre piece, but the intended frisson is thrown off by the weird theatrical politics of involving the Hispanic maid with drugs. In fact, the real Anita Castelo, who took care of Mrs. Reagan's clothing if not her interpersonal dirty work, was charged that same year with participating in a conspiracy to smuggle ammunition to Paraguay. (She was cleared.) It was Patti Davis herself who had the substance problems; by ignoring that and choosing instead to dramatize her relentless brattiness (she's dressed like a Madonna wannabe, and sings things like "a big nasty black man / gonna turn this mutha out! / Gonna learn what perestroika / is really about"), LaChiusa goes way over the line of inventiveness into something almost scurrilous. In any case, it's intrusive in exactly the wrong way, proving the unspoken thesis of the Amy Carter sequence that the daughter of a president is herself a sort of hostage.
How surprising and gratifying, then, that the final segment, "In the Deep Bosom of the Ocean Buried" — the title comes from Richard III — is one of the loveliest, and most loving, things LaChiusa has ever written. It begins comically, with Barbara Bush, at Kennebunkport, refusing to pack for a 2003 campaign trip in support of her son George W.'s reelection. ("I didn't raise my sons to be unpopular," she sings, with furious disappointment.) Laura Bush tries to jolly her back in line, but Bar is un-jolly-able, especially on the day that marks the anniversary of the 1953 death of her first daughter, Robin. (It is only in this tricky way that the segment comports with the evening's title.) In a series of duets with the spirit of her past, which rises from the rough Atlantic, and with Laura, representing the resigned practicality of facing the future, Barbara transforms, through music and mien, from the familiar sharp-tongued dragon of White House caricature into a kind of cosmic spokesperson for loss. No accident that the role is played by (and must have been written for) Mary Testa, a longtime LaChiusa muse, whose passion and implacability make this riveting psychodrama almost unbearably moving. When she sings, even the most difficult new material sounds like inevitable song.
The rest of the cast is very fine throughout, with fascinating doubling that makes its own points. Betty Ford and Nancy Reagan make a natural pair for Alison Fraser; Rachel Bay Jones is Rosalynn Carter and, spectacularly, Laura Bush; Theresa McCarthy is a bracingly hard Hannah Nixon and a haunting Robin Bush. Other than that, though, there is little that holds the evening (directed by Kirsten Sanderson) together, despite a certain amount of thematic appliqué. (The production tries to use water — rain at Tricia Nixon's wedding, the presidential yacht cruising the Potomac, Betsy Bloomingdale's pool, and the ocean at Kennebunkport — as a universal solvent.) Musical coherence is more successfully achieved, with LaChiusa's go-to percussion effects and Eastern scales. But in the end, these suites, being episodic, cannot dredge deep meaning the way narrative works can. Still, if it takes Amy Carter and Patti Davis to get to Barbara Bush, that's a compromise I can live with.
First Daughter Suite is at the Public Theater through November 15.