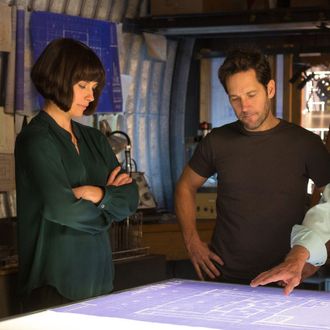 Marvel announced today that Ant-Man and the Wasp, a sequel to Ant-Man that will reunite Scott Lang (Paul Rudd) and Hope Van Dyne (Evangeline Lily), will be released on July 6, 2018. Director Peyton Reed (who helmed Ant-Man) also shared the news via Twitter, suggesting he will return for the second installment.
In July, Reed spoke with Vulture about a potential Ant-Man sequel and what it might entail. In the first film, we were left with Hank Pym (Michael Douglas) realizing that his wife, the original Wasp Janet Van Dyne, is not dead as he thought, but lost in the quantum realm. Reed said, "If we're fortunate enough to do another one, what's Hank going to do about that? Is he going to try to find her? It's deeply romantic."
The announcement of Ant-Man and the Wasp will shift two other Marvel titles to make room. We'll be seeing Black Panther earlier than expected now, as it leaves summer 2018 and moves to February 16, 2018. And Captain Marvel, originally schedule for a November 2018 release, is now set for March 8, 2019.