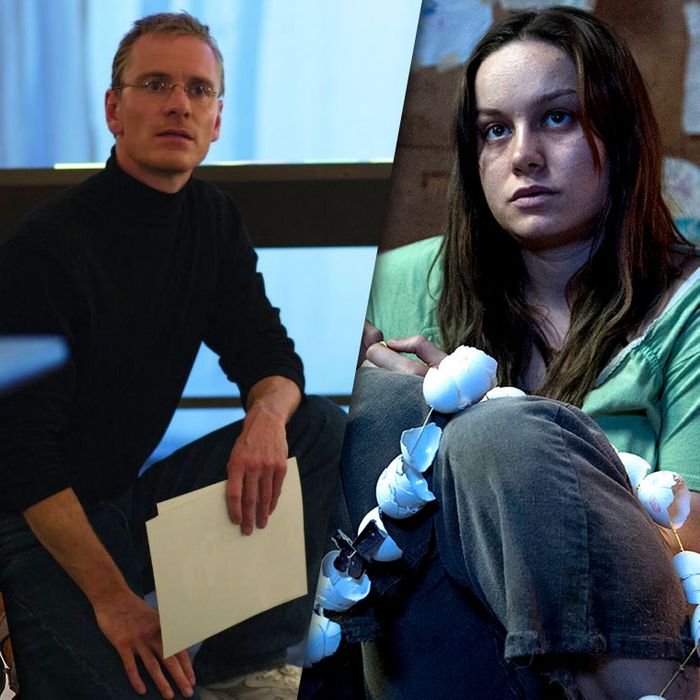 Photo: Universal Pictures, Twentieth Century Fox, and A24
Hello, and welcome to the inaugural This Month in Movies. At the end of each month, we'll be looking back at the Movies, in the royal sense: the films that did well, the films that didn't, how the industry's faring, and what you missed in the 30 or 31 (or maybe 28 if it's February; nice job on that one, Romans) days that just came and went, faster and faster all the time. So many films, whipping by like leaves caught in a strong wind, falling from branches in that cycle of death and rebirth that takes hold at the same time every year, without regard for your own wants and desires. The movies: just like dying trees.
Anyway! October was a weird one.
GOOD JOBS WAS A GOOD EFFORT
Much of the action in October, both the good and the bad, wasn't that surprising in retrospect. The Last Witch Hunter wasn't going to hit in any of the infinite parallel universes that exist, much less this one. But there was one honest-to-God surprise, and that's the flop of Steve Jobs, the Aaron Sorkin–penned, Danny Boyle–directed, Michael Fassbender–starring tale of the Apple founder/tech icon.
By a number of metrics, the release of Steve Jobs should've gone swimmingly. It did superb business in limited release, grossing $130,000 per theater, the best performance of that kind so far this year and nearly double the money of Sicario, the runner-up. It had high visibility thanks to a controversial development process that involved casting rumors, director changes, and the Sony leaks. It was written by Sorkin, the film industry's one screenwriter who has attained something like a household name.
But that isn't what happened. Unlike Sicario, which popped off to a solid $12 million opening when it went wide, Steve Jobs only did $7 million in nearly the same number of theaters despite much higher expectations. Maybe worst of all, it just barely eclipsed the take of Ashton Kutcher's laughingstock Jobs, the movie everyone thought Steve would erase from the face of the Earth.
Why? Let's start with the name of the movie. In its postmortem of the weekend, Variety pointed out that, in addition to being too high-concept and having a lead who lacked true drawing power, there was a problem with Jobs himself: "Jobs, his genius for design and demanding personality, have all been thoroughly picked over. There's the Walter Isaacson biography that formed the basis for the Sorkin picture, the Kutcher biopic, and endless profiles and think pieces. Steve Jobs is many things, but he is not an unknown commodity."
I'd go one step further. Yes, Jobs has been covered extensively in the years since his death, and Fassbender isn't Leonardo DiCaprio or Christian Bale. But Eddie Redmayne was hardly an American icon when The Theory of Everything came out. Instead, we've reached a point where biopics — or, to be more charitable, movies based on real people — are so common that they're being treated by moviegoers not as a genre in and of itself but more like other movies. For biopics to draw an audience, they have to clearly present what they are beyond the life of a person. The Theory of Everything was a love story, and you didn't have to know a thing about Stephen Hawking to understand that. Straight Outta Compton was a movie about early hip-hop culture, and even if you weren't all that familiar with N.W.A's music or reputation, you knew what you were getting. Black Mass was about gangsters and Johnny Depp. Et cetera, et cetera.
What is Steve Jobs about? That's a good question. There are a few possible answers: It's about the turmoil a genius creates in the lives of the people around him; it's about the mania required to "change the world," or at least sell a hit product; it's about Jobs's daughter, and the way he failed her as a father. But unlike these aforementioned films, Steve Jobs is coy about the story it wants to tell. Sorkin's screenplay, which follows these narrative threads through three different product launches, is a highly stylized attempt to consider Jobs's life. Divergent and experimental, Sorkin's method dodges the overarching, accessible narrative that might give it a gestalt and identity on par with the more-successful The Social Network. This isn't so much the story of Steve Jobs's life: It's Steve Jobs and a bunch of characters talking about the parts of Steve Jobs's life that have already happened. As such, Steve Jobs can at times feel more like a symposium or stage play than a film. The dialogue is beautiful and the rhythms are dazzling, but they are all in service of recounting events that have, more or less, already taken place. That makes it tricky to maintain tension and forward movement — and also to appeal to casual moviegoers. And so it didn't.
THE LUCKY FEW
1. The Martian
The movie absolutely owned October. Ridley Scott's story of a space Robinson Crusoe, stranded on Mars and trying to find his way back, topped the box office three out of the four weekends this month, and came in second on the only one it didn't. (That weekend was led by Goosebumps, which is the only other wide release this month that could be considered to be doing "well." What does well mean, anyway, right? "Well"-ness is in the eye of the beholder, much like beauty and whether I can pull off this jacket.) Starring literally everyone in Hollywood and Matt Damon in the main role, The Martian succeeded because it gave audiences the rare feel-good space-disaster flick. This sounds like a joke, but it's not: In an era of increasing direness in blockbusters, with cities being repeatedly destroyed and characters dying or losing loved ones, a movie like The Martian that's designed to make you happy feels increasingly rare and notable. And after Interstellar, a deliberately consternating film that thought itself way smarter than it was, The Martian's frank practicality about its hero's situation seemed to go over well, even if the whole thing was a little goofy.
1a. Ridley Scott
By the time it leaves theaters, The Martian will be Ridley Scott's highest-grossing movie. That's no small feat for the guy who made Alien, Gladiator, and Black Hawk Down. This comes at a great time because Scott hasn't exactly been on a roll lately. His last five movies prior to The Martian were all disappointments at the box office, and at best their quality was controversial. (I will happily maintain that The Counselor is a great movie.) Now, these sorts of fluctuations are of debatable significance for a filmmaker of Scott's stature, and most of his upcoming projects he's attached to as a producer, not a director. But when Scott's own work hits like The Martian did, it only adds to his influence — and with the Alien franchise mired in uncertainty and creative instability, you can never have too much of that.
2. Brie Larson
So far Room — A24's megaharrowing tale of a mother and child dealing with, then recovering from, imprisonment and captivity — has been performing well in limited release, and it's primed for wider distribution in November, with an eye on gate-crashing the Oscars in most of the major categories. But the one sector it has pretty much locked up is Best Actress, because Brie Larson dominates this movie. Larson's notices have been electric across the board, and Vulture's own prognosticator, Kyle Buchanan, has her in pole position for the award. At the very least, she will get nominated, correcting the injustice that was her snub for Short Term 12 back in 2013.
3. (or, I guess, 1b.) Matt Damon
Back to The Martian. Oh man, Matt Damon. You would think that the revival of Project Greenlight would've been a nice little career mitzvah for Damon, a gold star to show his influence extends beyond just his acting. Instead, it embroiled the Movie Star Most Likely to Secretly Be an Eagle Scout in controversy and, to top it all off, The Leisure Class, the movie whose production Project Greenlight is documenting, has gotten brutal early notices. But! Out of the 97 name-brand actors that took roles big and small in The Martian, Damon has the meatiest part, and he sank into it with the charm and charisma that made him one of the last remaining movie stars. While Damon hasn't been on quite the same cold streak as Scott, it has been a long time since he carried a film to blockbuster status — probably The Bourne Ultimatum in 2007. (How quickly we as a culture forgot about Elysium and We Bought a Zoo.) The Martian demonstrated that, even if the culturally savvy might be skeptical of Damon now, Joe Moviegoer will still see him get saved from space — a role he's beginning to perfect.
THE REST, A MESS

1. Every Blockbuster That Wasn't The Martian
This is a slight exaggeration, but seriously, only a slight one: Every wide release that wasn't The Martian or Goosebumps, Sony's Jack Black–starring adaptation of the R.L. Stine series, either bombed or had a botched release. Pan, The Walk, Crimson Peak, and The Last Witch Hunter reinforced what's becoming increasingly clear in Hollywood, which is that tentpoles unrelated to either comic books or prior franchises are a very hard sell. (Yes, Pan may come from Peter Pan, but nothing about Peter and the Amazing Technicolor Dreamboat really takes advantage of that character's strengths and legacy.) Pan and The Last Witch Hunter are going to lose Warner Bros. and Lionsgate so much money, and while Crimson Peak didn't flop on quite the same level, it's a disappointing performer considering the prestige attached to it — the combined efforts of Guillermo del Toro, Jessica Chastain, Tom Hiddleston, and Mia Wasikowska were unable to lift the R-rated Gothic-horror throwback into profitability. Meanwhile, The Walk couldn't translate its Imax-centric release strategy into large audiences, or, really, audiences of any kind: It failed to break $10 million domestically during its theatrical release, which has basically come to an end.
2. Rock the Kasbah and Jem and the Holograms
It gets worse. Earlier this year, We Are Your Friends had the worst opening for a 2000-plus-theater live-action release since 1982. Then, in one cool October weekend, two movies beat that, with Rock the Kasbah and Jem and the Holograms both grossing even less than We Are Your Friends. I'd suggest that the problems Kasbah and Jem faced are similar to the ones We Are Your Friends did, which is that no one knew what the hell they were or had any idea why they should go and see them. To wide-release a movie in 2015, you have to give the audience a reason to go to the theater. Otherwise, you're better off going straight to VOD, where there's far more likelihood that a viewer will take a random chance on you. People are not randomly seeing movies in theaters anymore. They just aren't.
2a. Bill Murray
As good as Bill Murray remains at generating internet headlines that include the words perfect and hilarious and hilariously perfect, no one saw Rock the Kasbah, for him or any other reason. Although the moribund St. Vincent actually overperformed last year, his other recent starring role, Hyde Park on Hudson, also struggled to make much of an impact commercially or critically. It isn't that Murray can no longer act or entertain: He can, and he's often very good at it. It's that his nose for projects has gotten questionable. Allow me to echo my colleague Jesse David Fox, who wrote about this exactly one year ago: Please, Bill Murray, just hire a damn agent.
3. Steve Jobs
Just reiterating here.
4. Truth
It has the misfortune of being the Other Movie in not one but two categories. It's the Other Journalism Movie, with the excellent Spotlight, arguably the early front-runner for Best Picture, clearly dominating that conversation. And it's the Other Cate Blanchett Movie, with Carol sucking up more and more oxygen as its release approaches. After a weak limited release, it's unlikely that the story of Dan Rather and 60 Minutes's fumbled investigation of George W. Bush's Air National Guard service will save itself in wide, and it doesn't help that the movie is schizophrenic, overwrought, and unconvincing.
ASK AGAIN IN DECEMBER

1. Beasts of No Nation
Cary Fukunaga's child-soldier war movie had an abysmal limited release for a prestige picture that's thinking Oscar. But Netflix's chief content officer Ted Sarandos told Deadline that 3 million North Americans have already watched Beasts in the comfort of their own home, where it was made available the same day it hit theaters, and it's been the top movie on Netflix in every country the streaming service operates in. Now, keep in mind that Sarandos has a deeply vested interest in creating a picture of success for the movie he spent $12 million on, and it would be easy to goose those numbers — who knows how much of Beasts those 3 million people watched? Also, did anyone buy a Netflix subscription so they could watch Beasts, and the movies Netflix has coming down the pipeline? Because people have purchased Netflix subscriptions just to watch Orange Is the New Black, House of Cards, and the service's other original TV shows. Regardless, it's encouraging for Netflix that they can at least sell the movie as a hit within their own service, because the true test — whether the Academy will take it, and them, seriously — is still to come.
2. Bridge of Spies
To quote Larry David playing Bernie Sanders, Bridge of Spies did … pretty good! Pretty good. While its opening weekend of $15 million didn't set the world on fire, it held on wonderfully in its second frame, dropping only 26 percent. That shows good word of mouth and an ongoing appetite for Spielberg and Hanks, even if this is, so far, the lowest-performing collaboration between the two to date. If Bridge of Spies can sneak its way into the Oscar conversation, that would give it a huge second life; if not, it may have to be content with a reasonable, though unspectacular, life in the middle.
HOW ARE YOU DOING, INDUSTRY?
Saddest possible emoji.