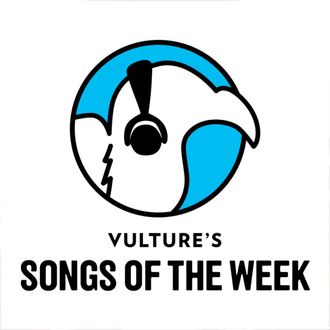 Every week, members of the Vulture staff highlight the best new music of 2015. If the song is worthy of your ears and attention, you will find it here. Read our picks below, share yours in the comments, and subscribe to the Vulture 2015 Playlist for a comprehensive guide to the year's best music.
Christine and the Queens feat. Perfume Genius, "Jonathan"
I first heard of Christine and the Queens back when Carly Rae Jepsen told me she tried to sign the French pop star to her manager Scooter Braun's label, but Neon Gold beat her to the punch. "I think she's gonna blow up; you heard it here first," she predicted then. I never followed up on her recommendation until the Queens (who is actually just one singer, named Héloïse Letissier) dueted with one of my favorite voices, Perfume Genius. Together they deliver an impassioned, bilingual plea to a lover who's denied them their right to be out and proud as freely in the daylight as they are in bed at night. The mood is somber, but neither artist is defeated, as reflected in this quote/life motto Letissier offered with the song: "You're never as strong as when you allow yourself to be the most vulnerable person you can be." —Dee Lockett (@Dee_Lockett)
Deerhunter, "Living My Life"
I interviewed the eccentric lead singer of Deerhunter, Bradford Cox, recently, and haven't been able to stop thinking about it because my essential takeaway, in addition to the trouble with object fetishism and the beauty of Japanese ceramics, was that I hadn't been living my life, the importance of which is the message of this song. Put it on repeat and remember that you only have one. —Lauretta Charlton (@laurettaland)
Selena Gomez, "Perfect"
Most of the talk about Selena Gomez's extraordinary first post-Disney album, Revival, is that it understandably sounds nothing like a Selena Gomez album. It feels appropriate of a 23-year-old who's beginning to come into her own, both in terms of her career and her personal life. She dropped her label, fired her momager, lost the love of her life, and battled a life-threatening illness in the matter of a couple years. Her emotional complexity bleeds all over the album, including most strikingly for me, the discovery of her womanhood. On "Perfect," she thinks about her sexuality in terms of how it functions for pleasure, but it's not so much about the man on the receiving end as it is learning how to harness that power to please. She studies the other woman her man's cheating on her with, turned on by the jealously. For her, the lust is mutual. This is "Girl Crush" for the women who've just figured out to how play the game. —DL
Kelela, "All the Way Down"
Two of the year's best EPs have come from women operating on similar wavelengths: Kelela and FKA Twigs. Each of these absurdly talented black women make undefinable pop, a sound that doesn't fit in its era but also couldn't have existed in another time. Just as Twigs's frenzied "Give Up" (from last year's LP1) explores comfort zones and the ways relationships force us to outgrow them, Kelela experiences her own boundary-breaking on "All the Way Down." She's working through the apprehension of dating a younger man, trying to make her heart and head agree when they won't. It's the stuff of a great R&B song (the whole EP is), and it has me lusting for an FKA Twigs–Tink-Kelela-Tinashe supergroup produced by Missy Elliott. —DL
Mothers, "it hurts until it doesn't"
It's CMJ this week, and Mothers is one of the most talked-about up-and-coming acts on this year's never-ending roster. The lo-fi guitar on "it hurts until it doesn't" is matched by lead singer Kristine Leschper's haunting voice, which sounds both plaintive and threatening at the same time. All evidence suggests this quartet from Athens, Georgia, will live up to the hype. —LC
Son Little, "I'm Gone"
The first song on Son Little's debut self-titled album sounds like an incantation. A faint whir of feedback whispers in the distance, xylophones dance playfully, a simple percussion line repeats to hypnotizing effect. Meanwhile, the Philly native, Aaron Livingston, recites lines as if he's performing a séance. "You get what you get and don't expect a thing." A ghostly guitar enters quietly. It's three quiet minutes of brilliant weirdness. Son Little first came on the scene when he provided vocals on tracks for the Roots and RJD2's The Abandoned Lullaby. The way he combines his roots in gospel and rhythm and blues with electronic have led some to call his music "nu-soul." Once you listen to his debut, you'll agree his music inspires much more than a prefix and a hyphen. It's pure unadulterated soul. —LC
Carrie Underwood, "Heartbeat"
Underwood's "Smoke Break," the first single off her upcoming album Storyteller, didn't excite me. It wasn't because it "promoted tobacco use and self-medication," it was just too sleepy for my taste. It didn't have the same drama, lyrically and musically, that her other songs are marked by. "Heartbeat," on the other hand, has me thrilled. It's a powerhouse of a song about liberation and escape, and it's everything I had wanted when I first listened to "Smoke Break." Some of the lyrics are a little bland ("Tonight I want to drive so far we'll only find static on the radio" and "standing on your shoes in my bare feet"), but Underwood manages to pull it off. After all, this is a woman who has built a career out of breathing new life into tired old country tropes. — Eric King (@erickingdavid) 
Do you like good music? Of course you do! Subscribe to Vulture's 2015 Playlist to hear the new music we're listening to every week.