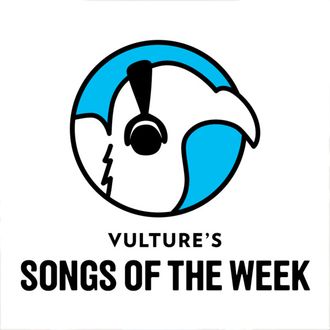 Every week, members of the Vulture staff highlight the best new music of 2015. If the song is worthy of your ears and attention, you will find it here. Read our picks below, share yours in the comments, and subscribe to the Vulture 2015 Playlist for a comprehensive guide to the year's best music.
Daughter, "Doing the Right Thing"
It's been two years since we've heard from London folk trio Daughter, but they're set to release more emotionally stinging tunes with their sophomore album out next year. They return with "Doing the Right Thing," an unsettling and harshly accurate meditation on the way dementia breaks us — and not just those whom the disease slowly erases. Too many of us have had to watch a loved one become a shell of themselves. So when Elena Tonra sings for them, "I have lost my children, I have lost my love / I just sit in silence, let the pictures soak out of television," I think about how my grandmother must've died alone in her nursing-room bed, starting listlessly at the TV screen on her wall, while we all just carried on living. —Dee Lockett (@Dee_Lockett)
Selena Gomez, "Me & the Rhythm"
Selena's latest era has been a bit of a mixed bag. "Good for You" is a slinky hip-hop track, "Same Old Love" sounds like something from her days with the Scene, and now there's the disco-tinged "Me & the Rhythm." It's hard to tell what the full album Revival will sound like, but more songs like "Me & the Rhythm" would be welcome. It manages to sound like what the adult Selena wants to present herself as, while also delivering a hypnotic-as-hell dance track that wouldn't be out of place in Britney or Gaga's repertoire. At the same time, it sounds exclusively like a Selena track. It's her best song since "Love You Like a Love Song," and when you hear it, it sounds like an old favorite you've been spinning for years. —Ira Madison III (@ira)
John Grant, "Snug Slacks"
Benji Hughes has a wildly unrated song called "Tight Tee Shirt" that I was reminded of when I heard John Grant's funny, funky, GG Allin–referencing gay-sex jam "Snug Slacks." If songs about close-fitting clothing are always this satisfying, then I could stand for a whole lot more of 'em. Grant's dark and amusing new LP, Grey Tickles, Black Pressure, is out later this week. —Jillian Mapes (@jumonsmapes)
Janet Jackson, "The Great Forever"
Janet's latest album Unbreakable is full of instant classics, but none stand up to the magic of "The Great Forever." First off, you'll think you're listening to an unreleased Michael vocal when it starts, because that's how much she's channeling her older brother on this funky number that sounds like a blend of The Velvet Rope and janet. eras. The mid-tempo is just begging for a dance-floor remix, but you can't go wrong driving on a chilly night, windows cracked slightly, blaring this song with someone you love in the passenger seat. —IM
Lady Gaga, "I Want Your Love"
Last week, Tom Ford premiered his spring 2016 collection by opting out of the traditional runway format and releasing a new music video, for which he called upon Lady Gaga as well as legendary music producer Nile Rodgers to craft a cover of "I Want Your Love" by CHIC. Impressively, the new version has even more bounce than the original disco jam, kicking off with strings, synths, a funky bass line, and Gaga's hearty alto. Watch the video to see some models dancing — some better than others. —Eric King (@erickingdavid)
Rudimental feat. MNEK, "Common Emotion"
So Disclosure's new album let you down? No worries! England has another dance equivalent to satisfy your needs. Rudimental's sophomore effort houses some of the most intriguing dance music I've heard this year. It's a melting pot of their influences: On "Common Emotion," sung by pop prodigy MNEK, you'll hear undertones of disco and funk blended with freestyle, except it never feels gimmicky in the way that Mark Ronson's work sometimes can. I'd also recommend bumping the Bobby Womack–featuring "New Day," and "Needn't Speak," with Lianne La Havas. —DL
Tinashe feat. Chris Brown, "Player"
Tinashe has been quietly slaying the scene for a couple years now, not really making a big splash since "2 On," but she's poised to take over the pop and R&B game if she keeps at it. Her songs are always sexy and have banging beats and fun lyrics to sing along to while drinking in the club. On this track she's assisted by Chris Brown, who's been stealthily making some of his best music ever on his continued apology tour. Some people are already like, "Thank God she released a solo version," but the version with Chris is better. Just let go and dance. —IM
Tortoise, "Gesceap"
Chicago five-piece Tortoise have returned after a seven-year hiatus with a sublime new instrumental called "Gesceap" (which, I am told by the internet, is a Proto-Germanic, Old English noun meaning "shape, nature, or condition") off the forthcoming album The Catastrophist, due out in January. The album was born out of a 2010 project commissioned by the City of Chicago, during which Tortoise was asked to compose a suite of music that reflected the city's musical roots in jazz and improv. The band has expanded on those themes to create The Catastrophist (which also features the lovely Georgia Hubley of Yo La Tengo on guest vocals). True to form, "Gesceap" is a complex layering of dub, electronica, rock, and jazz that immediately gives your eardrums a pleasant sonic reckoning. There are some stretches that remind me of Music in Twelve Parts. There are moments that remind me of more eccentric prog outfits. At seven minutes, there's a lot to explore. Let this song act as your palate-cleanser before you go back to blasting the latest pop tune. —Lauretta Charlton (@laurettaland)
ZHU feat. Gallant, "Testarossa Music"
ZHU's Genesis Series is right around the corner, and with it comes this latest slinky preview. Here he's joined by "Weight in Gold" singer Gallant, who does his best D'Angelo impression over maybe the most rock-minded production ZHU has ever concocted. I almost wish it were Miguel cooing all over the track, but Gallant does the beat baby-making justice. Is it cuffing season yet? —DL
Do you like good music? Of course you do! Subscribe to Vulture's 2015 Playlist to hear the new music we're listening to every week.