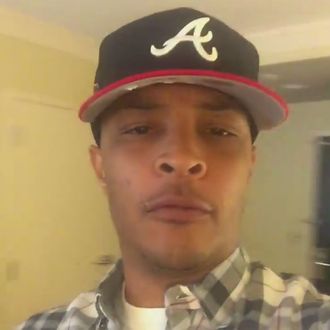 Iggy Azalea's friend T.I.
It's quite a landmark year for black cinema, from the box-office juggernaut of Straight Outta Compton, to Screen Gems' continued success with African-American-led thrillers like The Perfect Guy, to Ryan Coogler's upcoming Creed. So perhaps it wasn't surprising that T.I. would drop a talkie of his own — one intended as an apology for his comments about Hillary Clinton's run for president. What is surprising is just how bad it is.
T.I. employs a Brechtian style of breaking the fourth wall as he informs viewers that there "are no PR people" or anyone "telling [him] what to say." This is perhaps to distract from the cinema verité style of shooting vertically in a room that's missing a high-wattage lightbulb. He goes on to apologize to the women in his family who "know [his] heart" despite them not being the people upset with him, so already we've veered from the topic of the film.
By the time T.I. says he's sorry, you'll be distracted by the Ikea painting hanging in the background and wondering if this is actually his home he's filming in or if he's visiting one of the sets from Love and Hip Hop: Atlanta. He then apologizes "if" he hurt anyone, which isn't actually the definition of an apology. That raises concerns that someone green-lit this film without checking the script first. In an era of increased black visibility behind and in front of the camera, there really should have been a bit more care put into this production.