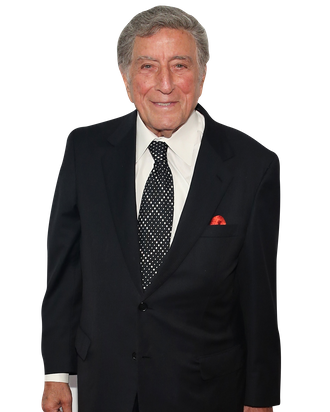 "I've never been more successful than I am now," Tony Bennett says with wonderment, sitting in his art studio overlooking Central Park. The 89-year-old crooner is here to talk about his new album, The Silver Lining: The Songs of Jerome Kern, a covers collection dedicated to the early 20th-century composer who wrote such classics as "The Way You Look Tonight," "All the Things You Are," and "I'm Old Fashioned." It's Bennett's 45th LP to chart on the Billboard 200, following last year's Cheek to Cheek, his No. 1 duet album with Lady Gaga. Perched on a couch surrounded by his paintings, Bennett discussed the Great American Songbook, memories of Amy Winehouse and Ella Fitzgerald, why he's not a fan of Goodfellas, and what he and Gaga have in store for their next album.
To start off, when were you first introduced to the songs of Jerome Kern?
Well, for many years, I've always been attached to what they call the Great American Songbook, and Kern was a great leader of that because he had the classical training of Europe. He impressed all the greatest composers, like Cole Porter and Gershwin. They couldn't believe he was writing the songs he was writing.
Why did you decide to do this album now?
Well, because of [pianist and bandleader] Bill Charlap. He really impressed me as a magnificent jazz artist, a highly intellectual person. He's the one who said, "Let's do Kern," and I said, "Why do you want to do Jerome Kern?" He said, "Because he was the top. He taught every great composer about which way to go with the Songbook."
In 1963, Ella Fitzgerald did her own album of Kern covers. Was that an inspiration?
Oh, I didn't know that. That's great. She was my neighbor in Hollywood when I lived there. She was the most wonderful lady. I used to go to her home, and she was wonderful.
What did you talk about?
It had nothing to do with show business. She said it all, in one sentence, about racial prejudice. She kept saying to me, all the time, "Tony, we're all here." That one sentence, those three words, says it all. It shows you just how the right way to think about the elimination of racial prejudice. "We're all here."
You've brought a lot of classic songs to younger generations, whether it's from MTV Unplugged or your collaboration with Lady Gaga …
Gaga is a gorgeous singer, and when she sings a great ballad, I get goose bumps. She helped me and I helped her by doing Cheek to Cheek. Through her telling her audience how much she likes me, all of them became fans of mine, all these young teenagers. On the other hand, by her singing these beautiful songs on the album, the audience I have, all of them said, "God, I never knew she sang that wonderfully." So we both helped one another. We get along great. She's got a lot of talent. I think someday she's going to be very big in films, which I'm not too interested in. I work live, to audiences, but I think she's going to surprise everybody and make some good films.
Have you watched her on American Horror Story?
No, I haven't. How is that?
It's pretty disturbing.
[Laughs.] Oh, wow.
Have you finalized plans for another album?
Yeah, we're doing an album. It's going to be all Cole Porter songs. He was the best writer of all of them in the Great American Songbook. Highly intelligent. We're going to have a lot of fun doing that.
You recorded "Body and Soul" with Amy Winehouse. What memories do you have of her?
Boy, she was one of the most natural, great jazz singers in the world. She's as good as anybody, as good as Billie Holiday, as good as Ella Fitzgerald. She was right in there. Funny enough, when everyone was in mourning over her death at such an early age, her sweet mother was the only one that said something that was pretty content. She said, "My daughter had a very short life, but her dream was to become famous. As far as I'm concerned, she acquired it. She did become famous." It was sweet of her mother to think that way when everybody else was saying, "She should have taken care of herself," and all this and that kind of gossip. She was a great singer, and it was tragic that there wasn't someone there to teach her to slow down a little.
One of the most iconic scenes in Goodfellas features your song "Rags to Riches." How do you feel about that association?
I didn't like it. I know how great the actors and the story were, but it's not accurate because every nationality has an underworld. It's not just the Italians. The British, the Germans, the Irish — there's an underworld throughout the whole universe. They're doing evil things. The absurdity of that strong prejudice that came out of that movie …
You've seen New York change a lot over your lifetime. What are some things you miss about the city of your younger days?
It was less expensive. You had a lot more nightclubs, small rooms. There was 52nd Street, every great jazz artist was on that street at the same time. Then you'd go over to Broadway, there was the Capitol Theatre and the Strand and the Paramount, four or five great theaters that had live shows, and it wasn't that expensive. I'd see Sinatra at the Paramount doing seven shows a day, at 30 cents. Now everything's very, very expensive.
You're still going pretty strong at 89. What's your secret?
I'm just blessed that at the right time, at least 30 years ago, I started feeling good about taking care of myself, making sure I had proper rest. I could've retired 35 years ago, but what do I retire to? My whole life has been singing and painting. I just do those two things. Every day feels like just starting out, because I still have so much more to learn.