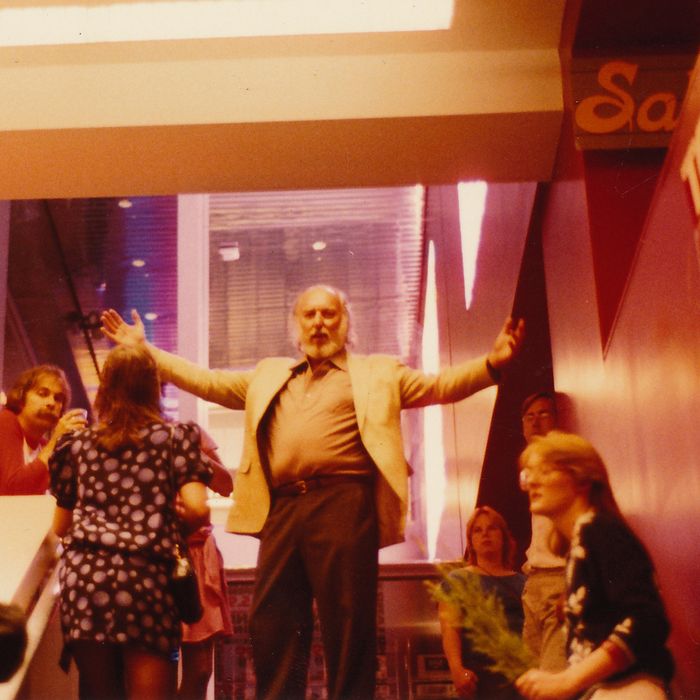 Tower Records founder Russ Solomon at the opening of Tower's flagship NYC store in 1983.
Photo: Courtesy of Gravitas Ventures/All Things Must Pass
Tower Records undoubtedly changed the record-store game, but the California-born chain also had an impact on New York City's lower stretch of Broadway in the mid-'80s. Located at East 4th Street and Broadway, Tower's first Manhattan store broke hearts when it closed in 2006, and is now the site of something called MLB Fan Cave and an open-air market where tourists can buy some of Noho's cheapest souvenirs. But when Tower gave the space an expensive overhaul ahead of the store's 1983 opening, people thought they were nuts! Like many stretches of today's premium downtown real estate, Broadway just above Houston was a bit desolate at the time. When Tower opened, the kids — likely those from nearby NYU — flocked to the store, helping the area boom. Today it's teeming with restaurants, stores aimed at the copious amounts of loitering youths [shudder], and a Duane Reade every other block; in the immortal words of Taylor Swift, welcome to New York.
In this new clip from All Things Must Pass, Colin Hanks's long-in-the-works (and quite compelling) documentary about the rise and fall of Tower Records, founder Russ Solomon defies critics by making this store a reality — and truly a dream for New York music fans, whose other record-store offerings were a fraction of the size. As throughout All Things Must Pass, former Tower and label execs praise Solomon for his willingness to take big risks — an approach that led to Tower's we're-practically-printing-money success during the record industry's boom, and its subsequent downfall just a handful of post-Napster years later. "This was Tower's first venture into the East Coast, and opened many exciting new opportunities for us," Solomon tells Vulture. "We had a helluva good time!"
All Things Must Pass reached its Kickstarter funding back in 2011, has been on the festival circuit all year long (alongside a thoroughly gracious Hanks), and sees its theatrical release October 16. It's catnip for music lovers who want to wax nostalgic on the way things were.