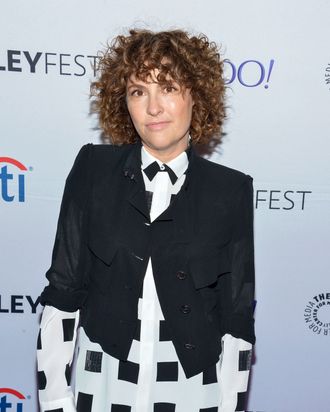 Photo: Grant Lamos IV/Getty Images
When the cast and crew of Transparent took to the Paley Center for Media last night to close out 2015's Paleyfest with an exclusive screening and panel moderated by Vulture's new Hollywood editor, Stacey Wilson Hunt, the one word still fresh on everyone's minds was simple: Emmy. The critically acclaimed comedy-drama nabbed two awards at the ceremony in September, with Jeffrey Tambor receiving the honors for Outstanding Lead Actor in a Comedy Series and Jill Soloway winning for Outstanding Directing in a Comedy Series. So, how does a freshly minted Emmy-winning auteur celebrate this professional achievement? By eating carbs, duh.
"That's a good question. I hadn't really eaten anything good in a couple of months because I was trying to be skinny, you know, for the television," Soloway told Vulture on the red carpet. "The people you go to high school with, the fact that people think you look good is more important, ultimately, than awards sometimes. Did I look good?" We assured her that she did, indeed, look fantastic. "Great, thank you. I celebrated immediately the next morning. I ate waffles. I was going on a gluten binge. Anything that had gluten in it I went for. And then what did I do? It was my birthday a couple of days after that, I turned 50. I just had fun with my family and friends. Keep it mellow, stay home, do things that mattered, eat delicious foodstuffs."
Amy Landecker shared a similar post-awards-show mentality. "I ate a bread bowl," she said with a laugh. "I've been carbo-loading ever since we've ended. This sounds so stupid, but you know when they bring the bread to the table at the restaurant? Does anyone say yes anymore? I mean, we're all taught no gluten and no bread and no carbs. When you live in L.A., it's contraband. I just say, 'Yes, yes, yes, let's do it.'"

What's sweeter than an Emmy? A waffle with maple syrup.