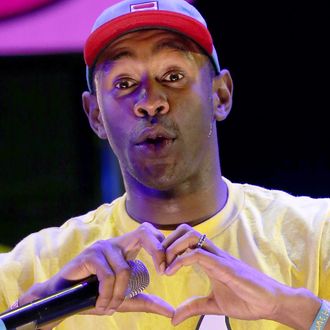 Tyler, The Creator.
Photo: Karl Walter/2015 Getty Images
Loiter Squad might be gone, but that doesn't mean Tyler, the Creator is done making crazy things for TV. He's still doing it. Just now he's truly doing it straight from his brain, "without restrictions and bullshit." That sentiment sure feels alive and well in The Jellies, his animated series about a family of jellyfish and their adopted non-jellyfish son. Tyler's version of a bildungsroman? Ma-a-aybe — just with ten times as much violence, sex-related stuff, and cussing as Catcher in the Rye. The show, which features music from Tyler and the voices of OFWGKTA, was co-written by Lionel Boyce and animated by Augenblick Studios (Golan the Insatiable). You can watch the teaser here, and if you like what you see, the first episode's available on the rapper's Golf Media app (first two months free):
New episodes will drop every Sunday at 6 p.m. PST.