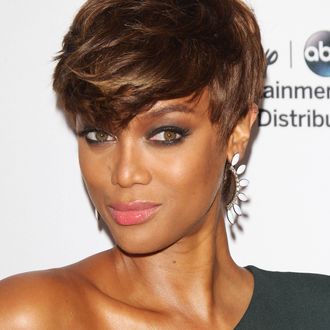 Tyra Banks … smizing for her LIFE!
Photo: Jen Lowery/Corbis
Tyra Banks announced on Twitter Wednesday that the current season of America's Next Top Model should probably be the last one. And according to sources close to the project, Vulture can confirm it will in fact be the final cycle. On December 4, over 12 years since the show premiered on UPN, the CW will air the series finale.
After 22 cycles of smizing, pretending to faint, bad makeovers, and yelling at Tiffany about her grandmother getting her lights cut off to afford a swimsuit for this competition … it's time to throw in the towel. But at least with the impossibly gorgeous Nyle DiMarco on this final season, the show will go out on a hot … sorry, high note.