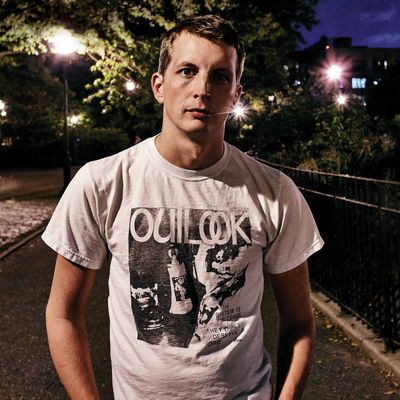 Hallberg in Tompkins Square Park last month.
Photo: Bobby Doherty
"I never wanted to be the guy wearing a T-shirt that read ASK ME ABOUT MY NOVEL," says Garth Risk Hallberg. One August evening in 2012, he was that guy. He'd been invited to the wedding of writer-banker Gary Sernovitz and academic Molly Pulda at the Bowery Hotel. Among his tablemates were Diana Miller, his future editor; Tom Bissell, whom he'd just reviewed in the Times; and Chris Parris-Lamb, a young literary agent whose recent success with Chad Harbach's The Art of Fielding was well known to all — including the writer seated across from him. A souvenir "dictionary" defined each guest. Hallberg's entry read: "Critic-novelist certain he will win the Postmodernist Fiction Trivia Contest to be held in the men's bathroom at 11:59 tonight."
At the time, the "novelist" part was notional. Hallberg's wife was the only one at the wedding who had seen the thousand-page stack of text and graphics that would become City on Fire, a sprawling, populous mystery culminating in New York's 1977 blackout, for which Knopf would later pay $2 million — probably the highest North American advance ever for a debut novel. Hallberg had been thinking about it for nine years and quietly writing it for five. But at the wedding, he was just a gangly 33-year-old blogger-critic with two kids and five figures of debt, a junior-varsity member of Table 14.
Hallberg and Parris-Lamb were paired up, Pulda says, because they were "two tall skinny guys" from North Carolina. "He is from an even shittier town than I am," says Parris-Lamb, "so we were doing the competitive thing: 'I made it further than you' or 'I started lower than you.' Which, of course, as white men we should never do, but you know what I mean." Parris-Lamb was sleek and tailored, as always. Hallberg wore secondhand off-white velvet pants. A few drinks later, Hallberg got up the nerve to pop the question, and before long they were "totally breaking it down on the dance floor."
All meet-cute stories have at least two versions. Hallberg remembers asking, "So, what would you do with a thousand-page manuscript?" To which Parris-Lamb replied, "Is it yours?" Parris-Lamb recalls a general question about agents. "I said, 'Why don't you just tell me about the book?' He said, 'Well, it may be unpublishably long.' And I laughed and said something like, 'Go big or go home.' "
Parris-Lamb sent it out the following autumn, and it went big. Of the 14 editors who read the manuscript, 12 wanted it. Seven houses (representing nine editors) bid more than $1 million at auction before Knopf won for twice that — more than three times what Harbach was paid. Scott Rudin optioned the film rights for six figures the day after getting the manuscript; 17 other countries have already bought it. Knopf has given away 6,500 advance copies, more than most first novels ever sell, and has scheduled an 18-city tour and an ad campaign as tentacular, to use a Hallberg word, as the book itself. But while Knopf is fronting the cash, almost everyone in publishing is invested in its success (even those who work for Knopf's rivals and those who grumble about too many eggs in too few baskets). There are only so many $2 million bets any house can afford to lose.
But why this novel, at this time? One of the ironies of Hallberg's windfall is that he mastered a winner-takes-all system in a winner-takes-all city by selling a vivid and intricate dream of its opposite: dangerous, democratic '70s New York. Secondhand nostalgia for that dark decade surely appealed to Parris-Lamb and the mostly young editors who bid up its price, the first generation to know New York only as a padded playground. It might also suit the tastes of readers primed by art shows, TV series, and essays besotted with the era. Packed with violence, arson, drugs, and corruption but also love, sex, punk rock, "found" art, and literal fireworks, City on Fire can look like an object machine-tooled for maximum market impact. But that would probably be unfair to the writer and even the publisher. Better to say that Hallberg made a very long and sincere novelistic case for grandeur, connectedness, and fiction itself in a fragmented, reality-hungry world, and the industry bought it.
Hallberg says he wrote City on Fire under the "necessary fiction" that no one would ever publish it — "a very useful position for me in doing whatever the fuck I wanted." A few SAT words aside, the most obvious obstacle is its length; to look at a few recent very long best sellers and award winners, though, that might actually be an asset. It certainly telegraphs audacity. City on Fire was sold on comparisons to Donna Tartt's The Goldfinch and Tom Wolfe's The Bonfire of the Vanities, but its own vanities — its vocabulary, wingspan, and philosophical top notes — speak to Hallberg's obsessions with Don DeLillo and David Foster Wallace and the great Victorian "triple-deckers." Asked to explain its commercial appeal, Knopf's reticent editor-in-chief, Sonny Mehta, tapped an unlit cigarette and shifted uncomfortably behind his desk. "Well, look," he said, "it's the ambition of it."
Ambition is a loaded word. You can be ambitious for artistic achievement or for fame, money, power, immortality. Hallberg is refreshingly direct about what he's after. "My goal," he says, "was to get the book somewhere that is going to allow me to be DeLillo 40 years from now." Whether that goal is advanced by a $2 million book deal is an open question.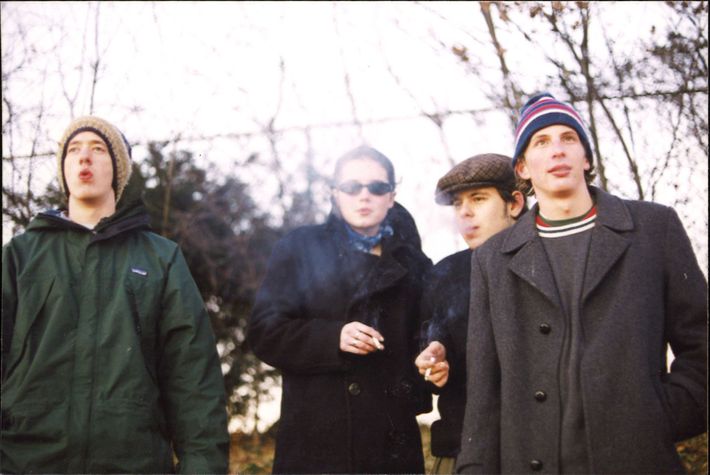 "Who didn't exist at the convergence of a thousand thousand stories?" asks City on Fire's gnarled detective, contemplating the "ley-lines" that link its sundry players — a corporate dynasty, an anarchist collective, a misfit teen, a boozy New Journalist — to a Central Park shooting on New Year's Eve 1976. The novel is a 911-page mosaic in which punk lyrics clash with Latin, grime with glitz, a 25-page pasted-together zine with a medical report, a nihilistic terror plot with a naked plea for empathy.
It's also something of a page-turner, by virtue of its plot twists and its sheer accumulation of stuff (see Christian Lorentzen's review here). The novel amasses evidence concerning not just the mystery of who shot 17-year-old Samantha Cicciaro but many other crimes both committed and foiled. Among them are the burning of the Bronx, a bombing in midtown, financial skulduggery, infidelity, and looting — more broadly, the piecemeal destruction of the city's social fabric. Hallberg renders that chaos not as dystopia but its opposite, Bad Old New York as a city of dreamers — a pair of truant Long Island teens, a gay black Southerner, a wealthy heir hooked on punk and heroin — looking not for careers or ways to afford rent but for answers, connections, and meaning. City on Fire's biggest mystery is whether blackout-era New York is worth saving, and Hallberg's answer seems to be: now more than ever.
Exactly 38 years after the blackout, this past July 13, Hallberg was wilting slightly in a sunbaked, manicured corner of Tompkins Square Park, trying to define his style. "There's a great description of the album Born to Run," he said, then quoted Greil Marcus verbatim: " 'A '57 Chevy running on melted down Crystals records.' It's one of my favorite albums, but it feels instantly recognizable, because it speaks the language of Phil Spector and Duane Eddy and all the great one-hit wonders. And just supercolliding them … Springsteen was so obsessive about every note. You would never call that album experimental or avant-garde, but somehow in the context of Captain & Tennille or — uhm …" He paused as the disco strings of Michael Jackson's "Don't Stop 'Til You Get Enough" suddenly erupted nearby. "Yes, that!"
The music was blaring from a speaker mounted on a passing bicycle. "I want that for my bike, that's awesome," he said, a toothy grin breaking his middle-distance stare. But it didn't throw his conversation off course; not much can. "Hold that thought," he'll say to an interjected question, just barely flashing impatience before rolling into his next paragraph.
Hallberg is more adept than most at banishing distraction. He wakes up to work long before his family does and checks his email only at rare intervals. He still owns a tiny flip phone, and he guards his time, attention, and privacy by burrowing into what one friend calls a "pre-connected universe."
A charming, insistent monologuist, Hallberg strings together serial analogies. He sees connections everywhere and wants you to see them, too. He talks with his long arms, waving dramatically to indicate a far-off time or clawing at the air to pull home an idea. He has a born proselytizer's synthesis of earnest passion, perfect timing, cleverness, and self-deflation. "There's almost no snark in him, no sarcasm," a friend told me. "He's smart, self-possessed, confident, and not impressed with himself," Rudin said. When I said that sounded almost like an oxymoron, he said, "That's what I mean."
Hallberg was born outside Baton Rouge and grew up in Greenville, North Carolina. His parents had met as students in Ohio, his dad an M.F.A. candidate and his mother an English-major undergrad. After his father found a tenure-track position at East Carolina University, his mother — "in certain ways the brains of the operation" — was sidelined into teaching high school. Hallberg hesitates to speak ill of Greenville, but he was clearly out of place. "It's a little like Friday Night Lights," he says over waffles on the Lower East Side. "I felt like a total freak in a lot of ways." Home was uncomfortable "in a totally different way." His parents divorced when he was 13. "There was a lot of complicated stuff going on, and the byword was to pretend that it wasn't, and I was probably a more than ordinarily observant child. You don't end up in this job without having an unusual interest in observing people."
When Garth was 9, his father, Bill, published The Rub of the Green, a novel in the mode of Richard Ford about a pro golfer imprisoned in the aftermath of a love triangle. Walker Percy blurbed it and, according to Bill (who "was not always reliable"), it was optioned for the movies. "He was a person with a lot of very complicated, persistent feelings about himself," says Garth, "and he really thought this book was going to cover him in glory and that he had reached the top of the mountain and it was all smooth sailing from there. This wasn't like a commercial thing — it was like a Kafkaesque dream landscape, in which, for example, he was gonna say, 'Mom, Dad, look, I finally made something of myself.' " The book has since gone out of print, and Bill never published another novel. "The discovery for him that there is no mountaintop was kind of devastating, and he had a really hard time doing the next book."
Hallberg "stuck out in a lot of ways scholastically." As a preteen he gorged on mysteries — and brought a deerstalker hat to a book club where he was the youngest member "by four decades" — before graduating, in high school, to the Beats and avant-garde poets (and berets). He says he was "the resident beatnik of North Carolina" — perhaps reacting to his mother's specialty in Victorian writers. Then came punk, via Patti Smith and the local record store. "I was like, 'I don't want to be at home, so I might as well go through the vinyl,' " he says. He taught himself Rolling Stones riffs on his father's girlfriend's guitar. "And various other things had happened," he says vaguely. "I was kind of a disaster … I somehow managed to elude getting arrested." Whatever was going on, the real drama seemed to be happening elsewhere, in the cities that produced the art he loved — especially New York, where, in his own fantastical version of it, "James Baldwin and E. B. White and Patti Smith and Robert Rauschenberg could have passed each other on a street corner."
The summer he was 16, his mother packed him off to a weeklong writing program at Duke, and Hallberg's life changed instantly. He felt he had finally found his people, misfit nerds channeling their rebellion into work. "I remember them as having this incredibly pure golden light of wholesomeness beaming through their pores," he says. "It was okay to care about stuff — it was a socially normed thing." His fastest friend was Derek Teslik, who attended St. Albans, the Washington prep school that was at the center of D.C.'s latter-day hardcore scene. (Nineties post-punk worked in mysterious ways.) Fugazi was still gigging; Jonathan Fire*Eater, the band most likely to succeed them, had recently left for New York, where they'd become what the New York Observer called "one of the fastest rise-and-fall stories in recent pop music."
The following year, his Fridays having been freed up for "independent study," Hallberg would wake up at 4:30 — "my writing time now" — and make the four-hour drive to the nation's capital. "Here I have my little life in Tobacco Road, where I'm losing my shit mentally," says Hallberg, "but D.C. was kind of the first real metropolis for me. There were all these friends and internecine tensions, and they were like, 'Who is this beatnik road warrior?' " He may have seen himself that way, but to those new friends he likely came across as an easygoing shape-shifter, comfortable in many skins. "He could seamlessly flow from world to world," says Walker Lambert, a St. Albans alum who was the best man at Hallberg's wedding. "From a punk scene to a cocktail party at a nice house to a football game, he could merge into almost any scene and not seem like a complete outsider."
Hallberg's prose still has that impersonating impulse — what he calls "a Dickensian thing, the ragpicker." His osmotic travels didn't stop in D.C. His first visit to New York inspired him to write a Frank O'Hara–style poem cycle. "I had one week in the fall of 1996," he says, "where I was like, 'I'm America's greatest living teenage poet.' " To natives, New York was becoming safe, denatured, but to the young writer and his friends, it still felt feral. Ostensibly visiting colleges, they would decamp at the Port Authority, "and the first thing you would see would be Peepland." Nursing cans of Foster's, they would bar- and park-hop from Columbia to the Village. Their more colorful anecdotes worked their way into City on Fire. So did pieces of Teslik's '90s zine, Helter Skelter (giving the novel's version an oddly indie-rock vibe). So did a defiantly timeless sense of possibility. "There's like an internet thing: This," says Hallberg. "What is it — a meme or a hashtag? That was New York for me when I got off the bus. This. THIS!"
City on Fire is a gossamer-veiled homage to September 11 — an event Hallberg only saw from a television set in D.C.'s Watergate complex. While studying on scholarship at Washington University in St. Louis, he met Elise White, now his wife, and after graduation they moved to the capital while she pursued an American-studies Ph.D. and he marked time at an internet trade-digest operation. Visiting New York after 9/11, he says, he bore witness to that feeling of suspension we've since heard so much about, even as it feels less and less real to those who were there: "That sense of people living closer to the surface of their skin and feeling like they're in the middle of a change and they weren't sure how it was gonna work out. This is really what the prologue of the book deals with." That prologue ends with a Whitmanesque appeal to New York dreamers of every era. "Who doesn't still dream of a world other than this one?" asks an unknown narrator. "Who among us — if it means letting go of the insanity, the mystery, the totally useless beauty of the million once-possible New Yorks — is ready even now to give up hope?"
In 2003, Hallberg was taking a Greyhound into New York, his first daylight bus visit since his college days. On the looping Jersey-side approach to the Lincoln Tunnel, his iPod turned up Billy Joel's "Miami 2017 (Seen the Lights Go Out on Broadway)," an apocalyptic dirge written not long before the blackout that describes the abandonment and sinking of Manhattan. "It's Joel at his most florid," says Hallberg, laughing. But just then, the city's skyline slid into view, as it always had — only this time, without those two towers. He's told this story before, both a straightforward origin story and a preemptive testament to his own sincerity. "It's just sort of apotheotic," Hallberg says. "The whole book more or less came to me in that moment. Henry James says something like, 'A sense of possession takes hold.' " He went directly to Union Square Park and wrote one long scene in his notebook. Then he stopped. I don't have the chops to write this, he thought. I don't even live here.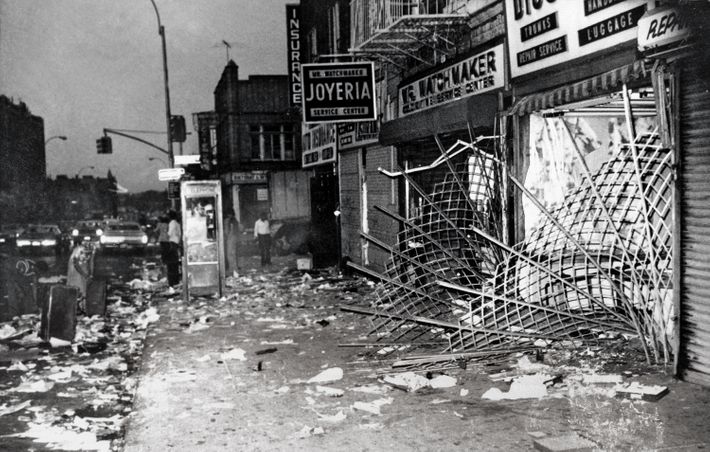 After our first meeting, Hallberg emailed me a short essay he wrote on a slack day at his internet job. He introduced it by explaining, "I was 22 or 23, trying to record and understand a felt phenomenon. And perhaps this falls under the heading of personal mythology … but I now feel a high degree of dramatic irony here." The essay is about a feeling he'd had since age 6 — "this sudden sense of remembering" things that had never happened to him. It begins, "I wonder, is nostalgia the right word if you never in the first place lived the thing you're missing?"
The year after the Billy Joel epiphany, Hallberg won a fellowship to earn an M.F.A. at NYU, where he studied with the novelist Brian Morton. "He had a kind of ceaseless interest in trying new things," says Morton, and his short stories bear that out. One is structured as a final exam. Another is a filibuster delivered by a would-be school shooter. There's a "love song" composed of (mostly fabricated) quotes from former Bush press secretary Ari Fleischer, dialogue in a Russian accent, and a piece with subtitles named after Smiths songs. Hallberg's 2007 novella A Field Guide to the North American Family tracks suburbanites coming of age in cross-referenced dictionary entries. Most of these experiments are sorcerer's-apprentice work, magic slightly beyond his control. But they point to a writer collecting and absorbing artifacts, Born to Run style, and making them his own. "Some writers would write four different kinds of family stories, but you could easily tell which family they grew up in," says Morton. "He had the ability to get into the experience of widely different characters in a way that felt very authentic."
Morton lived through the blackout. He believes City on Fire "nailed it," but he also found it "more traditional than I would have expected." Hallberg's turn toward social realism must have been self-conscious, coinciding as it did with his work as a critic pondering the future of the novel. Though he considers his reviewing career — mostly for the website the Millions — "very, very accidental," his reputation quickly surpassed that of a typical blogger; he has twice been a finalist for the National Book Critics Circle's critic award. A couple of his strongest pieces take other critics to task for making work sound more experimental than it is: James Wood overplaying the postmodernity of DeLillo's Underworld, Zadie Smith overplaying the avant-gardeness of Tom McCarthy's Remainder.
Hallberg never wrote a grand argument for the wide-lens social novel, as Wolfe and Jonathan Franzen have, but he takes the attention paid to City on Fire as evidence that "this battery is not devoid of juice." Its supposed demise had less to do with demand or supply, he'd always suspected, than with publishing itself. "I assumed that whatever mechanisms had existed for conveying this sort of book into the world had stopped doing so," he says. His defenses of the readability of Underworld and Infinite Jest are calls to enlarge our idea of the mainstream. But he never seemed to doubt that his own book, if published, would find that mainstream on its own. "I think it is confident of being read," he says. "There's just something about it that strikes me as assuming that its audience exists. That's the democratic thing. Underworld has that."
There's also something new that Hallberg wants to do with City on Fire. In 2012, he wrote an essay for the Times Magazine on the Franzen-Eugenides-Wallace cohort headlined "Why Write Novels at All?" He read into their generation a desire to make readers feel less lonely by showing them other lonely people. Hallberg wanted to turn that notion on its head. "Think about it," he wrote. "I can love you because I want to feel less alone, or I can love you because I want you to feel less alone." His elders, he concluded, fell short on that second kind of love — empathy rather than self-consolation. What he didn't quite say in the piece seems obvious now: This is where his kind of novel comes in. By entering the consciousness of so many characters and building connections between them ("I see you. You are not alone," read the last lines of City on Fire), he wants to teach readers empathy — to make us better people.
Hallberg describes his novel-writing process in the manner of an ecstatic mathematician. Working on graph paper ("there's something pleasurable about filling the boxes"), he spent roughly six months on the first of the seven parts, typed it up, wrote the next one, typed up the two parts together, and so on. "I had never been as excited about a piece of writing," he says.
"I felt like Spider-Man, swinging through the city, throwing out a web and not knowing where it was going to hit. And it hits the next thing and you're like — perfect."
The working title in the box Hallberg delivered to Parris-Lamb was an abbreviated quote from E. B. White's Here Is New York: "This city, which not to look upon would be like death." Parris-Lamb wasn't bowled over by the title — or the graphic elements or the length, especially — but the book grew and grew on him. He was unconvinced by a large plot point that "felt like it came from a different novel." Hallberg also queried two very established agents and held off Parris-Lamb for months. He won't say what the agent's specific reservations were, but he eventually came back to Parris-Lamb with a solution. He wound up cutting not just the plot point but an entire character.
Parris-Lamb's pitch letter to the 14 publishers called City on Fire "a complex, utterly relevant social novel that can stand toe to toe with the best of the genre." A day after sending it, he got his first offer — from a producer. "I loved it," Scott Rudin told me. "It's a wonderful idea, and it's got this great high-low thing going on at the center of it." Rudin turned 19 the day the lights went out and he had to walk home from the Public Theater to the Upper West Side. "For years I've thought, Is there a blackout movie?"
When Parris-Lamb told Hallberg he was passing on a $1 million preempt offer from Atavist Books, Hallberg hesitated. Would they definitely get back up to that level? But he also told Parris-Lamb: "I didn't need $1 million. I needed $50,000" — enough to pay off student loans and credit-card bills and maybe change apartments. It wasn't just confidence that had made him ready to share City on Fire by the time of Sernovitz's wedding. Since he'd started the book, he and White had had two sons, forcing a move deeper into Brooklyn. Morton had helped him get a few teaching jobs, but those and "pouring coffee" weren't enough. "At this point, I'm trapping mice in the morning so that my wife doesn't have to deal with them," he says, "and she's working on her dissertation and I'm thinking, I'd better send this out, because something's got to change or we're gonna leave the city." So what's changed so far? "Aside from my Bentley and my six swimming pools," says Hallberg, "I'm still the same guy." But seriously: "I know what my hourly rate was," he says, having amortized the amount over seven years of writing. "It's not the astronomical thing that it would appear to be, but it ain't minimum wage. The city was gonna eat us alive, and this saved us."
Hallberg's decision, in 2007, to stake his family's future on the biggest idea he'd ever had was catalyzed by a crisis in the family he'd left behind. That year, his father was diagnosed with cancer. "My dad got sick, and it activated or entangled itself with a lot of other things that were going on in my life and in the life of other people who cared about my dad." He won't say much more, except that he photocopied a 20-page section of Infinite Jest — a list of "lessons" from a halfway house — and sent them to another family member "in dire straits."
Six years later, as Hallberg made the rounds of one fawning publisher after another, his father was recovering from surgery; he'd given up on chemotherapy. "And all of this whatever," says Hallberg, "which I could do without — that was his dream. It was a dream come true, but it was somebody else's dream." Bill Hallberg died in May 2014, while Garth was deep into the editing process. "In a way, for it to remain purely theoretical so that he could imagine some world-bestriding thing was beautiful, because in actuality it's going to be all kinds of mixed shit, and there is no mountaintop, and my job is to write the next thing."
"I'm going to allow myself exactly two beers," Hallberg says at our final meeting, dinner in the backyard of Park Slope's faux-rustic Flatbush Farm. Having initially banned on-the-record alcohol, he's changed his mind. His rules of press engagement are still in flux. "I'm just a very deliberate — as you've probably picked up on — person in a lot of ways."
Like many younger writers, Hallberg longs for an older model of author celebrity. One of his reviews describes the tension between market pressures and dreams of immortality: "On the supply side, publishers rush to promote 'instant classics' before posterity can render a verdict. On the demand side, we feel grateful for the distraction of 'a good read.' " When he talks of envying DeLillo, it isn't just his longevity or reputation. "If it were 30 years ago, you could still do a full DeLillo" and decline most publicity, "and that in itself wouldn't be a calculated presentation," he says. "Now all of your options are subculture versus commercial publishing. Everything has already been subsumed into a panoply of brand positions." Twice, he tells me, while commuting from Sarah Lawrence, he saw DeLillo on the train, but decided against introducing himself. "He's given me so much, but whatever he has to give here isn't that — and it's just gonna make him uncomfortable."
Hallberg has already ridden the highs and lows of promotion. He attended the big trade fair BookExpo America and manned a busy signing booth. "There's probably an element of the Most Photographed Barn in America," Hallberg says, referring to the tautologically popular attraction in DeLillo's White Noise. "People don't know who the fuck you are, but they've been told everyone wants it." Over and over again, strangers who knew nothing about the book except for its buzz asked him: How does it feel? "It seemed like this Zen thing mixed with a D'Angelo song," he says. "How does it feel? How does it feel? How does it feel?"
It feels weird. Advance reviews on Amazon and Goodreads have been mixed; many of them bring up the hype and the money. To Derek Teslik, the noise and the backlash feel familiar: "The echo that I have is Jonathan Fire*Eater, this band we all knew growing up was the next big thing. DreamWorks won the bidding war, and it was huge. And then everyone realized they were just a band — a good band, but not the savior of the music industry." After they broke up, some of the band's members later reformed as the Walkmen — one of whose members will debut a new song in a City on Fire trailer. As for Hallberg, says Teslik, "I think he can handle it."
I heard this consistently from friends: Garth can handle it. "This is the rap that I give to my students," Hallberg says. "It's you and Virginia Woolf, man. And in all likelihood you won't be that great, but you will have gotten to dance with the very best. It may be that Tolstoy and Virginia Woolf were sitting around fretting about their Amazon reviews or their pre-pub whatever, but I kind of doubt it. I don't think that's how the work probably got made."
Not to say that worldly fame is never on his mind. "I saw this great documentary," he says — part two of The Decline of Western Civilization, Penelope Spheeris's trilogy on the rock life. "Gene Simmons gives this interview from this lingerie store and he says, Anyone who tells you it's lonely at the top, don't buy it. And then Dave Mustaine from Megadeth says, Anyone who wants to become a rock star, don't. And between those two poles lies the truth. But you know, there's always a Gene Simmons in my head. Good fortune is good fortune."
*This article appears in the October 5, 2015 issue of New York Magazine.