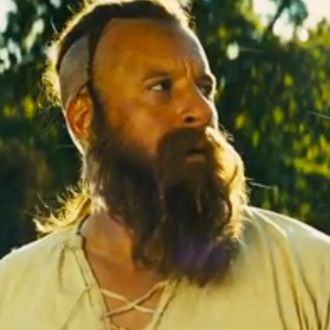 If you've seen teasers for The Last Witch Hunter, you might remember seeing, among the orgy of special effects on display, Vin Diesel wielding a flaming sword. The blade was a hot topic (sorry) during the movie's New York Comic Con panel, where stars Vin Diesel, Rose Leslie, Elijah Wood and director Breck Eisner discussed the production of the film — which included some perilous moments.
"The most dangerous part was going from the stunt sword to the real sword," Diesel shared. "If you tilt the sword, the flames would threaten to burn you. And the beard and the fur, that's what was so scary. There's a propane tank strapped to your back and you look to the left and there are eight firemen, and you suddenly realize there's not a lot of room for error here. You will go up in flames."
Of course, Diesel knows his way around fantasy weaponry, both real and imagined. "I guess I'm safe in this room — it's no secret that I love Dungeons and Dragons," Diesel said to resounding cheers. "I actually had a character that was a witch hunter." Lest any D&D experts question his assertion, Diesel went on to explain how he ended up as a non-standard class (third-party rulebooks called Arcana), his spell class (mysticism), and his character's name (Melchor), which led to another gleeful geek-out.
"Elijah will know where this name is from," Diesel added. "I stole the name from a popular author. Straight out of the Silmarillion." When the moderator proposed a Tolkien trivia contest between Diesel and Wood, Frodo demurred, noting, "I actually think he'd kick my ass."   

The panel covered an array of Witch Hunter topics, from the hands-on effects (see: that flaming sword) to the movie's extensive (and sort of confusing) world-building. Diesel also confirmed that, despite the movie not opening until the end of October, plans for a follow-up were underway. "I remember being on set in wonderful Pittsburgh and all the studio execs happened to be behind the monitor all day," he recalled. "And at the end of the day, they came to my trailer and said, 'We want to start the sequel.'"
But while Diesel may have won over the audience with his tales of 20-sided dice, Rose Leslie was truly their queen. Leslie, better know as Ygritte from Game of Thrones, was requested to give a rendition of her trademark line. The ensuing "You know nothing, Jon Snow" got the biggest applause of the event.