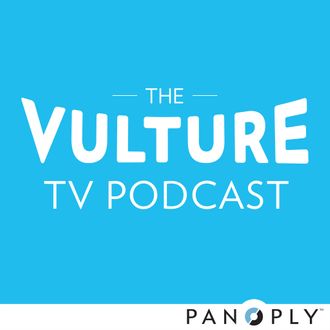 Laurie Garvey has been one of the most fascinating, elusive people to watch on Damon Lindelof's The Leftovers — a character who's largely been silent for the better part of season but still manages to communicate a rich interior life. In Sunday night's episode, Laurie breaks the silence and the complexities multiply, thanks to Amy Brenneman's nuanced performance, alternating effortlessly between calm, euphoria, and anger.
Brenneman, who's had a varied career on television pre-Leftovers — from creating and starring in Judging Amy to six seasons on Shonda Rhimes's Private Practice — joined Matt, Margaret, and Gazelle in-studio to discuss why the show made her feel like a bad feminist, what happened to Laurie after the Sudden Departure, and how Rhimes and Lindelof are alike.
This episode contains spoilers for Sunday night's episode of The Leftovers, "Off Ramp."

On understanding Laurie's motivations:
"I couldn't quite get the abandoning the children piece. And I realize that's cultural, because on other movies and TV shows, dudes leave their kids all the time … and I am a mom and it's hard to imagine, blah, blah, blah. So I remember saying to Damon, 'I think the only reason I could have joined the Guilty Remnant is I was going to kill myself.' And Damon said, 'I don't know about that. I think Laurie's always been a seeker.' Literally, I felt like a bad feminist. I'm still in the paradigm of good mother, even if I do something, it's about being a good mother. He always pushes me to not sentimentalize."
On what happened to Laurie after the Sudden Departure:
"The idea is that the Departure happens, and Laurie's shrinking the town. Everybody's coming to her, she's talking about PTSD, she's giving out meds. And then Patti starts to stalk me."
On working with Chris Zylka (Tommy Garvey):
"It's like neither of us have any skin. We're just very, very connected."
Tune in to "The Vulture TV Podcast," produced by the Slate Group's Panoply, every Tuesday, on iTunes or SoundCloud. And please send us your burning TV questions! Tweet us @Vulture or email tvquestions@vulture.com. Vulture Insiders can exclusively submit audio questions to "The Vulture TV Podcast." Click here to apply.