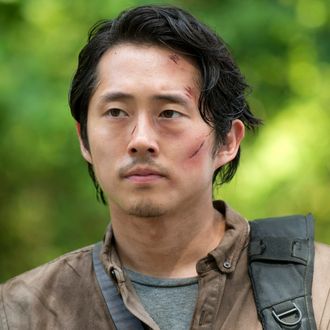 It's likely you tuned into The Walking Dead tonight to find out what happened to Glenn, the best boyfriend of the zombie apocalypse. Did he survive that ravenous zombie horde after Nicholas offed himself? Did he use Nicholas's body as a shield and wriggle his way underneath the dumpster? Is he going to become zombie Glenn? Well, you're just going to have to wait a little bit longer. The fourth episode of this season was almost entirely removed from the overall narrative arc of the season, and instead focused on Morgan and how he arrived back at Rick's camp at Alexandria. So while we don't have confirmation on what happened, there was a hint of bad news in the opening credits: Steven Yeun, the actor who plays Glenn, wasn't in them. In fact, he's not listed in the credits at all. This marks the first time Yeun hasn't been credited in the opening sequence since, yes, the pilot — a run only matched (and now surpassed) by Andrew Lincoln and Chandler Riggs.
What does this mean? It's possible that The Walking Dead is just trolling us. Glenn didn't appear in The Talking Dead's "In Memoriam segment." (Instead there was a title card that simply repeated, "Please don't let this be true.") Showrunner Scott Gimple then said, "In some way, we will see Glenn, some version of Glenn or parts of Glenn again, either in flashback, or current story, to help complete the story." However, his absence from the opening credits should be troubling to fans of the former pizza deliveryboy, as it's been common practice for The Walking Dead to list regular cast members regardless of whether they're actually in that particular episode it or not. This most recent episode essentially features only Lennie James and guest star John Carroll Lynch, and yet the credits still listed the rest of the main cast, except for Yeun.
The same was true during the second episode of this season, when the plot shifts to what's happening in Alexandria. We don't see Glenn or the rest of the zombie-herding crew including Rick, Michonne, Daryl, and Sasha in the episode. And yet all of the actors, including Yeun, were listed in those credits.
Steven Yeun! The opening credits are already a little lonelier without you.