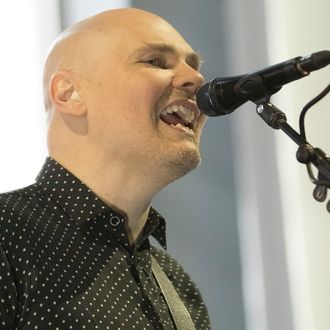 Photo: Gabriel Grams/Getty Images
Late last year, the Smashing Pumpkins released what could be considered one of the more concise entries in their extensive catalogue, Monuments to an Elegy. Though Billy Corgan and Co. will forever make guitar music with an alt-rock stamp on it, this new set incorporated more elements of synth-pop, particularly on the late single "Run2Me." While the song may feel like new territory for the long-running act, its video feels exactly like what you want from a Smashing Pumpkins video: dark, cinematic, inspired, and simply the sort of thing that sticks in your memory. Today Vulture is pleased to premiere the clip, which was directed by longtime Corgan collaborator Linda Strawberry.
She tells us that the song — full of longing — made her think of the tarot card the Magician, as both relate to the alchemy of fear within a relationship. "The girl in the video is both enlightened and trapped by this theme," she explains. "The Magician is symbolic of transition and inspiration, while the protagonist in the video is afraid of who she is about to become, she learns, accepts and then lets go of whatever was holding her back." That translates to a break from her gypsy-witch keeper, and a vivid explosion of color.