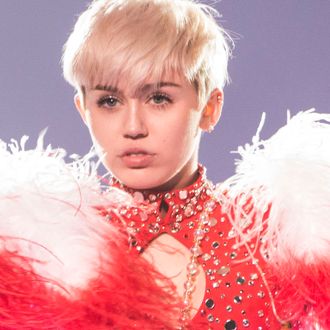 Miley Cyrus.
Photo: Phillip Chin/2014 Getty Images
As part of Miley Cyrus and the Flaming Lips's forthcoming joint tour for the Miley Cyrus and Her Dead Petz LP, the musicians responsible have announced they're staging at least one entirely nude show. (#FreeTheNippleEverything!) The Lips's frontman, Wayne Coyne, shared the update via Instagram, explaining that Miley is "planning a show where her, the band (us) and the audience are all COMPLETELY naked with milk (well white stuff that looks like milk) is being being spewed everywhere." It'll be for part of "The Milky Milky Milk" music video. Self-explanatory, right? Here's what it looked like when Coyne teased arguably one of the most sensical and inevitable events, set to close out 2015:
For her part, Miley's last few uploads have been mostly about weed and a really, really good-looking dinner. So you can scope out her official site for more up-to-date news regarding the shows (which, at the time of publication, were sold out — Tobias Fünke and his ilk are relieved, though it's unclear at the moment how strict the nudity will be).