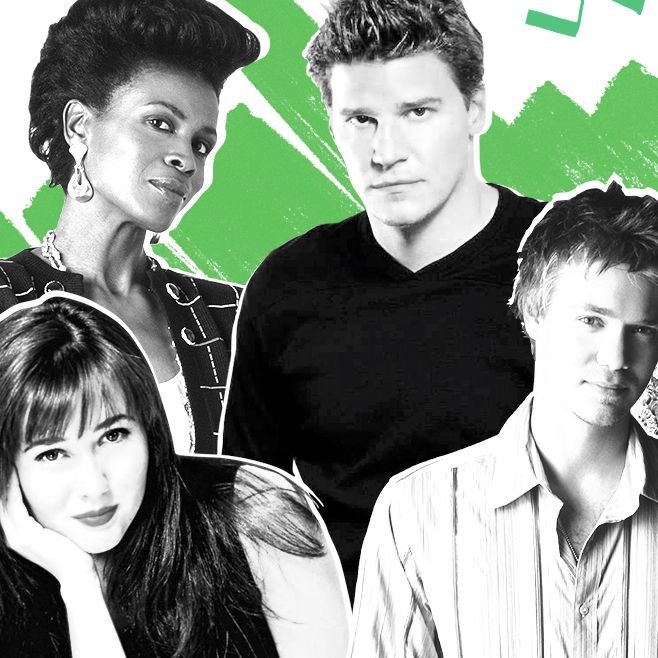 Photo-Illustration: Vulture
Uranium isotopes, polar ice caps, the internal hierarchy of Taylor Swift's friend group — some things are prone to intense scrutiny and rapid, unpredictable change, few more so than the cast lists of high-school-TV shows.
A series set in high school can become a massive, monoculture defining hit — as many have — but making such a show comes with its fair share of risks. First, there are the stars, often young and unknown, who, if the show is a success, are suddenly faced with fame — and consequently, contract disputes with their networks. And story-wise, once four or so years pass in high school, someone has to graduate.
In order to make sense of the reasons why actors leave and how shows deal with their departures, we've compiled and analyzed the most notable actor exits in high-school-TV history, organized chronologically, with an emphasis on Vulture's favorite high-school-TV shows (and a few other series with stories too juicy to leave out). Tales of backstage drama, sudden celebrity, and cruel plot devices abound. (Warning: Spoilers ahead.)
Happy Days (10 seasons, 1974–1984)
Who left: Gavan O'Herlihy, Randolph Roberts (both Chuck Cunningham)
Last seen: Season 2, episode 11, "Guess Who's Coming to Christmas"
What "happened": The eldest of the Cunningham children — who were supposedly the stars of Happy Days until the Fonz took total shark-jumping control over the show — was a basketball player at the University of Wisconsin-Milwaukee. After appearing in only a few episodes and being played by two different actors, he disappeared from the series and was never heard from again.
What happened: Happy Days was a somewhat genre-defying show: Yes, it was a high-school sitcom, but it was more of a family show than anything. Chuck Cunningham syndrome, named for poor old Chuck, is typically what happens when writers decide to refocus their show and end up cutting a minor character in the process (see Saved by the Bell, Veronica Mars, and That '70s Show below for more instances of the trope).

Who left: Ron Howard (Richie Cunningham)
Last seen: Season 7, episode 25, "Ralph's Family Problem" (with a return appearance in season 11's "Welcome Home")
What "happened": Seven seasons into Happy Days' run, by the time Fonzie's relationship with clean-cut Richie had become the undeniable center of the show, Richie left Wisconsin to join the Army and was shipped off to Greenland.
What happened: After seven years playing the aw-shucks hero of Happy Days, Howard decided what he really wanted to do was direct. The writers of the show worried about losing their winning pair, and soon replaced Richie with Roger Phillips (Ted McGinley), a clean-cut physical-education teacher and cousin of Richie. After Howard's departure, the tone of the show shifted, becoming more focused on Very Special Episodes, during which Fonzie would often solve everyone's problems. As many departed actors do, Howard returned to Happy Days for a two-episode special, during which he got to say one last good-bye to the whole family.
The Wonder Years (6 seasons, 1988–1993)
Who left: Olivia d'Abo (Karen Arnold)
Last seen: Season 5, episode 22, "The Wedding" (with a guest appearance in the series finale)
What "happened": Karen, Kevin's (Fred Savage's) flower-child older sister, spent the first three seasons of The Wonder Years fighting with her parents. In season four, she moved to college and started appearing in fewer and fewer episodes (only five that season, and three in the next). Midway through college, she began dating her boyfriend Michael (David Schwimmer), and in season five, the two got married before heading off to Alaska. Aside from a brief cameo in the finale, during which we learn that she and Michael had a baby, Karen never returned.
What happened: Karen's departure from The Wonder Years is a case of storytelling goals meshing well with actor needs. D'Abo's star was on the rise in Hollywood throughout the first few seasons of The Wonder Years (here's a patronizing 1991 People profile that goes into her relationship with Julian Lennon), and by the time Karen was up to explore a world beyond her family, so was d'Abo. The actress remained a regular cast member for seasons four and five, and guest-starred in the finale in season six while she pursued other roles, including a guest spot in Star Trek: The Next Generation.
Saved by the Bell (4 seasons, 1989-1992)
Who left: Hayley Mills (Miss Bliss), Max Battimo (Mikey Gonzalez), Heather Hopper (Nikki Coleman), T.K. Carter (Mylo Williams), Joan Ryan (Miss Tina Paladrino)
Last seen: Before Saved by the Bell even began.
What "happened": If you ever catch a rerun of Saved by the Bell one Saturday morning, you might stumble on a show that seems wildly different from the one you know. Zack isn't really the main character; there's more focus on Miss Bliss, his put-upon teacher — except that Miss Bliss never appears in Saved by the Bell. While SBTB takes place in Bayside High School, California, the Miss Bliss season — which was actually created as a completely different show — takes place in John F. Kennedy Junior High in Indianapolis, Indiana.
What happened: Welcome to Good Morning, Miss Bliss, the 1988, 13-episode Disney Channel show that preceded the series you know and love. When NBC picked up the rights to Miss Bliss, the show formerly about a teacher, it was rewritten to focus on Zack Morris (Mark-Paul Gosselaar), with Mills, her fellow teacher (Ryan), and half her class (Battimo, Hopper, Coleman) cut from the cast. When NBC later sold Saved by the Bell into syndication, however, the network included Miss Bliss in the package, along with a new voice-over introduction from Zack Morris explaining that this is all a flashback to middle school. The Saved by the Bell: The Junior High Years episodes make no sense because it was indeed a different show — unless you're willing to believe that half the school disappeared en masse while the other half teleported to the Pacific Palisades.
Who else left: Tiffani Thiessen (Kelly Kapowski), Elizabeth Berkley (Jessie Spano)
For how long: Half of season 4 (though both return for the series finale)
What "happened": Maybe Bayside has a rapture problem. Midway through Saved by the Bell's final season, Kelly and Jessie disappeared from the halls of Bayside, while punky newcomer Tori (Leanna Creel) popped up with no explanation. Everyone on the show quickly befriends Tori, and they are all surprisingly close for the rest of the season, until the finale, when Jessie and Kelly show up for graduation and Tori disappears once again.
What happened: Increasingly frustrated by their stereotypical roles on the show, Thiessen and Berkeley both tried to get out of their contracts (and into more serious roles, a.k.a. Beverly Hills, 90210 and Showgirls). NBC pushed back and got Berkeley and Thiessen to film the first few episodes of the final season, along with a graduation episode to run later, but the network had to scramble to fill the rest. It brought on Creel as a replacement and perhaps just hoped that no one would notice. As Cluck Klosterman pointed out in his book Sex, Drugs, and Cocoa Puffs, this creates the "Tori paradox," in which Saved by the Bell almost seems more realistic, despite the obvious disappearance of Jessie and Kelly, because high-school kids suddenly ditch their friends to hang out with new people for no reason all the time. (Klosterman does not attempt to explain the Miss Bliss boondoggle, not that anyone could.)
Beverly Hills, 90210 (10 seasons, 1990–2000)
Who left: Shannen Doherty (Brenda Walsh)
Last seen: Season 4, episode 31, "Mr. Walsh Goes to Washington"
What "happened": Minnesota native Brenda Walsh and her twin brother Brandon (Jason Priestley) were the leads of 90210's first few seasons, as they struggled to adjust to their new L.A. surroundings — and work their way up at the Peach Pit. Like any soap, 90210 was full of abrupt plot movements and dropped threads, but Brenda's fate was perhaps the most egregious. At the end of season four, she got on a plane to London to find her way in the theater scene and was never heard from again. (Walsh family friend Valerie Malone, Bayside graduate Tiffany Thiessen, moved into her room in the next season.)
What happened: Shannen Doherty's off-set antics on Beverly Hills, 90210 are the stuff of TV legend, and fodder for other cast members' late-career book deals. According to Jason Priestly: A Memoir, she started fighting with other actors and producers from the moment she came on set. According to the dishier and better-named, sTORI Telling, Doherty and Jennie Garth once got in a fistfight. The drama became too much, and Fox cut Doherty's contract short in 1994. Doherty later returned to another Aaron Spelling project, Charmed. But her bad behavior became an issue once again, and her character was served a gruesome death in that show's third-season finale.
Who else left: Gabrielle Carteris (Andrea Zuckerman)
Last seen: Season 5, episode 31, "You Say It's Your Birthday: Part 2" (With guest appearances in seasons 8 and 10)
What "happened": Andrea, the school-focused newspaper editor who got pregnant in college — partially to match Zuckerman's real-life pregnancy — eventually married her lawyer boyfriend, Jesse Vasquez (Mark Damon Espinoza), and the two left Beverly Hills at the end of season five to work on their marriage, and for Andrea to go to Yale.
What happened: As her contract with 90210 came to an end, Carteris opted to leave the teen soap and start her new talk show, Gabrielle. She returned for a few guest appearances throughout the show's later seasons, during which it's revealed that Andrea and Jesse are getting a divorce.
There's more: James Eckhouse and Carol Potter (Jim and Cindy Walsh)
Last seen: Season 5, episode 31, "You Say It's Your Birthday: Part 2" (With occasional guest appearances in seasons 7 and 8)
What "happened": After spending years offering sage parental advice to their high-school- and, later, college-age children, Jim and Cindy left Beverly Hills for Hong Kong, though they occasionally dropped in on important events throughout the rest of the series.
What happened: After spending years having to play thin parental figures who pretty much only offer advice, Eckhouse and Potter both left the show when their contacts ended.
And more: Luke Perry (Dylan McKay)
Last seen: Season 6, episode 10, "One Wedding and Funeral" (He returned in season 9)
What "happened": After the daughter of the man who killed his father (also possibly the love of his life) was killed by her father's hit men (who were actually chasing after him), Dylan left Beverly Hills to make peace with his loss. He returned three seasons later, substance-abuse issues in tow.
What happened: 90210 launched Perry into mega-teen-idoldom, and after six seasons, he left the show to pursue other projects, including a role in The Fifth Element and a development deal at ABC. Unfortunately for him, and fortunately for fans who wanted their playthings together forever, his career never got enough momentum to take off, and he returned to the teen drama for seasons nine and ten.
And even more: Jason Priestley (Brandon Walsh)
Last seen: Season 9, episode 4, "Brandon Leaves"
What "happened": After a bittersweet good-bye from his friend Steve, Brandon left to join the Washington bureau of the New York Chronicle.
What happened: After spending years playing Brandon, Priestley decided that enough was enough and struck out on his own. He later said that he regrets that decision.
Fresh Prince of Bel-Air (6 seasons, 1990–1996)
Who left: Janet Hubert (Vivian Banks)
Last seen: Season 3, Episode 24, "Six Degrees of Graduation"
What "happened": After three seasons of being career-oriented, "Aunt Viv" suddenly became a whole different woman. Literally. From seasons four to six, Viv was played by Daphne Maxwell Reid. Her son Nicky Banks joined the cast, first as a newborn and then, one season later, as an aged-up infant (played by Ross Bagley). This was lampshaded in the season-five premiere, when Jazz asked Will, "Who's playing the mother this year?" After which, the now obviously older Nicky mugged for the camera and shrugged, "It's the same mom!"
What happened: The feud between Will Smith and Janet Hubert is the stuff of sitcom legend, and it still generates sniping back and forth between the actors. According to Hubert, Smith had it out for her, and her termination came as a result of a vendetta from him and the network. Smith claimed that Hubert was the problem, that she brought a lot of issues to the set, and that she wanted it to be The Viv of Bel-Air Show.
Buffy the Vampire Slayer (7 seasons, 1997–2003)
Who left: David Boreanaz (Angel) and Charisma Carpenter (Cordelia Chase)
Last seen: Season 3, episode 22, "Graduation" (with several crossover returns from Boreanaz later in the show, though none from Carpenter)
What "happened": After being stabbed through the heart on his way to 1998's best approximation of a hell dimension in the season-two finale, Buffy's ensouled vampire paramour Angel mysteriously returned to Sunnydale for season three. Per usual, Angel spent much of the season brooding over his crimes. After lending a hand in a fight against the mayor in the season finale, he announced that he was heading off to Los Angeles to strike out on his own. In the same season, popular rich girl Cordelia revealed that (a) her SAT grades were actually pretty great, and (b) her father had committed tax fraud. Instead of going to college, she also left for L.A. to pursue a career as an actress.
What happened: Boreanaz and Carpenter left Buffy to join Angel, a noir-toned spinoff focused around Angel's investigation service in downtown L.A. Angel carved out a darker, weirder space in the Buffy universe — featuring an evil law firm, a complicated mythology that hinged on prophecies, and a lot of excuses to get David Boreanaz to awkward-dance. Carpenter left that series in season four, after Cordelia gave birth to an evil goddess and had sex with a young Pete Campbell (Vincent Kartheiser). Angel: It's a hell of a show.
Who else left: Seth Green (Daniel "Oz" Osbourne)
Last seen: Season 4, episode 19, "New Moon Rising" (with a cameo in "Restless")
What "happened": Willow's (Alyson Hannigan) cute, understanding high-school boyfriend who just happens to turn into a werewolf once a month, Oz, was one of Buffy's many metaphors for adolescence. When he and Willow went to college, however, there was less for Oz to do. After a run-in with a female werewolf, he went off to Tibet for most of the season to find himself, returning to Sunnydale briefly before leaving once again.
What happened: Seth Green's star was on the rise throughout his time on Buffy, and though he joined the cast as a regular in season four, he decided to head off to other projects rather than spend all his time waiting at the bottom of the call sheet. Oz's departure ended up serving the storytelling, however, as it gave Willow the chance to mix up her love life and fall for her witch friend Tara (Amber Benson). Conclusion: No matter how great he is, always ditch the high-school boyfriend.
There's more: Kristine Sutherland (Joyce Summers)
Last seen: Season 5, episode 16, "The Body"
What "happened": Buffy's mother died of a brain aneurysm.
What happened: No secret backstage explanation here. Joss Whedon likes to kill his characters. Everybody dies. Nobody escapes. Memento mori, etc.
Dawson's Creek (6 seasons, 1998–2003)
Who left: Meredith Monroe (Andie McPhee)
Last seen: Season 4, episode 7, "You Had Me at Goodbye" (with a return appearance for season 4's "The Graduate" and a cut return appearance in season 6's "All Good Things …" and "… Must Come to an End")
What "happened": The girl who ran into Pacey's car in the season-two premiere quickly became integral to life at Capeside, acting as love interest for Pacey and a vehicle for the hyperverbal characters on the series to discuss mental health, as Andie struggled to process her brother's death. In season four, Andie nabbed an early acceptance to Harvard and spiraled into drug addiction. She left early in the season to recover in Italy, returning only to graduate with the rest of the cast in the finale. Years later, in scenes cut from the season-six finale, Andie's revealed to be working as a medical resident in Boston.
What happened: After she had spent two seasons in Capeside, the producers couldn't come up with more pairings for Andie — except for a relationship with Dawson — and they decided to write her off the show.
Who else left: John Wesley Shipp (Mitch Leery)
Last seen: Season 5, episode 4, "The Long Goodbye"
What "happened": After fighting with his son about his dropping out of film school, Dawson's father gets in a car accident on the way home from buying milk. After Mitch's death, his ex-wife Gail (Mary-Margaret Humes) put in fewer and fewer appearances over the rest of the series, though she eventually remarried.
What happened: Shipp got increasingly frustrated with the little his character had to do (a danger that comes with the territory if you're playing a parent in a teen drama) and he asked to be killed off. So, to be clear: It wasn't the milk's fault.
That '70s Show (8 seasons, 1998–2006)
Who left: Lisa Robin Kelly (Laurie Forman)
Last seen: Season 5, episode 25, "Celebration Day"
What "happened": Eric's Farrah Fawcett hairdo'd older sister spent most of her time torturing the rest of the '70s characters while they threw some pretty intense slut-shaming back at her. Laurie's presence on the show was inconsistent, as she disappeared midway through the third season and then returned in the fifth, during which she got engaged to Fez (Wilmer Valderrama), before being replaced by Christina Moore at the beginning of the sixth season.
What happened: Lisa Robin Kelly struggled with substance abuse throughout her career, and a strained relationship with producers didn't help. Producers kept the character around for six more episodes after Kelly's departure in order to finish up her arc with Fez, but then decided to leave her off the show entirely.
Who else left: Topher Grace (Eric Forman) and Ashton Kutcher (Michael Kelso)
Last Seen: Season 7, Episode 25, "Till the Next Goodbye" (though Kutcher had a guest role for four other episodes in season eight, and both returned for the finale)
What "happened": After spending years trapped in simultaneously a very '70s and oddly timeless version of Wisconsin, Eric left to teach for Africa, while Kelso took a job at the Playboy Club in Chicago. Eric's role in the group, and place as a love interest for Donna, was filled by Randy Pearson, who supposedly represented a shift into the '80s with his peppiness, flowing hair, and love of Journey.
What happened: Both decided to pursue other projects, including Spider-Man 3, Interstellar, and being the subject of Videogum's long-running column "Hey, What's Up With Topher Grace?"; and Punk'd, investing in start-ups, Two and a Half Men, and playing Steve Jobs.
Gilmore Girls (7 seasons [and more!], 2000-2007)
Who left: Chad Michael Murray (Tristan Dugrey)
Last seen: Season 2, episode 9, "Run Away Little Boy"
What "happened": Tristan was never really Rory's love interest, but he did spend a bunch of time tormenting her when she first transferred to tony private-school life at Chilton. They shared a kiss when Rory and Dean briefly broke up, and  Tristan and Rory's almost-relationship came to an almost-head when the two were cast across from each other in the school play (to Rory's boyfriend's Dean's dismay), but in the same episode, we learn that Tristan's dad has pulled him out of school and is sending him to military school in North Carolina.
What happened: Chad Michael Murray was a hot commodity in the WB days, and he left Gilmore Girls for a role in Dawson's Creek, which was filmed in North Carolina. Murray lived in Capeside for a year as cute rocker Charlie Todd, star of the band "Aggressive Mediocrity" — you can't make this up, people. Murray left Dawson for a WB adaptation of The Lone Ranger that never made it from TV special to series, before being shuffled into One Tree Hill (more on that later).
Who else left: Adam Brody (Dave Rygalski)
Last seen: Season 3, episode 20, "Say Goodnight, Gracie"
What "happened": Lane's audio-geek, guitar-playing, willing-to-read-the-Bible-in-a-night-to-impress-her-mother boyfriend Dave was too good for Stars Hallow, and thus he had to leave (or rather take Lane to prom and then never appear on the show again).
What happened: Adam Brody got a role on The O.C., and the rest is Chrismukkah history. Of course, the characters on Gilmore Girls mention that he went to college in California because they're clever like that.
There's more: Milo Ventimiglia (Jess Mariano)
Last seen: Season 3, episode 21, "Here Comes the Son" (with brief appearances in seasons four and six)
What "happened": Late in season three, Rory's bad boy, Allen Ginsberg–loving boyfriend Jess moved to Venice, California, to live with his dad, his dad's girlfriend, and their daughter. Jess's California adventures took up nearly an entire episode, and except for a few trips back to Connecticut to remind Rory that the guys she's dating are terrible, he was off the show forever.
What happened: Another Gilmore Girls victim of network meddling, Jess left for California in order to set up a backdoor pilot for a Jess-centered, skater-themed show the WB wanted to develop called Windward Circle. That proved too expensive to take off, and the network scrapped the series. Then Ventimiglia traveled to NBC for the third season of the '60s drama American Dreams, back to the WB for its brief college-sex drama The Bedford Diaries, and then back to NBC in time for Heroes.
One more: Jared Padalecki (Dean Forester)
Last seen: Season 5, episode 18, "To Live and Let Diorama"
What "happened": A recurring lesson in the history of high-school TV: Don't cling to your high-school ex. Rory broke up with Dean to pursue Jess in high school, then returned to her old flame in college, after he had gotten married to his girlfriend. His affair with Rory broke up his marriage, but their new relationship didn't last much longer. After a trip to visit Rory's grandparents, Dean decided he didn't fit in with Rory's world, leaving her and the show.
What happened: Padalecki was in the series' main cast for seasons two and three and a special guest star for appearances in four and five. After his last appearance, Supernatural was picked up to series, and even if the creators wanted to bring Dean back yet again, he was too busy with that show. Sadly, nobody on Gilmore Girls ever made a quip about Rory's milquetoast ex's new job as a demon-hunter, but that's what the Netflix revival is for.
One Tree Hill (9 seasons, 2003–2012)
Who left: Chad Michael Murray (Lucas Scott) and Hilarie Burton (Peyton Sawyer)
Last Seen: Season 6, episode 24, "Remember Me As a Time of Day" (Murray returned for a guest appearance in season nine)
What "happened": After spending years — high school and post-college — as the central couple in One Tree Hill, Lucas and Peyton left the town of One Tree Hill in the season finale, driving off into the sunset with their newborn baby.
What happened: Rumors of Murray and Burton's fights with the network over contract negotiations swirled throughout the show's sixth season, including a video where Murray told fans to "start blogging and being pissed off" so that he could get a higher contract. Blogging and being pissed off wasn't enough — or there weren't enough people doing so. Negotiations fell apart, and Murray and Burton both left the show. Thus ends the epic Chad Michael Murray portion of our tale.
The O.C. (4 seasons, 2003–2007)
Who left: Shailene Woodley (Kaitlin Cooper)
Last seen: Season 1, episode 27, "The Ties That Bind"
What "happened": Marissa Cooper's younger sister never got much attention in The O.C.'s first season, which is reasonable if you consider that, over the course of that season, Marissa burnt down a house, OD'ed in Tijuana, and started hooking up with the pathologically manipulative Oliver Trask. Anyway, somewhere in the mix, Kaitlin went off to boarding school and didn't return until season three, during which Willa Holland replaced Woodley.
What happened: Creator Josh Schwartz had plans to bring Kaitlin back later in the series all along, but, as with Nicky on Fresh Prince, the actress needed to be aged up for the material to work.
Who else left: Chris Carmack (Luke Ward)
Last seen: Season 2, episode 1, "The Distance"
What "happened": Abercrombie bro Luke had the honor of uttering one of The O.C.'s most famous lines, "Welcome to the O.C., bitch!" But he didn't stay on the welcome committee forever. After discovering that his dad was gay and romancing Julie Cooper, Luke left Newport for Portland with Seth Cohen and his father at the end of season one. Seth returned, but Luke stayed in the land of coffee and fixed-gear bicycles. On days when the fog's particularly thick, he probably fondles his puka-shell necklace and thinks about what might have been.
What happened: Carmack had trouble adjusting to the sudden fame that descended on the whole O.C. cast. He was written off the show after the first season, and then he spent the next few years figuring out what to do next, eventually booking a role on Nashville.
There's more: Olivia Wilde (Alex Kelly)
Last seen: Season 2, episode 16, "The Blaze of Glory"
What "happened": The bisexual "bad girl" (according to Josh Schwartz) who runs the Bait Shop (The O.C.'s resident emo-rock venue), Alex Kelly dated both Seth Cohen and Marissa Cooper over the course of her brief, explosive stint in Newport. In keeping with most of the show's themes, near the end of the season, Alex realized that she couldn't overcome the class differences between her and Marissa, and she ended their relationship.
What happened: The O.C. wrote off tons of featured characters throughout its history, from Lindsay to Trey to Johnny and more — Seth even makes a joke about the number of people who leave the city's bus depot — but Alex's departure might be the most controversial, if only because of Schwartz's excuse for it. In an interview with Bill Simmons, Schwartz blamed the increasingly conservative climate of 2004 America for scaring the network and limiting his options with the character. "If you want Alex back, America," he wrote, "you're going to have to VOTE BUSH OUT OF OFFICE."
And lest you forget: Mischa Barton (Marissa Cooper)
Last seen: Season 3, episode 25, "The Graduates"
What "happened": Near the end of The O.C.'s third season, people started to talk about Mischa Barton's possible departure. Maybe she'd go off with her father (Tate Donavan); maybe she'd disappear in college. Instead, on her way to the airport to leave with her father, her public-school ex Kevin ran her and Ryan off the road. Marissa died in the accident. The O.C. — and Newport's rates of Imogen Heap–accompanied gun violence — would never be the same.
What happened: Despite rumors to the contrary, Schwartz insists that Marissa's death was entirely a creative decision. There just wasn't much more to do with the character, he recently told the Huffington Post, and her death gave the show a creative boost in its much lighter, Chris Pratt– and Taylor Townsend–filled fourth season. Barton has also agreed with Schwartz's take. After leaving the show, she was quoted as saying, "I was really excited that I get to die, to be honest. I've done pretty much everything else with the character. It was better than one of those lame farewells."
Veronica Mars (3 seasons, 2004–2007)
Who left: Sydney Tamiia Poitier (Mallory Dent)
Last seen: Season 1, episode 7, "Like a Virgin"
What "happened": Veronica's adviser at the school paper, Mallory, comes across as a cool adviser figure for the budding detective, and she managed to get billing in the show's credits. But after a few episodes, Mallory disappeared from the show, and only a few episodes later, we get an explanation: She got pregnant out of wedlock.
What happened: Veronica already had a cool adviser figure (her father), and once creator Rob Thomas realized the costs of the many guest stars the show needed in its first season, he realized he had to cut the redundant character.
Who left: Teddy Dunn (Duncan Kane)
When: Season 2, episode 22, "Not Pictured"
What "happened": Veronica's ex-boyfriend and one point in the show's central Veronica-Logan-Duncan love triangle, Duncan started out the show as your ordinary nice-but-tortured rich boy. His and Veronica's relationship weathers a brief incest scare (he thinks his father is her father, but that's later proved false). In season two, his ex-girlfriend Meg dies, and he and Veronica team up to kidnap his and Meg's daughter, after which he flees to Australia, becoming a vaguely sinister criminal mastermind and ordering a hit on perennial Veronica Mars villain Aaron Echolls.
What happened: Fans always preferred Veronica-Logan to Veronica-Duncan (or anything to Veronica-Duncan, really), and Dunn really didn't like how his character was received. He tried to play bipolar but came off as cardboard, and never got that incest storyline — in his defense, who did? Thomas told Dunn that he was going to be written off mid–season two. Dunn's now a lawyer in New York. You might say that he and acting used to be friends.
Friday Night Lights (5 seasons, 2006–2011)
Who left: Zach Gilford (Matt Saracen), Adrianne Palicki (Tyra Collette), Scott Porter (Jason Street), Minka Kelly (Lyla Garrity), Gaius Charles (Smash Williams)
Last seen: Season 3, episode 13, "Tomorrow Blues" (with the exception of Charles, who left in episode four, "Hello, Goodbye"; and Porter, who left in episode 7, "New York, New York")
What "happened": They all graduated — sort of, this takes some explaining. Friday Night Lights is one of the few high-school-TV shows to commit to its setting rather than just its characters, which meant that, as the series characters aged into senior year, it had to reckon with their future all at once (except for Landry, who the series decided was one year younger than everyone else). Some characters returned to Dillon, Texas, occasionally, but, as happens in life, most everyone ended going in different directions. In order of increasing heartbreak:

After sustaining an injury in playoffs with the Panthers, Smash managed to walk on to the team at Texas A&M. He didn't return to Dillon, but we hear his name mentioned by announcers at A&M games in seasons four and five.
Lyla left Dillon to go to Vanderbilt. She came back for Matt's father's funeral in season four, where she also reconciles with Tim Riggins.
Tyra went to the University of Texas after getting off the wait list. In season five, she came back briefly to banter with Tim and complain about small-town life, saying that she wants to go into politics, "like Mrs. T, but bigger."
Jason traveled to New York, where he moved to be close to his daughter and became a sports agent. He returns in season five to try to convince Coach Taylor to take a college coaching job, but he doesn't succeed.
Matt went to the Art Institute of Chicago, but briefly came back to Dillon after his father's death, in time for one of the series' best episodes, "The Son." Are you crying? I'm crying.
What happened: According to creator Jason Katims, the writers tried to bring back as many actors as they could, depending on when they could get them. Most of the stars quickly signed onto other projects — Katims notes that Palicki was especially busy — so, as in life, the characters could only return home briefly, if at all.
Gossip Girl (6 seasons, 2007–2012)
Who left: Connor Paolo (Eric van der Woodsen), Jessica Szohr (Vanessa Abrams), Taylor Momsen (Jenny Humphry)
Last seen: For Momsen: Season 4, episode 10, "Gaslit"; for Paolo and Szohr: Season 4, episode 22, "The Wrong Goodbye" (though all three would return for cameos in the series finale, "New York, I Love You XOXO")
What "happened": By its fourth season, Gossip Girl had become less a TV show and more a Versace-clad ouroboros willing to shill Vitamin water, ignore plot mechanics, and consume itself in a never-ending cycle of character pairings, each more ridiculous than the ideas you'd find in the average slashfic forum. And in the midst of that chaos, more than a few characters jumped ship.
In the season finale, boho-chic troublemaker Vanessa has Dan Humphrey's novel about the Upper East Side published in secret before decamping to Spain. Somewhere between seasons four and five, perpetually overlooked Eric van der Woodsen went off to Sarah Lawrence. And sometime after returning to stay with her mother upstate mid–season four, smoky-eyed diva Jenny Humphrey traded the New York scene for London to attend Central Saint Martins and disappear from the world of the show.
What happened: All three actors decided they wanted out. Jessica Szohr told reporters that she thought the show had taken her character as far as it could (my theory is that they used up every possible beaded necklace/giant earring/hat combo known to man); Taylor Momsen wanted to pursue her music career (there were rumors of on-set fights between her and her co-stars, which would explain Momsen's absence from a majority of the season, but in the Gossip Girl days, there were rumors about everything); Connor Paolo took a role on Revenge, and told reporters at that summer's TCA press tour that he didn't think Eric would be back anytime soon. "He doesn't come home for Christmas anymore," he said of his character, which (a) harsh, and (b) with a sister like Serena, can you really blame him?

Glee (6 seasons, 2009–2015)
Who left: Cory Monteith
Last seen: Season 4, episode 22, "All or Nothing"
What happened: Glee had more flaws than most shows, and if you were to compile a list of all the characters who were supposedly going to leave the show but later returned, well, it would take a lot longer than your standard interminable Will Schuester rant. The show tore itself and any sense of its forward momentum apart — splitting between New York City and Lima for most of its later seasons — just to keep track of everyone. But that bear-hug-like attempt to hold everyone together seems so futile in the face of what actually happened when, in July 2013, Cory Monteith was found dead from a heroin overdose. The show's writers made the decision to have Finn die on the show from unmentioned causes, and to have most of the cast return to Lima for a special good-bye episode, "The Quarterback" (Season 5, episode 3). Where much of Glee can feel either too precious in its ironic distance or too cloying in its earnestness, "The Quarterback" is a gut-punch of an hour of TV.
Stories about high school are stories about loss — the loss you've already experienced, or the loss you inevitably will. The trick of so many TV shows about high school, however, lies in dodging that lesson for as long as possible, having the leads stay together, implying that departed characters are just a guest appearance, dream sequence, or reboot away. But sometimes, as in life, things break apart and just don't come back together. What do you do then but sing?