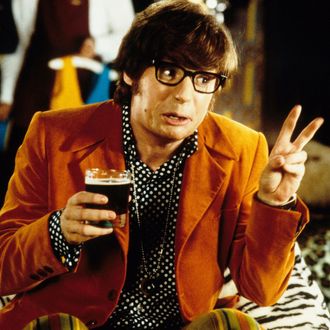 No, baby, no, don't leave us!
Photo: New Line Cinema
At the beginning of each month, HBO announces which films will be leaving its library. We collect the full list of titles here so that you can plan the most effective viewing strategy for the rest of the month.
Ya Byrned! Neighbors (2014)
Zac Efron and all his muscled dude-brosity might have been Neighbors' most obvious selling point when the tale of two parents battling a fraternity hit theaters last year. But as appealing as Efron —or even Seth Rogen or Dave Franco, for that matter — are, it's Rose Byrne who stole the show. As one half of team Older Generation, she gets just as invested in the film's escalating revenge plots as anyone else, and comes up with some of the most brutal ploys to tear the frat apart.
Leaving November 24.
Be afraid. Be very afraid: The Fly (1986)
David Cronenberg's adaptation of a 1958 B-movie about a man who begins to transform into a fly after a freak accident is the pinnacle of body horror. Starring pre-self-parody Jeff Goldblum and Geena Davis, The Fly escalates from a story of science gone awry into something darker: the deterioration of a personality, the experience of watching a loved one succumb to disease.
Leaving November 30.
Only frozen '60s kids will get this: Austin Powers: International Man of Mystery (1997)
In an instance of one decade calling the other kitschy, the very '90s Austin Powers took to the '60s to task with its story of a groovy superspy (Mike Myers) brought back into the field to fight off Dr. Evil (Mike Myers). Was this a projection of yuppie America's anxieties as it yearned for a time of energy and angst? A political treatise about the way we didn't talk about sex in the pre-Lewinsky Clinton days? Did Mike Myers just like doing funny voices? Only time will tell.
Leaving November 30.
You could really Dance all night: Dances With Wolves (1990)
The three-hour-and-two-minute cut available on HBO Now is only 20 minutes longer than Avatar — plus there are no blue people!
Leaving November 30.
Leaving November 24
The Hobbit: The Desolation of Smaug (2013)
Leaving November 30
Accepted (2006)
Austin Powers: International Man of Mystery (1997)
Dances With Wolves (1990)
Godzilla (2014)
Hannibal (2001)
Ice Age: The Meltdown (2006)
Jersey Boys (2014)
Let's Be Cops (2014)
Miami Vice (2006)
Neighbors (2014)
Rush Hour (1998)
Scooby-Doo (2002)
The Fly (1986)