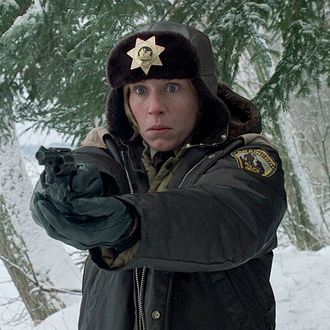 Freeze!
Photo: PolyGram Filmed Entertainment
Each month, several films and TV shows leave Netflix's catalogue. We provide a list of titles leaving the platform, along with a selection of titles that may interest you. Feel free to note anything we've left out in the comments below.
Watch this, why don'tcha: Fargo (1996)
FX's adaptation of the Coen Brothers' classic film about murder, snow, and unparalleled accents is currently working its way through its second season, which means that there's no better time to catch the original than before it goes off of Netflix this month. Steve Buscemi, Frances McDormand, awkward encounters in Radisson dining rooms — what more could you want?
Leaving November 1.
Fabric porn: House of Flying Daggers (2004)
Yimou Zhang's tale of star-crossed lovers in Tang Dynasty China bundles all the standard elements of wuxia in meticulous ornamental packaging. From its fight scenes to its famous dance sequence, House of Flying Daggers takes every opportunity to heighten its dramatic stakes, transmuting a small-scale romance into a bighearted epic with two hours of consistently silken cinematography.
Leaving November 1.
The call's coming from inside the streaming service: Scream (1996)
Like a still-drunk reveler dragging the beer-stained tatters of a costume to the Dumpster the day after Halloween, Netflix is dropping a bunch of its horror flicks. If you're planning to stay in on Halloween, perhaps there's time for a comprehensive Saw marathon, but if you only want a quick hit of adrenaline, turn to Wes Craven's deliciously meta 1996 horror-comedy masterpiece.
Leaving November 1.
Oh darlin', darlin': Stand by Me (1986)
When's the last time a movie with four young leads was this good? Steven King's classic story about four boys on the hunt for a dead body becomes, with a few deft twists, a meditation on what it means to grow up and the people you lose along the way. But let's not get too sappy here, there's also that brutal and hilarious pie-eating contest.
Leaving November 1.
TELEVISION
November 1
Bali (Season 1)
Pajanimals (Season 1)

November 15
Fleabag Monkeyface (Season 1)
November 24
Art of Flight: The Series
November 29
Romanzo Criminale (Season 1-2)
Salamander (Season 1) 
FILMS
November 1
1492: Conquest of Paradise (1992)
America in Primetime (2011)
Balto 3: Wings of Change (2004)
Batman & Robin (1997)
Best Kept Secret (2013)
Best Laid Plans (1999)
Changing Lanes (2002)
Cleopatra (1963)
Conspiracy Theory (1997)
Death Warrant (1990)
Fargo (1996)
Fela Kuti: Music Is the Weapon (1982)
Funny Games (1997)
Half the Sky: Turning Oppression Into Opportunity for Women Worldwide (2012)
Hero and Terror (1988)
House of Flying Daggers (2004)
Jonah: A VeggieTales Movie (2002)
Lunopolis (2009)
Move Over, Darling (1963)
Norman (2010)
Rudy (1993)
Saw (2004)
Saw II (2005)
Saw III (2006)
Saw IV (2007)
Saw V (2008)
Scream (1996)
Secrets of Mary Magdalene (2006)
Soul Plane (2004)
Stand by Me (1986)
Taking Lives (2004)
The Blues Brothers (1980)
The Core (2003)
The Last Waltz (1978)
The Prize Winner of Defiance, Ohio (2005)
Three Kings (1999)
Tyler Perry's Meet the Browns (2008)
Year of the Dog (2007)
Your Inner Fish (2014)
November 3
Bratz: Good Vibes (2011)
November 5
The Perfect Stranger (2011)
November 7
Shanghai Noon (2000)
November 8
My Hope America With Billy Graham (2013)
November 9
The Road (2011)
November 10
Bratz: Pampered Petz (2010)
November 12
A Girl Walks Into a Bar (2011)
November 13
Stranger by the Lake (2014)
November 16
Teen Beach Movie (2013)
November 17
Bratz: Diamondz (2006)
November 19
Breaking the Girls (2013)
Crystal Fairy & the Magical Cactus (2013)
November 22
Alpha and Omega: The Legend of the Saw Tooth Cave (2014)
Bel Ami (2012)
Steve Jobs: The Lost Interview (2012)
November 27
Burning Man (2011)
Leviathan (2012)
November 28
Something From Nothing: The Art of Rap (2012)
November 30
Jesus Henry Christ (2011)
Virginia (2010)