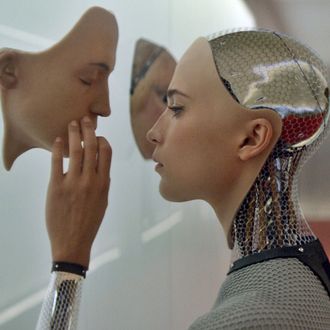 Domo Arigato, Mrs. Roboto.
Photo: Universal Pictures
At the beginning of (and throughout) every month, Amazon Prime and Amazon Instant Video add new movies and TV shows to their libraries. Some of these may also have previously been on Amazon, only to have been removed and then added back. Feel free to note anything we've left out in the comments below.
Royal intrigue and hats: Wolf Hall
If you wanted to watch a show about a spoiled man-boy intent on defying the laws of faith and polite society in order to find the right women to bear his children, you'd probably look on TLC. But since Wolf Hall is set in the 1500s, it aired on PBS. Based on Hilary Mantel's Booker Prize–winning novels, the series follows the exploits of Thomas Cromwell (Mark Rylance, who could win awards off the way he uses his eyebrows alone), personal fixer to the indecisive King Henry VIII (Damien Lewis). Wolf Hall comes with all the diligently accurate period trappings you might expect from the typical Masterpiece production, but it also brings humor and even a dark poignancy to the proceedings, as the members of the court fumble to make sense of sex and intimacy in the public eye.
Available November 10.
Pillage, rinse, repeat: Vikings (Season 3)
The History channel's Vikings might look like any other medieval sword-and-beard bonanza, but the show's matured over time and set its sights on the larger issues that stem from the clash of cultures between the Vikings and their enemies in England and France — the natural tensions between military and agricultural societies and polytheistic and monotheistic faiths. But there's still a lot of swords and beards and blood, because some things are timeless.
Available November 19.
What Amazon wants you to watch: The Man in the High Castle (Season 1)
Philip K. Dick's alternate history of post–World War II North America, in which Japan and Germany rule over a divided United States, gets a TV adaptation in Amazon's new drama. Moving with all the terror of dream logic, the series follows a group of rebels and government agents intent on finding the source of a film reel that imagines yet another alternate reality.
Available November 20.
Walk and talk: Top Five (2014)
For anyone who loves movies about two funny people wandering through the city, Chris Rock's semiautobiographical story about a comedian (Rock) and the reporter profiling him (Rosario Dawson) is can't-miss entertainment, especially since it features everyone from Leslie Jones to Kevin Hart to Gabrielle Union to Jerry Seinfeld and even Tracy Morgan in supporting roles.
Available November 28.
Do Vikandroids dream of electric sleep? Ex Machina (2015)
A brilliant inventor (Oscar Isaac) invites a young coder (Domhnall Gleeson) to his mountain retreat, where he reveals that he's working on an advanced piece of artificial intelligence (Alicia Vikander). Alex Garland's directorial debut has all the anxiety-inducing eeriness of an episode of Black Mirror and all the material to stoke debates on everything from technological ethics to gender politics, but it's punctuated by a few brief moments of hilarity.
Available November 14.
AVAILABLE ON STREAMING
TELEVISION
Wolf Hall (Mini-series) (November 10)
Mr. Selfridge (Season 3) (November 18)
Vikings (Season 3) (November 19)
The Man in the High Castle (Season 1) (November 20)
Teen Wolf (Season 5a) (November 22)
Falling Skies (Season 5) (November 28)
FILMS
Available November 1
Desk Set (1957)
Eight Crazy Nights (2002)
The Enemy Below (1957)
The Craft (1996)
The Newton Boys (1998)
Available later in November
Tell (2014) (November 5)
Awakenings (1990) (November 5)
The Adventures of Milo and Otis (1986) (November 5)
The Mask of Zorro (1988) (November 5)
Seven Years in Tibet (1997) (November 5)
The Imaginarium of Doctor Parnassus (2009) (November 5)
The Yes Men Are Revolting (2014) (November 7)
Prince (2015) (November 10)
Outrageous Sophie Tucker (2014) (November 11)
The Song (2014) (November 12)
Ex Machina (2015) (November 14)
The Joe Show (2014) (November 15)
Catch Me Daddy (2015) (November 18)
Dying of the Light (2014) (November 19)
Only God Forgives (2013) (November 21)
Kate & Leopold (2001) (November 26)
Top Five (2014) (November 28)
AVAILABLE FOR PURCHASE
TELEVISION
Ballers (Season 1) (November 1)
Inside Comedy (Season 4) (November 2)
7 Deadly Sins (Season 1) (November 2)
Legends (Season 2) (November 3)
Angel rom Hell (Season 1) (November 5)
Mom (Season 3) (November 6)
Elementary (Season 4) (November 6)
My Man Can (Season 1) (November 7)
True Detective (Season 2) (November 9)
Rabbids Invasion (Season 3) (November 10)
You Oughta Know (Season 1) (November 13)
Chicago Med (Season 1) (November 18)
TMNT: Half Shell Heroes Special (Special) (November 23)
Blaze to the Top of the World (Special) (November 24)
Nature Cat (Season 1) (November 26)
Strike Back (Season 4) (TBD) 
MOVIES
Toy Story That Time Forgot (2014) (November 3)
Mission Impossible: Rogue Nation (2015) (November 17)
Ricki and the Flash (2015) (November 24)