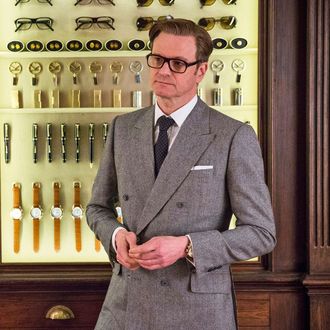 Spies of Savile Row.
Photo: Jaap Buitendijk/Twentieth Century Fox
At the beginning of (and throughout) every month, HBO adds new movies and TV shows to HBO Go and HBO Now. Here is a quick list of several titles you might be interested in. Some of these may have been on HBO previously, only to have been removed and then added back. Feel free to note anything we've left out in the comments below.
What HBO wants you to watch: Getting On (Season 3 premiere)
Now entering its third and final season, HBO's Getting On focuses on a group of doctors and nurses working in a women's geriatric ward. With complex performances from Laurie Metcalf, Alex Borstein, Niecy Nash, and Mel Rodriguez, Getting On moves between cringe comedy, bureaucratic satire, and somber reflection on life and death, often within the space of a single bit.
Available November 8.
Embrace your inner goddess: Fifty Shades of Grey (2015)
If you missed the chance to see 2015's great lip-biting and French-vanilla (a.k.a. vanilla, but with a better PR team) sex epic in theaters early this spring, now you can stream it on your laptop at work, on the crowded subway during rush hour, or waiting in line for that cool new ice-cream place down the street — just the way it was meant to be watched.
Available November 21.
From Chimpan-A to Chimpanzee: Planet of the Apes (1968)
Anything we could say about the plot of this 1968 sci-fi classic has already been spoiled for you by the recent Apes films, internet comments, or that episode of Mad Men where Don takes Bobby No. 4 to see it. Instead, we'll just leave you with The Simpsons' musical take and go about our business.
Available November 1.
The time has come for my dreams to be heard: Dreamgirls (2006)
Listen.
To the song here in my heart
A melody I start and can't complete.
Listen.
Eddie Murphy could have won
An Oscar for this film
If he hadn't made Norbiiiit.
Available November 1.
More like Savile Murderer's Row: Kingsman: The Secret Service (2014)
Colin Firth has a weaponized umbrella! Taron Egerton looks good in glasses! Spies! Weapons! Samuel L. Jackson got a paycheck! At this point, you're already sold or you're out.
Available November 28.
TELEVISION:
Project Greenlight (Season Finale) (November 1)
The Diplomat (November 2)
The Leisure Class (November 2)
Kareem: Minority of One (November 3)
Getting On (Season 3 premiere) (November 8)
U2: iNNOCENCE + eXPERIENCE Tour (November 14)
The Latin Explosion (November 16)
Real Time With Bill Maher (Fall finale) (November 21)*
Last Week Tonight With John Oliver (Fall finale) (November 23)*
3 1/2 Minutes, Ten Bullets (November 23)
*Added to HBO Now the morning after its HBO debut
MOVIES
Available November 1
Battle for the Planet of the Apes (1973)
Beneath the Planet of the Apes (1970)
Don't Say a Word (2011)
Double Jeopardy (1999)
Dreamgirls (2006)
Fantastic Four: Rise of the Silver Surfer (2007)
Field of Dreams (1989)
Good Burger (1997)
Los ases del corrar (2015)
Once (2006)
Planet of the Apes (1968)
Ride Along (2014)
Satisfaction (1988)
Scream (1996)
The Last King of Scotland (2006)
The Thomas Crown Affair (1968)
The Waterboy (1998)
Throw Momma from the Train (1987)
Available later in November
Muerte en Buenos Aires (2014) (November 6)
Unfinished Business (2015) (November 7)
No robarás (2013) (November 13)
Run All Night (2015) (November 14)
Fifty Shades of Grey (2015) (November 21) (Original and unrated cuts)
Kingsman: The Secret Service (2014) (November 28)