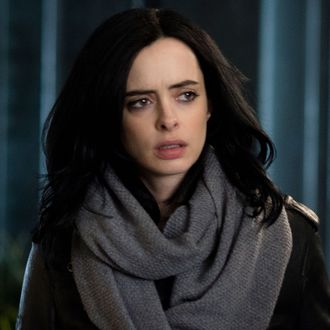 Photo: Myles Aronowitz/Netflix
At the beginning of (and throughout) every month, Netflix Streaming adds new movies and TV shows to its library. Here is a quick list of several that you might be interested in. Some of these may also have previously been on Netflix, only to have been removed and then added back. Feel free to note anything we've left out in the comments below.
Treat Yo' Self: Master of None (Season 1)
In his new comedy about a 30-year-old New York actor, Aziz Ansari moves away from the perkiness he displayed on Parks and Recreation and toward a more downbeat, Louie- or Girls-like vibe. If you've been following Ansari closely, you might recognize Master of None as part of the comedian's new career phase. Expect fewer jokes about apps and zerts and R. Kelly (though there will probably still be some material about R. Kelly) and more material about the complexities of modern romance (as in Ansari's new book, Modern Romance). Is that enough to stop us from leading into this blurb with a treat yo' self joke? Too late, we already did.
Available November 6.
The Not-Exactly–Mr. Show to Watch: W/ Bob and David (Season 1)
Bob Odenkirk and David Cross reunite and try to rebottle some of the lightning they found in their '90s cult comedy, Mr. Show with Bob and David. Amid a slew of Netflix revivals, this one comes with some of the highest expectations — though, according to Odenkirk and Cross, W/ Bob and David isn't a Mr. Show reunion, it's something different.
Available November 13.
Gone Too Soon: Cristela (Season 1)
Cristela Alonzo's sitcom about a girl balancing an internship at a law firm with the demands of her immigrant family never really got the chance to break out from the pack, partially due to ABC's decision to air it in a deadly Friday night time slot. Still, the series was a master class in multi-cam comedy — at Vulture, we argued that it deserved a second season, not that ABC listened — and it used the format to hit bigger issues with remarkable confidence. If you're not in the mood to stream the whole season, at least check out episode 15, which centers on a debate over whether Cristela's niece should enroll in her school's gifted-students program.
Available November 16.
The One Netflix Wants You to Watch: Marvel's Jessica Jones (Season 1)
Krysten Ritter (Breaking Bad, Don't Trust the B—- in Apartment 23) steps into the Marvel Universe as Jessica Jones, a superhero turned private investigator with a dark past, a lot of regrets, and a taste for leather outwear. Ritter's joined by Mike Colter (Lemond Bishop from The Good Wife), Carrie-Anne Moss (Trinity from The Matrix movies), and David Tennant (you know, that guy from all those British shows). Vulture caught a screening of the series' first episode at New York Comic Con, and we can assure you that it's going to be a thrilling and sexy ride. And since you were going to ask, Jessica Jones connects with Netflix's Daredevil, out this spring, but you don't necessarily need to watch the former to get the latter. You do, however, need to watch Ritter's previous work in Don't Trust the B—-, because that's just mandatory viewing for everyone.
Available November 20.
For Your Reconsideration: Anna Karenina (2012)
Lest you lose faith in Joe Wright following his latest directorial effort, it's worth revisiting one of his successes. No, not Wright's overwrought hits, Pride & Prejudice and Atonement, but Anna Karenina, his expressionist adaptation of Tolstoy's great work of naturalist fiction. Critics weren't the biggest fans of Anna Karenina when it was released — blame screenwriter Tom Stoppard's deviations from the novel or Wright's cheeky decision to set the action within the confines of a crumbling theater. But in retrospect, that artifice serves the story's larger themes better than any blandly pious take on the material could. Buoyed by a strong performance from Keira Knightley and a thrilling score from Dario Marianelli, Anna Karenina summons the claustrophobia of 19th-century Russian society with a whizzing prison of fur hats and social intrigue, which — in a few stunning shots — falls to pieces during moments of emotional clarity.
Available November 12.
The Best Sort of History Lesson: Best of Enemies (2015)
Before candidates made routine appearances on SNL for some light ribbing about their weird hairdos, televised political debates were forums for rigorous, witty, and often brutal repartee. At least that's the case made by Best of Enemies, which travels back to the famous 1968 showdown between Gore Vidal and William F. Buckley. Vulture's Bilge Ebiri called Best of Enemies the "saddest film of the year," as it seems to locate a moment when politics went from substance to spectacle.
Available November 28.
TELEVISION
November 1
Girlfriends' Guide to Divorce (Season 1)
Seven Deadly Sins (Season 1)
Worst Year of My Life, Again (Season 1)
November 2
Last Tango in Halifax (Season 3)
November 3
Julius Jr. (Season 2)
November 6
Master of None (Season 1)
November 13
Atención Atención (Season 1)
W/ Bob and David (Season 1)
Young & Hungry (Season 2)
November 15
Continuum (Season 4)
Jessie (Season 4)
November 16
Cristela (Season 1)
November 18
Black Butler (Season 3)
River (season 1)
November 20
LEGO Ninjago: Masters of Spinjitzu (Season 3)
Marvel's Jessica Jones (Season 1)
November 23
The Red Road (Season 2)
Ultimate Spider-Man (Season 3)
November 24
Liv and Maddie (Season 2)
November 25
Gringolandia (Season 3)
Switched at Birth (Season 4)
MOVIES
November 1
Beethoven's Christmas Adventure (2011)
Idris Elba: Mandela, My Dad and Me (2015)
Last Days in Vietnam (2014)
Pasion de Gavilanes (2003)
Robot Overlords (2015)|
Smithsonian Channel: The Day Kennedy Died (2013)
The Last Time You Had Fun (2014)
The SpongeBob SquarePants Movie (2004)
Thomas & Friends: The Christmas Engines (2014)
Twinsters (2015)
November 3
Do I Sound Gay? (2014)
The Midnight Swim (2014)
November 5
Amapola (2014)
Amour Fou (2014)
The Runner (2015)
November 6
Care Bears & Cousins (Season 1)
November 7
LeapFrog Letter Factory: Great Shape Mystery (2015)
November 12
Anna Karenina (2012)
November 13
Call Me Lucky (2015)
John Mulaney: The Comeback Kid (2015)
November 14
Blue Caprice (2013)
Dior and I (2014)
November 15
People, Places, Things (2015)
Soaked in Bleach (2015)
Tengo Ganas de Ti (2012)
November 20
Sin Tetas No Hay Paraiso (2007)
November 25
Home (2014)
November 26
Zipper (2015)
November 28
A Perfect Man (2013)
Best of Enemies (2015)
The Best Offer (2013)
November 29
Electric Boogaloo: The Wild, Untold Story of Cannon Films (2014)