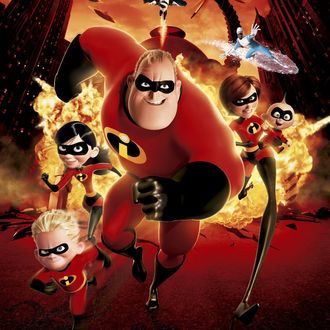 Just four more years!
Photo: Disney/Pixar
Disney's upcoming Pixar film slate includes a lot of sequels: Its schedule, announced Thursday, features just two original additions to the Pixar universe out of the studio's next six films. Those two new films are the The Good Dinosaur (out next month) and the previously untitled Day of the Dead–themed Coco, set for 2017. We can now expect Brad Bird's long-awaited The Incredibles sequel to bow in 2019. Unfortunately, Toy Story fans will have to wait a year longer for its fourth installment; Toy Story 4 has been pushed back from 2017 to 2018. Here's what the next four years of Pixar currently looks like:
The Good Dinosaur (November 25, 2015)

Finding Dory (June 17, 2016)

Cars 3 (June 16, 2017)

Coco (November 22, 2017)

Toy Story 4 (June 15, 2018)

The Incredibles 2 (June 21, 2019)
Disney's Jack and the Beanstalk imagining, Gigantic, has also been set for March 9, 2018. There are also two currently untitled unannounced Pixar films scheduled for 2020.