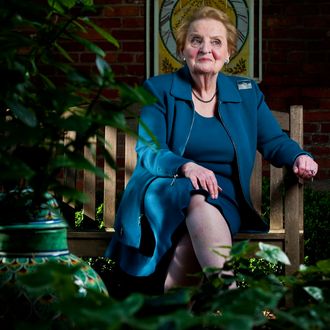 Photo: Melina Mara/The Washington Post
Talk about a cameo of epic diplomatic proportions. Earlier this year, Madeleine Albright caused a tizzy in both the D.C. and L.A. hemispheres when it was announced she would be guest-starring in the second season of the CBS drama Madam Secretary. The episode, which aired two weeks ago, was a ratings and critical success — but, according to showrunner Barbara Hall, it didn't come without a few amusing filming problems along the way. Albright is still an in-demand Capitol Hill woman, after all. People need her on the phone! Television can wait!
"We were about to shoot with her and she went to go take a phone call," Hall said at "The Art (and Business) of Showrunning" panel at Produced By: New York on Saturday. "It was taking a long time, 30 or 45 minutes, but she had been summoned into an important phone call so we didn't ask. Finally we were eavesdropping a little bit, no lie."
So, what dilemma was causing everyone to wait around by the craft services tables, you may ask? "She had taken a call from John Kerry because it was on the eve of the Iranian Nuclear Agreement, and all of the former Secretaries of States had been called to be briefed about the deal coming out," Hall continued. "It's just like a television show! Who was on the call? Henry Kissinger, Condoleezza Rice, all of them. This is an episode right here! It was a little hard for us to say, uh, Ms. Albright, we have to shoot the scene and roll with it before it gets dark."
Madam Secretary: Seamlessly mixing real and fictional foreign policy woes since 2014.