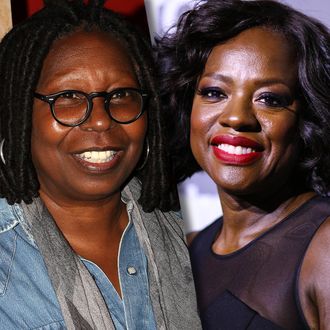 A host of The View and Viola Davis.
Photo: Getty Images
In a recent interview with BET.com, Whoopi Goldberg responded to a question about Viola Davis's sweeping Emmy speech where she said, "The only thing that separates women of color from anybody else is opportunity." Viola Davis, who became the first black woman to win an Outstanding Lead Actress in a Drama Emmy for How to Get Away With Murder, was of course talking about structural inequities in Hollywood. Goldberg, though, seems to have misinterpreted the speech, conflating "opportunity" with "winning an Emmy." "The truth of the matter is, is that there's been plenty of opportunity," said Goldberg, following in the footsteps of fellow The View co-host and part-time civil-rights leader Raven-Symoné. She then points to another Shonda Rhimes show, Scandal (a show that has been on the air for four years), as an example of one of those "opportunities."
Goldberg also seems to have forgotten that she recently called out Wes Anderson for not casting black people in his films. Whoopi, your memory's in danger, girl.