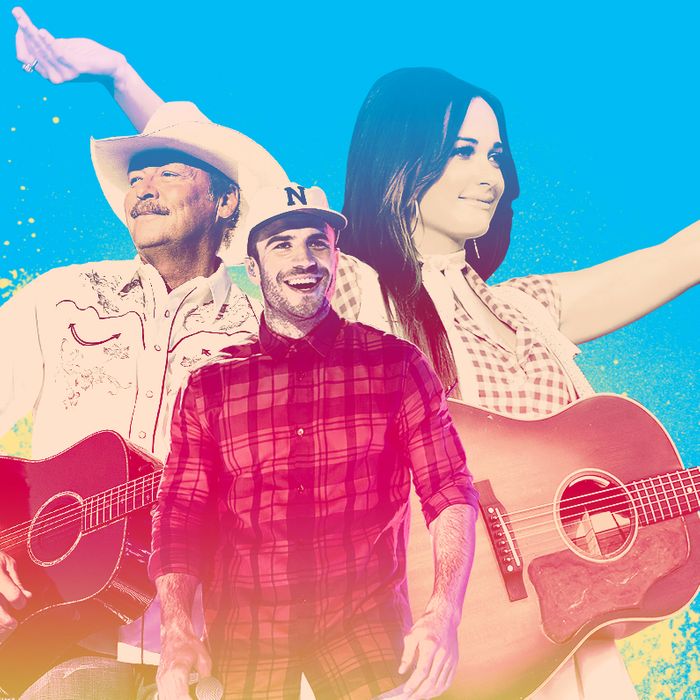 Photo-Illustration: Maya Robinson and Photos by Richard Gabriel Ford/WireImage, John Shearer/WireImages and Stephen Lovekin/Getty Images
Nearly a decade ago, if you can believe it, Taylor Swift brought a new sound and a younger audience to country music. She's since left country's green pastures for pop's city streets, but a trail of young guns — like Kacey Musgraves, Sam Hunt, Kelsea Ballerini, and Maddie & Tae, all of whom had albums debut in the Top 5 on Billboard's Top Country Albums chart this year — have kept interest high among a younger generation.
Despite that fresh influx of fans raised on iTunes and Spotify, country listeners still overwhelmingly purchase their music on CD instead of digital download (that is, when they're buying music), much more so than fans of other genres. Country has continually lead the post-Napster music industry in the highest percentage of physical sales, but even in the streaming age, the adage holds true. So far this year, CD sales account for 63 percent of country albums sold, compared with 54 percent for the market overall, according to Nielsen Music. (For reference, the best-selling country album of 2015 so far is Luke Bryan's Kill the Lights, which has sold just north of 600,000 copies in nine weeks' time, according to Nielsen SoundScan.) Granted, this marks a substantial decline from five years ago, when 84 percent of country sales were physical, but country continues to lag substantially behind the industry's other big four genres (R&B/hip-hop, rock, and pop) when it comes to downloading and streaming. Here's why.
Older Fans, Old Habits
The median age among country music's 98 million U.S. fans is 46, compared to 39 for a pop listener, according to Sony Music research. The older fans are finding their physical dependency a hard habit to break because big-box stores like Walmart and Target feed their jones (or, rather, their George Jones) with well-stocked country sections. For a country veteran like Alan Jackson, CDs account for 70 percent of album sales, even if, as Universal Music Group Nashville chairman/CEO Mike Dungan suspects, the buyers "may be taking that CD, loading it into their computer, and putting the CD onto the shelf, never to use it again."
Likability and Loyalty
"There's an attachment to the artist that certainly seems to be higher in country music than anywhere else," says David Bakula, senior VP of Industry Insights for Nielsen Entertainment. That loyalty, he suggests, may lead fans to want the more tactile experience that a CD's liner notes provide — if you can remember back this far, there are artist photos and song lyrics in there — over something as seemingly ephemeral as a download. The kinship exists because country artists make themselves accessible to their fans through such events as CMA Music Fest, an annual summer event in Nashville that features stars of all shine levels shaking hands and kissing babies. Garth Brooks famously signed autographs at the event, then amiably called Fan Fair, for 23 hours straight in 1996. In pop, fans tend to put artists on a pedestal. In hip-hop, stars lead a lifestyle aspired to by their followers. But country is built on fans seeing themselves as they are in their favorite acts.
Nielsen's N-Score rating evaluates celebrities on how fans perceive them for branding and advertising purposes. It's telling that country artists score higher when they're perceived as being "likable" and "trustworthy," Bakula says, as opposed to pop and rock, where looks, social media savvy, and tastemaker status rank higher. "In hip-hop, it's better to be offensive," Bakula says. "With country, that's the death knell."
A Digital Divide
Because fans were late digital adopters, piracy didn't decimate country music as much as it did other genres when peer-to-peer services like Napster came online in 1999. Most country fans simply weren't on computers, much less stealing music. By 2009, long after the worst of the piracy era had passed, only 50 percent of core country fans had internet service at home, according to a Country Music Association survey.
"If you look at the heyday of P2P, you're looking at a culture that had no other alternative. There wasn't a YouTube, there wasn't a Spotify," Bakula says. "[Country] was sort of insulated from piracy because [its fans] didn't become digital until there were already a ton of great alternatives to piracy."  Looks like there's a silver lining to everything.
Thoroughly Modern Cowboys
To bastardize country parlance, the CD circle will be broken. This newer generation of country acts is closing the digital gap. Dungan cites Universal Nashville artists like the genre-blending Hunt and the button-pushing Musgraves, whose numbers are the opposite of a heritage artist like Jackson: 76 percent of Hunt's album sales are digital, while 66 percent of Musgraves's are. "It's changing very rapidly, and it is a completely different picture from artist to artist depending on the type of fans they attract," Dungan says.
Also, the more a nominally country act like Florida Georgia Line cruises its way toward pop listenership, the more its album sales start to lean more toward digital, says Glenn Peoples, Billboard's senior editorial analyst.