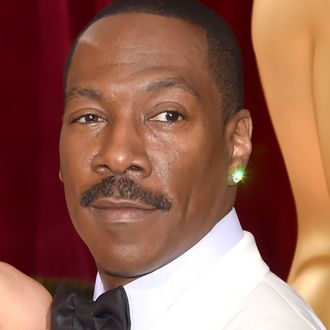 Photo: Jeff Kravitz/FilmMagic
In a new revealing interview with the Washington Post, Eddie Murphy tackled – among other hot topics – a question that has been on everyone's minds since his appearance at Saturday Night Live's 40th-anniversary show: Why didn't he perform during the three-hour extravaganza, and instead opt for an awkward and extremely brief "thank you" speech before throwing to a commercial break? The answer, it was later revealed, was because the show wanted him to play Bill Cosby, and Murphy simply wasn't going to do it.
"I totally understood," he said, addressing the situation for the first time. "It was the biggest thing in the news at the time. I can see why they thought it would be funny, and the sketch that Norm [Macdonald] wrote was hysterical." Why did he say no, then? "It's horrible," he continued. "There's nothing funny about it. If you get up there and you crack jokes about him, you're just hurting people. You're hurting him. You're hurting his accusers. I was like, 'Hey, I'm coming back to SNL for the anniversary, I'm not turning my moment on the show into this other thing.'"
Murphy, who hasn't done a stand-up act in 29 years, also touched on whether he sees himself coming out of pseudo-retirement and returning to the stage. "That's the carrot," he said. "Every now and then when I think about it, I think, What would I even talk about onstage? It's never been, I wonder if I'm funny. I wonder if I can come up with jokes. It's more, What would it be like without the leather suit and the anger?" Still hilarious, probably.