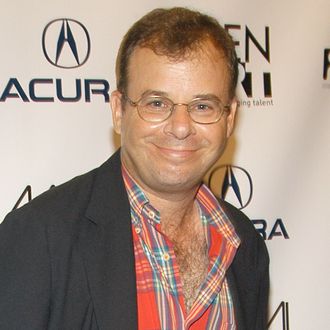 Someone, make this happen.
Photo: Jamie McCarthy/Getty Images
Rick Moranis unofficially retired nearly two decades ago, after his wife died of breast cancer in 1997, and he made the career switch from actor to stay-at-home single parent. Now the '80s star says he's ready for a comeback but doesn't want it to involve Ghostbusters (he played accountant Louis Tully in the original franchise). On opting out of a cameo in Paul Feig's reboot, Moranis tells The Hollywood Reporter, "I hope it's terrific. But it just makes no sense to me. Why would I do just one day of shooting on something I did 30 years ago?" Instead, he'd rather wait until something "comes along that piques my interest" and forces him out of his 18-year hiatus from onscreen acting (he has done some voice work in the interim), something he says started out as "a break, which turned into a longer break." Until then, he says he'll just be attempting to figure out how to edit the part of his Wikipedia page that says "largely retired" and dreading the inevitable day someone green-lights Honey, I Shrunk the Grandkids.