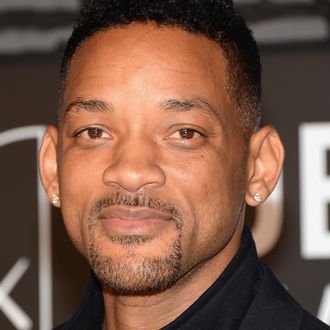 Will Smith.
Photo: Jamie McCarthy/2013 Getty Images
Although Will Smith has been busy making kids and stuff (his words), he had time last week to drop his first guest track in a decade. The release prompted a visit to Zane Lowe's Beats 1 Radio show, where the former Fresh Prince dished about more new music, his movie career, and what the heck is happening with that on-again-off-again, long-awaited Bad Boys sequel. Read on for highlights.
On his stash of other forthcoming jams:
I'm pretty much poppin' in the studio every day, and I'm looking for artists to collaborate with, and I'm trying to find that voice. I have so many things that I wanna say, and I'm struggling with saying them in a way that fits the flavor of music that I tend to like. I've got a lot of young artists and young philosophers trying to help me extract the ideas from my mind and my heart. But I probably have 30 songs — six to seven that I really, really like.
On a potential tour with DJ Jazzy Jeff (full details currently unavailable, but it'll likely be a result of all that new music):
I'm hoping this summer is the first time we go out on a full world tour. I'm terrified.
On how he gets over creative fear (a.k.a., how he got over the After Earth ordeal):
After Earth was really the first time I had a massive, public execution, a thoroughly and completely accepted failure. But with that, that Monday morning, I got right on the treadmill … top of the year, I jumped out of an airplane. I was like, No fear. Anything I'm scared of, I'm attacking. I just got back into the mindset of being comfortable to go out there and fall on my face. If you're not willing to fall on your face, you can't create on a high level.
On the next Bad Boys:
There's a very, very, very strong possibility that you will be seeing a Bad Boys within the next 12 to 16 months.
You can watch the whole interview, which also includes bits about age in hip-hop, Jaden, Willow, Suicide Squad, and Smith's general creative process, here: